Everything about September 11, 2001, was unprecedented. That day witnessed, among other things, the largest maritime evacuation in history. More than half a million people stranded on Manhattan Island were taken off by boat in the course of eight hours. By comparison, at Dunkirk in late May of 1940, some 338,000 allied troops were evacuated across the English Channel over the course of nine days. There is a moving short film called Boatlift about this amazing and massive instance of spontaneous cooperative order amidst chaos and destruction, which I highly recommend.
I was part of that 9/11 boatlift. I'm pretty sure that I was on the first boat, among the first refugees from Lower Manhattan to cross the Hudson. I don't want to use the word "survivors" because, at least in my case, my life was never really in danger. My story is completely devoid of heroism. But I did witness the events of that day from uncomfortably close range, and an anniversary seems as good an occasion as any to write it down, before the memories, which are still vivid, fade.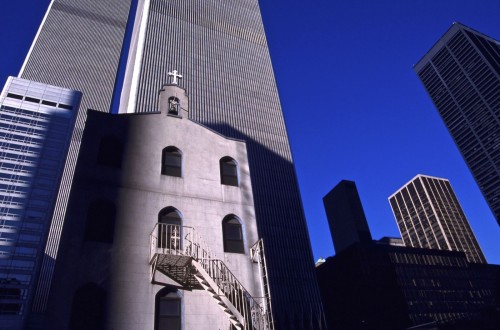 In 2001, I was living in Battery Park City – a park-like, mostly residential riverfront neighborhood on Manhattan's southwestern tip, built on top of the rock and soil excavated during the construction of the World Trade Center and dumped into the Hudson River. My apartment was located in Gateway Plaza – the residential complex nearest the Twin Towers. Every morning I walked some 300 yards from my front door, through the courtyard, past the World Financial Center, across West Street, through the Marriott, into the lobby of the North Tower and down into the Cortland St. subway station, where I would catch the uptown Number 9 train to Times Square.
That Tuesday morning, as I was about to cross West Street, I heard the unusually loud sound of a jet, like an airshow where the Blue Angels are doing a low fly-by. The jet noise was so loud, and its echo so amplified by the skyscrapers and canyons of Lower Manhattan, that it nearly swallowed the sound of the impact as American 11 slammed into the north facade of One World Trade Center. By the time I looked up, the top of the building was exploding and thousands of chunks of debris were slowly, parabolically arcing down toward me. A quarter-mile up they looked small, but some were surely the size of refrigerators and small automobiles. I had to run pretty hard to avoid being hit. When I caught my breath, I remember looking at my watch to check the date, thinking it would probably be one to remember. It was 8:47 a.m. and a minute had elapsed from the time of impact.
A close college friend had lived through the 1993 attack and was still working in the World Financial Center on 9/11. He had the good sense to pack up immediately and take the ferry home to Hoboken. I did not have my friend's presence of mind. Instead, I loitered in a crowd of shocked onlookers and watched as smoke began to engulf the top of the North Tower. After ten minutes, I went back inside my apartment to make phone calls, as I could no longer place calls from my cell phone. My wife, who had left earlier that morning, was driving to her job in New Brunswick, NJ, and would not be reachable for another half hour. I was able to reach my dad in Chicago and told him not to get excited, that everything was okay, but he should probably turn on the TV or radio. As soon as I said this, the windows shook and I felt the dull shock wave of the second explosion inside my chest. Seconds later, a large mob of screaming people was flooding into the Gateway Plaza courtyard outside my windows. I told dad that I had to go and would call later.
For the next 50 minutes I milled around aimlessly on the Hudson River esplanade and watched the unfolding unreality and horror of the towers burning, and of people helplessly, desperately clinging to the upper floor windows. The air was thick with shouts, sirens, helicopter rotors, and eerie cracking sounds coming from the twin infernos. A guy in an expensive suit next to me said something about al Qaeda. A collective gasp swept through the crowd as the first jumpers began to fall. You could clearly see their ties fluttering in the air as they plummeted.
When the top of the South Tower began its sickening descent, I was in the middle of a large crowd that had gathered on the embankment, and my first thought was that I would probably be trampled to death in the ensuing chaos. A New York Fire Department boat was moored at the seawall alongside the esplanade, and I jumped on it, as did a few dozen others. It was a good five- or six-foot drop, and from the corner of my eye I could see an older woman with white hair tumble down and hit her head hard on the steel deck next to me. Others were falling into the water. Moments later we were engulfed in pitch darkness, as the dust cloud enveloped us. When it cleared some five minutes later, we pulled people from the water and attended to the injuries, which appeared to be mostly minor. Within 15 minutes or so, the crew fired up the engine and headed across the river to Jersey City with its dazed, speechless human cargo, covered head to toe in grey dust and debris. There were a lot of boats in New York Harbor now, and they seemed to be headed for Lower Manhattan. What looked to me like an F-15 was circling high overhead. At 10:28 we watched silently from the middle of the Hudson as the second tower came down.
Amazingly, when we got to the New Jersey side, a decontamination crew in yellow biohazard suits was ready and waiting for us. I was one of the first off the boat and through the decontamination gauntlet, which basically involved getting hosed down like Jules Winnfield and Vincent Vega in Pulp Fiction, although we kept our clothes on. A camera crew and local TV reporter with really terrific hair were deployed at the end of the gauntlet. There was no way around her, so I stood there, dripping, with the camera in my face, as the reporter asked the following question: "There are reports that these planes may have been carrying chemical or biological agents. Your reaction?" I responded, without conviction, that this seemed doubtful and excused myself. If this footage ever aired, it certainly did not make me famous.
The last episode worth mentioning happened two days later, on Thursday, after limited access to Manhattan was restored, and my wife and I were able to get back on the island. The city had set up an information center at one of the Chelsea piers and we headed there, hoping to learn how to save our two cats, left behind in the apartment. A pet rescue operation was in the works, we were told, which was remarkable, considering all the other priorities the city had to deal with. We spent most of the day waiting amid the throngs lining the West Side Highway, cheering the firefighters and recovery workers as they drove past.
Around nine in the evening a bus took a group of about two dozen residents, including me, down into the closed military zone south of Canal. This entire large area of the city, including Chinatown, the Lower East Side, Tribeca, and the Financial District, in addition to Battery Park City, was a crime scene, emptied of its 200,000 residents and closed to civilians. Except for the police and military checkpoints, historic downtown New York was a dark, lifeless ghost town. As we looped around the tip of Manhattan and approached Battery Park City from the south, we entered a landscape of truly post-apocalyptic devastation. "I felt like I was in a movie," is a phrase you often hear from people who lived through 9/11. But what we saw transcended every cinematic cliché and overwhelmed the senses – more Dürer or Dante than Spielberg. Humvees mounted with .50 caliber machine guns secured a wide perimeter. Ghostly figures in white biohazard suits and camouflaged military personnel in respirators lurked in the shadows and were occasionally illuminated by blinding portable light towers. The ground was blanketed by a thick layer of fine, dirty-grey powder, and strewn with millions of pieces of confetti and office paper. A sickening chemical stench burned the nostrils. Towering above it all, in the direction of "the pile," a foul yellow miasma rose a thousand feet into the night sky, illuminated by a thousand lights.
We were told that all the buildings near Ground Zero were unstable, and given a maximum of five minutes inside. We were to take only our pets, no personal items, and get out. The elevators were not operable, so those who lived on the 34th floor were out of luck.
Inside the apartment everything was jarringly normal. The lights worked. I was relieved to find the windows shut and intact. PJ and Winston were utterly bored and insouciant – I was no hero even to them. Very reluctantly, they agreed to be crated. I thought about gathering some valuables in violation of the edict, since the apartment was on the third floor and I therefore had some extra time. But then I remembered that we had no valuables to speak of, and got back on the bus, a homeless man with cats.
My state of mind throughout the events of those days was a kind of numb disbelief and an inability to fully grasp the reality taking place in front of my own eyes. I understand people who say that they experienced 9/11 as though they were watching a movie. These events were so without precedent in physical reality or normal human experience, so massive, so extravagantly theatrical, that their only readily available reference point was Hollywood fantasy. Fourteen years later, I am still unable to fully comprehend the enormity of it.
Looking back, the few months following 9/11 seemed at the time to signal the resurgence of the kind of liberal nationalism that I believe is our country's last best hope. If any event could serve as a catalyst for this kind of revival, it was this devastating blow against the heart of American power – the first successful military attack on New York since August 1776. Alas, it was only a mirage. I am sorry to say that the long-term effects of 9/11 have been either negligible or negative. The wave of patriotism, solidarity, and national resolve that followed the attacks subsided fairly quickly, without leaving much of a permanent mark on the American psyche. In fact, within weeks it was quite clear that the entire infrastructure of nutty multicultural utopianism and therapeutic psychobabble was still as firmly in place as ever inside the heads of everyone in charge of anything important.
The attacks obviously had a huge impact on American foreign and national security policies, which were re-oriented toward Islamic terrorism, or whatever PC euphemism we are supposed to use now. Unfortunately, this problem, while a reasonably serious one, is basically insoluble. At least we in the United States have no clue what to do about it and its root causes. Nevertheless, we are paying a high price for managing this problem. No war has ever made any government smaller, nor expanded anyone's zone of personal liberty. Maybe the best that can be hoped is that it will finally sink in with us that the "root causes" approach to military intervention is a fool's errand, but I'm not holding my breath.
Certainly nothing we have done since 9/11 has made the problem go away. We are in a far worse position relative to the Islamic world today than we were on September 10, 2001, and it's going to get much worse before it gets better.
Finally, we have, thank God, managed to avoid another attack any more serious than the underwear bomber. I don't know if this is because we have been lucky or good. But I still can't shake the feeling that the September 11 attacks were a prelude to bigger things. When the next mass casualty event happens, as it surely will, it will be an order of magnitude bigger, but we will have been primed for it psychologically because of 9/11. I think we have already accepted the reality that the Pax Americana is over, and we will once again see cities incinerated within our lifetimes.
This piece was first published on September 11, 2015.