A Turkish court leveled formal charges of terrorism at three VICE News journalists and their colleague yesterday.
The Iraqi journalist Mohammed Ismael Rasool, and two British journalists, Jake Hanrahan and Philip Pendlebury, were detained late Thursday evening and taken into custody in the southeastern city of Diyarbakır. So was their driver, who was released. They've been accused of working for both the PKK and ISIS, prompting some foreign observers to announce that Turkey has gone "bat-[redacted] insane," but as my fellow Turkey-watcher Erik Meyersson notes, for journalists in Turkey, especially Kurds, "this kind of Kafkaesque repression is mostly referred to as: Monday."
The state-run Anadolu Agency has listed the evidence against them:
A notebook in which the abbreviations and English translations of the PKK/KCK [Kurdish Communities Union] terror organization's affiliated entities was found in the hotel room that the journalists were staying in. …

Other evidence included, according to the report, footage filmed by the journalists, showing the militants of the PKK's youth wing, the Patriotic Revolutionary Youth Movement (YDG-H), preparing Molotov cocktails and homemade explosives.

While speaking to the prosecutor, the journalists repeated their testimonies given to the police, pleading not guilty. As a reporter, Hanrahan said, he had to know the names of the organizations, their leaders and goals to prepare a news story.
Keep an eye out for this story elsewhere. See how many times you spot the phrase, "two journalists detained." Weird, isn't that? I guess you don't exist if you've got an Iraqi passport. (Hey, you know what that attitude is called? Yep. The real thing. Who would have imagined you'd find that, right in the pages of the enlightened Atlantic?)
The Western journalists are relatively fortunate, because the West pays attention when Western journalists are arrested.
Here's the OSCE's most recent table of imprisoned journalists in Turkey: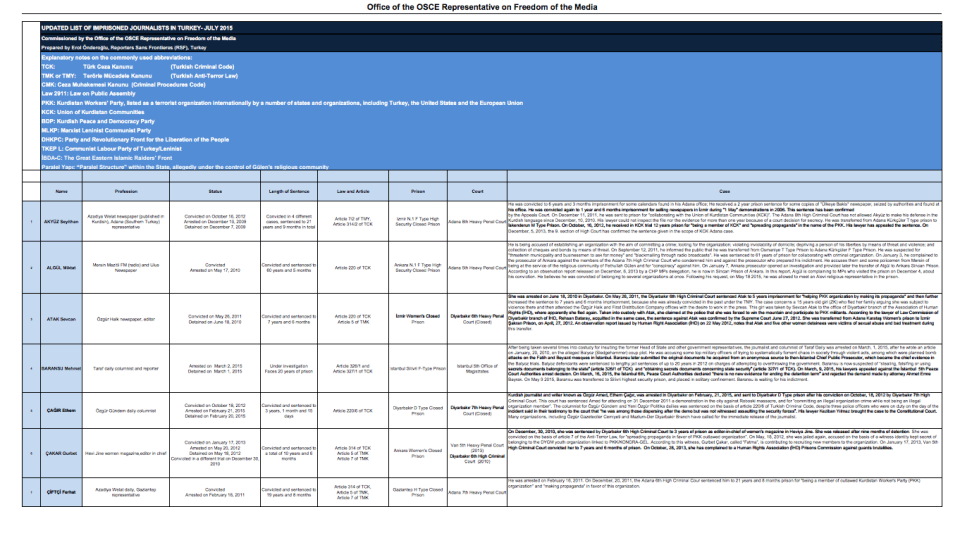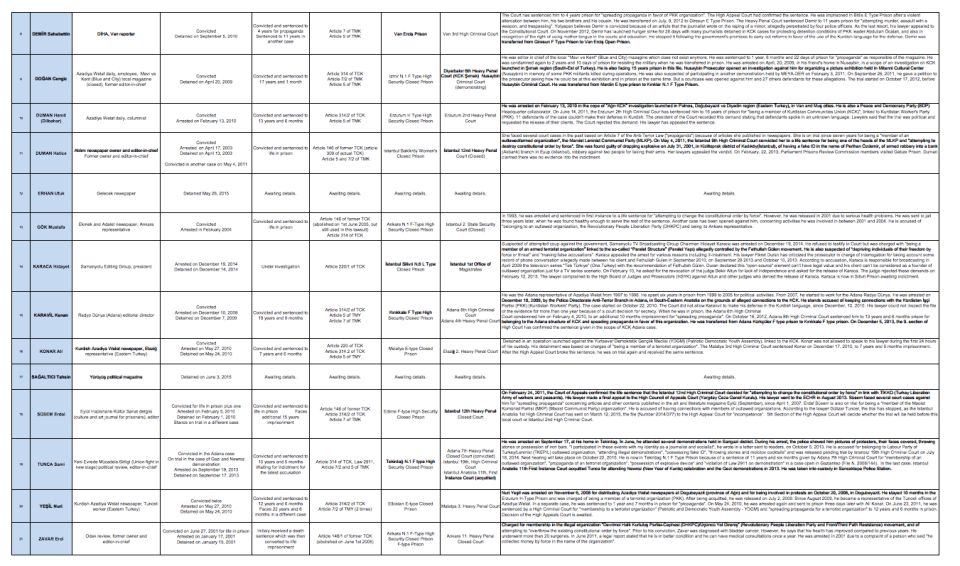 The number has actually gone down from its high-water mark a few years ago, I think.
VICE News condemns the arrests (which is far more support than any freelancer would get: That's one reason I soured on freelancing).
"Today the Turkish government has leveled baseless and alarmingly false charges of 'working on behalf of a terrorist organization' against three VICE News reporters, in an attempt to intimidate and censor their coverage," [Kevin Sutcliffe, VICE's Head of News Programming in Europe] said. "Prior to being unjustly detained, these journalists were reporting and documenting the situation in the southeastern Turkish province of Diyarbakir.

"VICE News condemns in the strongest possible terms the Turkish government's attempts to silence our reporters who have been providing vital coverage from the region," Sutcliffe added. "We continue to work with all relevant authorities to expedite the safe release of our three colleagues and friends."
Nothing's more demoralizing than taking a few risks to get the story and then finding out that no one cares — trust me on that — so let's watch one of the reports they're now in jail for bringing to you:
By the way, I too am a strong supporter of the free press and don't think journalists should be jailed. Seems the US State Department even vaguely agrees with me about this: "We urge Turkish authorities to ensure their actions uphold universal democratic values, including due process, freedom of expression, as well as access to media and information," Mark Toner, a spokesman for U.S. State Department, said Monday in response to the arrests. He didn't mention the names of the men who were arrested or call for their release. Totally typical of the way State speaks whenever any human-rights awkwardness in Turkey comes up.
For those who want a deeper background briefing on this situation, I recommend Gareth Jenkins' Erdoğan's War: The Causes and Consequences of the Upsurge in Kurdish Violence. Also check out this very enlightening piece by my colleague Fréderike Geerdink: PKK prepared for 'people's war' during ceasefire. (She too was arrested a few months ago on similar charges; they tried and acquitted her; she went right back to work.)