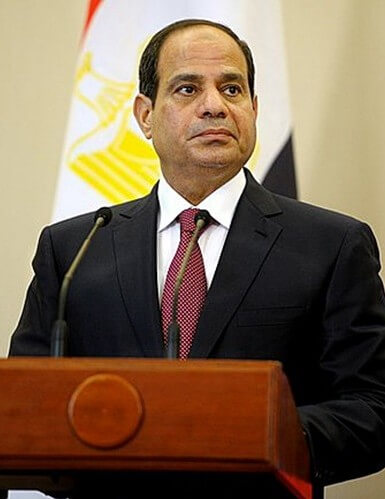 Over the weekend, an Egyptian court sentenced three Al-Jazeera journalists to three years in prison. One of them, Peter Greste, an Australian citizen, is back in Australia and was sentenced in absentia. One of the others, Mohamed Fahmy, is a Canadian citizen.
The charges against them are directly related to their journalistic activities, including not having proper licensing and reporting false news damaging to public security. I believe these charges were motivated by Al-Jazeera's reporting that was favorable toward the Muslim Brotherhood. Egyptian President El-Sisi has said he favors deporting rather than jailing the foreigners, but will not interfere with the courts.
According to article 155 of the 2014 Egypt constitution, the president of the republic may issue a pardon or reduce a sentence after consultation with the cabinet. The article reads: "General amnesty may only be granted by virtue of a law, ratified by the majority of the members of the House of Representatives".

Egypt has been without a parliament since June 2012 when a court dissolved the lower chamber after ruling it was not constitutionally elected. In regards to deportation, President Abdel-Fattah El-Sisi issued in 2014 a presidential decree that allows foreign nationals to continue their pretrial detention or post-trial prison sentences in their home countries.

[…]

In June 2014 … El-Sisi said that Egypt's authorities "will not interfere in judicial matters" following the first trial where the defendants were sentenced to between seven and ten years in jail. El-Sisi also said he did not wish to see the foreign journalists prosecuted through a criminal process, and would have preferred for them to have been deported.
The Canadian government is working diplomatically to have Fahmy returned to Canada (he is being represented by Amal Clooney, George's wife). There is added political pressure on these diplomatic efforts due Canada's ongoing federal election.
The British ambassador took a more direct approach, saying — in Arabic and on local Egyptian media — that he is "concerned that today's ruling will undermine confidence in the basis of Egypt's stability, both in Egypt and abroad.
I understand that support for Islamist groups comes from — or gets funneled through its home in Doha — and Al-Jazeera is sometimes used to spread agitprop for Islamist causes. However, I'm a strong believer in a free press and don't think these journalists should be jailed.