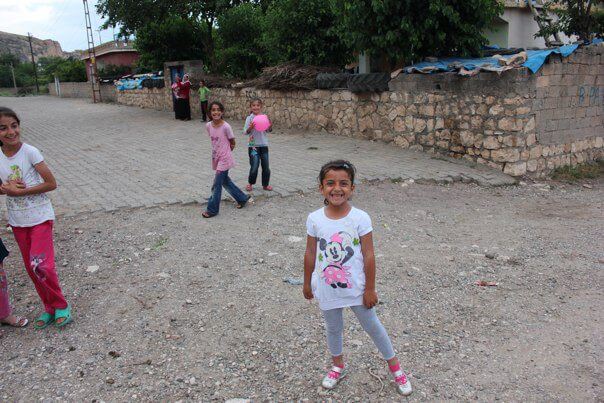 (Note: These are photos of southeast Turkey, in 2013.)
Two weeks ago, The New York Times' Rukmini Callimachi wrote an article about the systematic rape and enslavement of Yazidi girls by ISIS. If you haven't read the article, and even if you think you know the story already, read it:
The Islamic State's formal introduction of systematic sexual slavery dates to Aug. 3, 2014, when its fighters invaded the villages on the southern flank of Mount Sinjar, a craggy massif of dun-colored rock in northern Iraq.

Its valleys and ravines are home to the Yazidis, a tiny religious minority who represent less than 1.5 percent of Iraq's estimated population of 34 million.

The offensive on the mountain came just two months after the fall of Mosul, the second-largest city in Iraq. At first, it appeared that the subsequent advance on the mountain was just another attempt to extend the territory controlled by Islamic State fighters.

Almost immediately, there were signs that their aim this time was different.
Please read it all, even if it makes you vomit, as it should.
While the girls and women have met a fate that is arguably worse than death, the fate of the boys and men is inarguably just like death:
Survivors say that men and women were separated within the first hour of their capture. Adolescent boys were told to lift up their shirts, and if they had armpit hair, they were directed to join their older brothers and fathers. In village after village, the men and older boys were driven or marched to nearby fields, where they were forced to lie down in the dirt and sprayed with automatic fire.
Although the outlines of this story were already widely known, Rukmini's reporting is the best that's been done. It pushed the issue into the headline news in the United States, for which we owe her and The New York Times our gratitude and, yes, our admiration. The New York Times often makes disreputable editorial decisions, but it has the ability to support reporting like this. When it does, I'm reminded that they are still one of the world's greatest newspapers.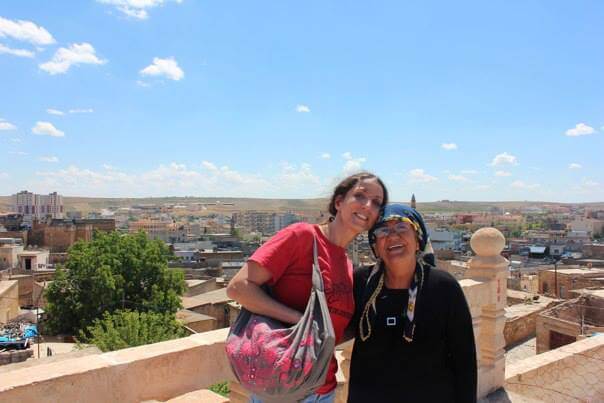 I wrote about the story here, and Cameron Gray wrote about it here. Many of you asked me in the comments and in private messages whether there was anything you could do. I replied that I would do some research, find out the best way to help as many people as possible, and let you know what I found out.
I lived in Turkey for a decade, and saw many well-meaning charity efforts there come to naught, including my own. It's a difficult culture to navigate. I would be careful about donating money to groups that may have the very noblest of intentions, but may lack the knowledge of the region you'd need to be effective. I am not casting aspersions on any group in particular. I've found nothing to suggest that any of the groups who say they are working to save the victims of ISIS are ineffective. I just know from experience that this is possible, given that any effort to rescue these girls and women requires dealing with locals who won't necessarily behave as well-meaning Americans expect. It would require speaking several local languages, first of all, or finding reliable translators and fixers, which in itself is a challenge. But more importantly, it would require a lot of contacts and experience in the region. Donations could easily be wasted on fixers, security, corrupt officials, or unreliable intermediaries. I'm not saying that they are, just that this seems to me an obvious risk.
Southeastern Turkey is culturally similar to the areas on the other side of the border. I've spent time in places where Yazidis live; I've written about cities and villages in this region:
For hundreds of miles, the Tigris flows serenely as it always has, passing sandbanks, bluffs, gorges, and fertile wetlands. In its shallows, local women wade; children splash and wrestle. Platforms on the riverbanks, elaborately carved of wood, are furnished with low cushions; locals eat grilled river fish there while dangling their feet in the water. This isn't an Ephesus, reconstructed as a museum. Human beings have lived and worked here uninterrupted since the dawn of recorded history. Genesis informs us that the Tigris was one of the four branches of the river that watered the Garden of Eden. The Tigris is also where Daniel saw his vision of a mighty man: "Then I lifted up mine eyes, and looked, and behold a certain man clothed in linen, whose loins were girded with fine gold of Uphaz. … "

Dicle Tuba Kılıç, of Turkey's Nature Association, describes the Tigris as "not only of our nation but of all of Anatolia and Mesopotamia, the last wild river in this region, really the last." The residents of Hasankeyf, for the most part, speak Kurdish, Turkish, and Arabic, but she tells me that the Arabic dialect used in the region is isolated and unique. "People here still live in the caves; they use fishing techniques they've used for centuries. We have the last examples of the culture of Upper Mesopotamia. We have Yazidis living behind these mountains—they are pre-Islamic, pre-Christian, they pray to the sun." She is wrong about this; Yazidism was introduced to the area by Sheikh Adi ibn Musafir in the twelfth century. It is a highly syncretic complex of local beliefs: a bit of Zoroastrianism; a dash of Sufi Islam, Gnosticism, and Judaism; some neo-paganism for good measure. Yazidis believe that God created the world and then placed it under the care of seven holy beings, chief among them Melek Taus, the Peacock Angel. But they do pray in the direction of the sun, in magnificent white robes.

Assyrian Christians live in this region, too, speaking and writing dialects of Eastern Aramaic and using the oldest surviving liturgy in Christianity. They trace their history to a Christian community established in the first century by the Apostle Saint Peter. And this region also holds the last traces of the Armenians who once called it their homeland: a scattering of ruined churches and monasteries.

Dicle tells me that the local lore is rich with tragic love stories. "Here is a strange story, like Romeo and Juliet," she says. "There was a Muslim man living on this side of the river. He was in love with an Armenian girl living on the other side. They communicated every night with lights. The man swam across the river every night to see her. Then, one day, he noticed a blemish on her face. The girl was distraught. 'Now you cannot see my beauty,' she said, 'because you've seen my flaw. You mustn't try to cross the river, because you won't be strong enough.' Too proud, he refused to listen. But the next day, he tried to swim across the river and drowned." Dicle meditates on the meaning of the fable. "I think it means that if you love somebody, you must accept them completely—their nationality, their religion. When you start to see their flaws, you lose your power." Sadly, this is not a part of the world where that moral has ever been taken to heart.
When I was there, however, I saw all of these people living in relative peace. Not perfect, but good enough. I do not and will never believe that rape and genocide are inevitable in "that part of the world." They are not.
A friend took the photos in this post. Demographically, most of the kids you see in them are apt to be from families that identify as Muslim, but there's no way to tell. My friend was just taking snapshots, not conducting a survey about who worshipped what. Some might be Christian. It's not impossible that there's a Yezidi among those faces.
The key is that it doesn't matter. I can't tell what religion they are from these photos, and no God worthy of the name would care; they are, obviously, human. I'm sharing them because it might help explain why I'm unable to think of this as "another inevitable horror in a faraway land." When I read the news from Syria and northern Iraq, I think of faces like these. The people in these photos are lucky, in that they're on the Turkish side of the border — although even that is not so lucky.
I contacted Rukmini and several people I know to ask about the best way to help. I'm not going to explain everything I was told, because explaining the details would endanger the people we want to help. Likewise, I'm not going to share all that much about who I spoke to, or why I think he or she is qualified to assess the best way to approach the problem. But in broad outline, here's an answer from someone I trust. The edits are mine:
… all Yazidis I spoke with said the same thing: Help women and children escape ISIS captivity. Unlike places like Congo and Somalia, money actually can help women and children reach safety. This is possible through [redacted] The biggest obstacle seems to be first, knowing where the hostages are. Second [redacted] are risking their lives (about 7 have been killed thus far while working). But it's not just a question of money — it's money over time. Often, these women have very narrow windows to escape — a few hours, a few days maybe — and families simply do not have the funds on hand to pay.

In real world terms, this means women and children who have been hostages for a year are finally [redacted], and can't due to short-term cashflow issues. [redacted] … one woman enslaved by ISIS failed to escape because of a [redacted] shortfall in funds. This is [redacted] a solvable problem.

From a policy standpoint, the issue seems to be that the [KRG] has a program to reimburse families, but it takes a few months, and [redacted] This leaves [redacted] families destitute and in debt to other [redacted] family and friends who have lent them the money (sometimes $[redacted] for a woman and children). There are issues with corruption, and a lot of talk about "running out of funds." [redacted] pressure, and funding, from foreign governments to reimburse relatives who have paid to rescue women and children would go a long, long way toward a [redacted] program to free these women.

On the individuals and charity side, we are working on [redacted].

Right now, we are in conversation with the US government on [redacted].
So there are three things I'd recommend. First, if you're donating money, donate it to Yazda. I've heard nothing but praise for them. It makes perfect sense to me that Yazidis themselves would know their situation best, know the region best, and be most motivated to ensure every penny you donate is used in the most effective way.
Second, for reasons I won't detail, sign this petition, share it on social media, and encourage everyone you know to sign it:
The Yazidi and the local government in Iraq want to rescue them too, but they don't have the resources they need to get them out. If the United States can step up and provide much-needed support to these groups, they can start to save these women and children. But the more time that goes by, the longer they have to live through this nightmare.

If nothing is done, thousands from my community will be doomed to a life of rape and torture by ISIS. Urge President Obama to help save them while there is still time.
I say this in marked distinction to what I'd usually say about signing petitions on Change.org. Usually I'd say that's pointless moral preening in lieu of doing the difficult work of changing something. I'd usually say, "Don't sign. Your conscience will be pointlessly assuaged." I have reasons for feeling differently about this one, but don't want to explain them here. If you send me an e-mail, though, I'd be happy to.
Finally, if you'd like to be part of a network of volunteers who will continue to fundraise, organize, and lobby toward the goal of freeing these girls and women, send me message with the e-mail at which you'd like to be contacted.
There is, in fact, a lot you can do.