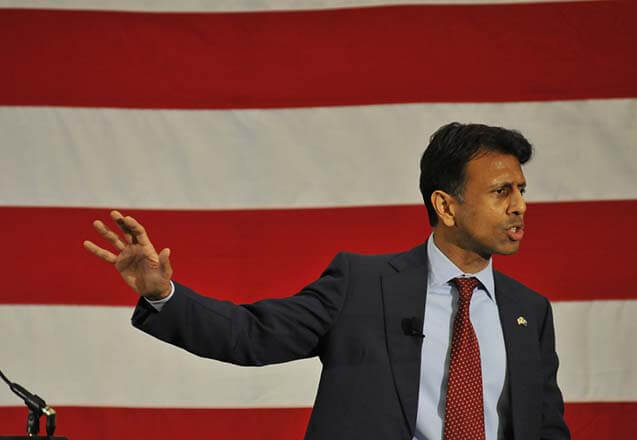 I've written a lot in the past couple of weeks about Scott Walker, and about Rick Perry before that. It's past time for Louisiana's governor to experience the poll surge guaranteed by a post from yours truly. And Bobby Jindal earned it today with a smart piece of political jujitsu.
Unlike most politicos, Jindal understands that a major source of liberal power is their ability to set the narrative. Since progressives control most of the media and pop culture, they set the terms of the debate. Ferguson, Missouri, has been wracked by violence for a year due to a coordinated lie accusing a racist cop of gunning down an innocent black teen with his hands up, pleading "don't shoot!" The press lionized a Texas backbencher for bravely defending women's health, even though Wendy Davis was blocking a bill favored by the wide majority of Lone Star women.
Unable to spin the brutal Planned Parenthood exposé by the Center for Medical Progress, the media has mostly ignored the videos, hoping the grisly footage will just fade away. Instead, the news has issued dire warnings about a conservative threat to Planned Parenthood's funding for mammograms, cancer screenings, and the few other services the group claims to provide outside of the forbidden A-word.
Jindal pulled his state's funding of the non-profit earlier this month, so Planned Parenthood decided to hold a raucous protest outside the governor's mansion in Baton Rouge. Media passed around the info, hoping to gather great B-roll of an eeevil Republican governor oppressing female victims. A fantastic way to smear not only Jindal, but the entire GOP primary field as out-of-touch meanies.
Most politicians would have ignored the protest as the same old, same old. If a governor responded at all, it would be with an angry counter-protest, which only would generate video of rival mobs screaming at each other in front of his home. But instead of directly attacking the pro-abortion message, Jindal decided to use the strength of the liberals' narrative against them.
The Japanese term for this technique is jujitsu — literally, "the art of yielding." Instead of rushing to fight a stronger opponent head-on, a jujitsu fighter wins by co-opting his opponent's strength. If the attacker throws a devastating punch at your face, you grasp his arm and redirect it to the ground behind you. Sure, the bad guy might be bigger, stronger, and faster, but that power leads to his defeat.
As the pro-Planned Parenthood rally gathers in front of his house, Jindal is setting up a giant outdoor movie screen and playing the sting videos for all to see. All the protesters and reporters will now see the footage. If local media has live coverage, the videos could end up on the nightly news. Now, at the very least, reporters will have to mention the "controversial" videos. Brilliant.
"Planned Parenthood has a right to protest today, but Governor Jindal's office will ensure that anyone who shows up will have to witness first-hand the offensive actions of the organization they are supporting," Jindal, who is also a Republican presidential candidate, wrote in a statement.

"We hope the protesters will take a minute to watch them so they'll have an opportunity to see first-hand our concerns with Planned Parenthood's practices," he added.

Planned Parenthood dismissed Jindal's move as a political "stunt."

"Governor Jindal isn't even in Louisiana today, but he's made sure to prove that he's always ready to put politics before Louisianan's health. This stunt is proof he doesn't have any real answers for the people of Louisiana," Melissa Flournoy, the Louisiana state director for Planned Parenthood, wrote in a statement.
Enjoy the show, "Women's Health Advocates." Take notes, "Objective Journalists." Bobby Jindal's stunt will force you to face the reality of your political positions, possibly for the first time. And the viewers at home will know much more about the truly shocking videos you have tried to hide.