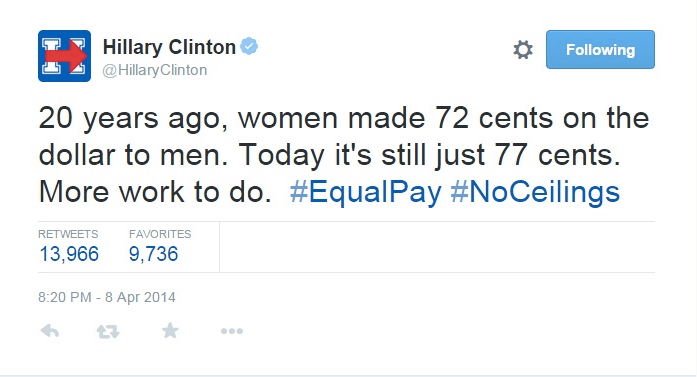 Eventually, liberals/progressives/Democrats might stop using the "women make 77 cents for every dollar a man makes" factoid. This is a two "Pinocchio" claim, according to the Washington Post, by the way. I also recommend this critical note from my AEI colleagues Andrew Bigg and Mark Perry, which concludes, "Once education, marital status and occupations are considered, the 'gender wage gap' all but disappears." And now we have this new study from the New York Fed, which also finds a relatively tiny gap:
Among recent college graduates as a whole, women earn about 97 cents on the dollar compared with men. That said, within this group, women tend to out-earn men in a number of college majors, sometimes by a substantial margin. We find these early career patterns fascinating, in part because they seem to present counter examples to the well-established male wage premium, but mostly because it is not entirely clear why we observe these patterns. To the extent that a wage premium for one gender represents discrimination, it may be that discrimination can occur in favor of either men or women, depending on college major, at least among recent college graduates. By mid-career, however, any wage premium earned by women completely disappears. As we grapple with the issue of gender pay equity, it is vital that we continue to examine these trends in more detail so that we can better understand their sources.
And why does that small gap apparently grow to 15 points by mid-career, in favor of men? Again, from the study:
There are a number of possible explanations as to why the gender pay gap is fairly small for recent college graduates, but grows for mid-career workers. First, to the extent that male earnings premiums represent discrimination against women, it is possible that such discrimination becomes more widespread as men and women approach mid-career. Another possibility is that pay differences arise for reasons related to raising a family. When we look at the outcomes of young college graduates, this group primarily contains single people without children, while the mid-career group includes a significant number of men and women with children. Women are more likely than men to spend time out of the labor force to bear and raise children. This interruption in a working career reduces the accumulation of work experience and human capital, which has been shown to have a negative influence on earnings. In addition, some jobs tend to reward long hours and fixed schedules—think surgeons or lawyers. Because raising a family often requires more flexible schedules, those with family responsibilities who have difficulty satisfying time sensitive work demands may face lower wages in these types of jobs. In fact, in jobs where such time demands are largely absent, and more flexibility is possible, the pay gap has been found to be much smaller.