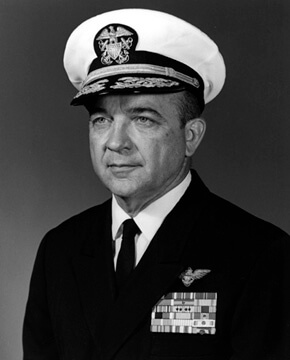 I ordinarily confine my contributions here on Ricochet to law enforcement matters, about which I feel qualified to offer opinions. But permit me to stray from that realm for the moment and tell you just a bit about David C. Richardson, who passed away in June at the age of 101. I had the honor of attending his memorial service in San Diego on July 16.
In the late summer of 1942, Richardson was a young Navy pilot assigned to VF-5, the "Fighting Five," a fighter squadron aboard the USS Saratoga. Flying a Grumman F4F Wildcat, Richardson flew missions during the Guadalcanal campaign, downing four Japanese planes and becoming one of the Navy's first combat pilots in the Second World War.
When the Saratoga was torpedoed and unable to recover her aircraft, the squadrons that were airborne at the time were directed elsewhere. Some went to the Enterprise and other carriers, but the pilots of VF-5 were directed to Henderson Field, a Marine air base on Guadalcanal. Richardson and some other members of VF-5 remained there for several weeks, flying combat missions during the day and enduring regular bombardment from Japanese warships at night.
"There were two 14-inch [gun] battleships and a number of cruisers," Richardson wrote in his memoirs. "They would come down in the evening and turn, and from about 2200 or 2230, they'd shell the area and then they'd turn around. There would be a 15-minute respite around, say, midnight or a little afterward, and then at about 0230 it would be over and they'd be getting the hell away before dawn permitted our aircraft to launch."
This went on for weeks. The only shelter Richardson and the others on the island had were holes in the ground, about two-and-a-half feet deep, covered with steel plates. It was in these holes that they waited out the nightly shelling, hoping that the next salvo wouldn't land on them.
When Richardson and three other members of VF-5 at last were flown to Pearl Harbor, they left with nothing but the clothes on their backs. Anything serviceable in the way of uniforms and other gear was left for the Marines still on Guadalcanal. Upon arriving at Pearl Harbor, they learned of a cocktail party being given that night at the officers' club. Having achieved several enemy "kills" between them, they expected a warm reception at the party and made preparations to attend. They cleaned themselves up as best they could, but — despite these efforts — they still looked very much like men who had been living in holes for several weeks.
So there they were, looking like "street people," as Richardson would later tell it, among a crowd of officers in their dress whites and their wives and girlfriends. "The admiral took one look at us and said, 'Get those four clowns out of here.'" And so they left.
In Richardson's memoirs, he politely declines to identify the admiral who was more concerned with appearance than performance. "This wouldn't have happened a year or two later," Richardson wrote, "nor with other admirals."
When Richardson retired from the Navy in 1972, he had risen to the rank of vice admiral himself. Among his commands were a carrier air group, the aircraft carrier USS Hornet, and — from 1968 to 1970 — the Sixth Fleet in the Mediterranean.
On the occasion of his death, Richardson's family received a letter from a man (whose name, I regret to say, escapes me) who served as Richardson's driver as a 19-year-old Marine Corps corporal in the Sixth Fleet. Part of that letter was read at Richardson's memorial service, and I do my best here to quote it from memory. "Admiral Richardson was in command of 60,000 sailors and Marines," the man wrote, "and as his driver, I was one of the lowliest men in the fleet. But I will never forget how well he and his wife treated me. He was one of the finest men I've ever known."
Admiral Richardson was not a man who would have looked at four pilots fresh from combat and ejected them from a party for being out of uniform. He did the Navy and his country proud. R.I.P.