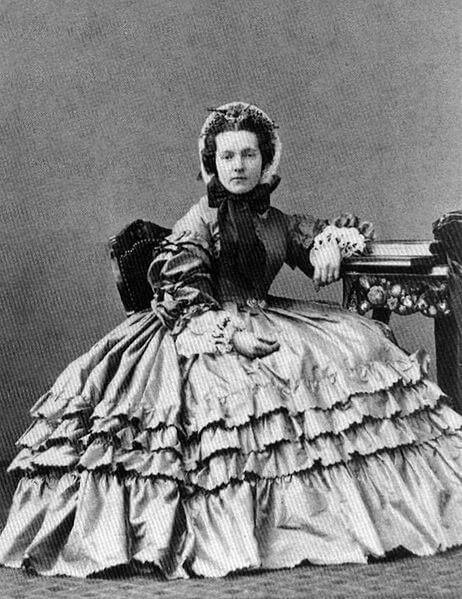 As I've said before, the primitive desire to purge our society of anything that makes us feel bad, particularly things that relate to history (no matter how far removed we are from the events in question) will continue, unabated, until people stand up and say "enough."
Consider this opinion piece in the Washington Post, headlined "Remove the Southern belle from her inglorious perch." The author, Elizabeth Boyd, makes the case for banning the hoop skirt. Yes, you read that correctly: The hoop skirt must be banned. But that's not all.
Boyd, a "research associate in American Studies at the University of Maryland," predictably trots out Dylan Roof's murderous rampage as the rhetorical foot-in-the-door before urging the elimination of not only the Confederate flag, but a whole laundry list of cultural artifacts she connects to evil.
She points out that the University of Georgia, of all places, has already banned the hoop skirt, but laments that it took so long. "Long after many universities had officially done away with a variety of Old South symbols," she continues, "the feminine figure most clearly identified with Dixie — the Southern belle — continued to enjoy free rein."
How dare the Southern belle enjoy free rein! We simply cannot have that! To use the favored parlance of progressives, "That's NOT OK!!!"
Boyd adds, "While donning a hoop skirt on occasion may not constitute a hate crime (whether it is a crime of fashion is another matter), make no mistake: The Southern belle performances routinely staged on campuses across the South constitute choreography of exclusion." Wearing a hoop skirt may not constitute a hate crime? How generous of her to allow for that interpretation. She elaborates: "Discounted but powerful, these belle performances may not stem from conscious ill intent, but they are surely racial symbols as much as any noose or flag. And they can be plenty intimidating."
A noose is the same as a flag is the same as a skirt. Adjacent to refuse is refuse, I suppose. All of it must go, because everything intimidates someone! And, as always, intent is absolutely irrelevant. Purge it! Oh, and, never mind the fact that women outside the antebellum South wore hoop skirts! She's on a roll!
Boyd reveals the endgame before she's through:
The hoop skirt ban is a great start … [but] if UGA and other Southern schools really want to lead, they will not only ban the hoop; they will also go after the belle. This will be tougher to do. It will mean discontinuing support for still-prevalent campus productions that promote imaginative connection with the Old South. And it will mean instituting new campus productions in their place. [Sororities] will develop new yardsticks for evaluating potential members that are less about looks and more about leadership. In short, they will confront the central role their choreography plays in reiterating race and class privilege. They will just say to hell with the belle.
There, dear readers, is the crux of it.
The unsophisticated and primal urge to destroy every bit of society with which we disagree — or might remind us of something with which we disagree — never goes far enough. To those who indulge in this thought process, once measure X is agreed-upon by hand-wringing college administrators or elite journalists or left-leaning politicians, that merely leads to the next essay by a social-justice advocate: "X is nice, but … "
It doesn't end. Because a push toward totalitarianism never ends. It's total, after all. It's right there in the name.
The author doesn't just want to substitute her own value system for the one used by various Southern schools and sororities. She goes much further. She dismisses those values as inherently superficial and hate-based and wants those values banned as a matter of policy.
To be replaced, of course, by her own values.
Enough.