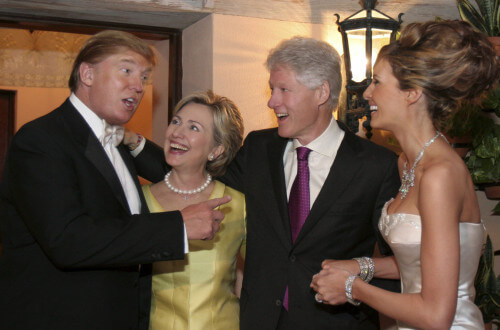 Let us give a moment of thanks to Donald Trump. Amid the swirl of political spin he has given the American people a frank and brilliant lecture on the nature of modern capitalism. The thesis of Mr Trump's discussion, whether he understands it or not, is that capitalism is dead in America.
The spectacle of the primetime debate was impressive. Here is a billionaire, standing as a semi-serious candidate for the presidency, who openly brags about his use of political influence in acquiring his fortune. Witness this exchange early on between Rand Paul and Donald Trump:
PAUL: Hey, look, look! He's already hedging his bet on the Clintons, OK? So if he doesn't run as a Republican, maybe he supports Clinton, or maybe he runs as an independent…

BAIER: OK.

PAUL: …but I'd say that he's already hedging his bets because he's used to buying politicians.

TRUMP: Well, I've given him plenty of money.
The undertone is striking. Trump is accused of buying and selling politicians, then shrugs off the accusation by implying it's no big deal. Just so there is no misunderstanding he clarified this point later on:
BAIER: Mr. Trump, it's not just your past support for single- payer health care. You've also supported a host of other liberal policies. Use — you've also donated to several Democratic candidates, Hillary Clinton included, Nancy Pelosi.

You explained away those donations saying you did that to get business-related favors.

And you said recently, quote, "When you give, they do whatever the hell you want them to do."

TRUMP: You'd better believe it.

BAIER: So what specifically did…

UNIDENTIFIED MALE: That's true.

BAIER: — they do?

TRUMP: If I ask them, if I need them, you know, most of the people on this stage I've given to, just so you understand, a lot of money.
If you look up "brazen" in Websters there's a picture of Donald Trump giving a toothy grin. Just by being his obnoxious unfiltered self, he has given us a glimpse into how modern America truly works. While something resembling traditional American capitalism can still be seen in Silicon Valley, huge swaths of the economy exist as a crony capitalist's paradise.
The key element here is regulation. The more regulated the sector, the easier it becomes to run to Washington, or the state capitals, with requests for special waivers, preferences, and deferrals. For some this is defensive lobbying; running to government to defend your business from the predations of others. For others this is offensive lobbying, where the businessman is playing the role of the predator. At a certain point — when government grows sufficiently large — the two become almost indistinguishable from each other.
In Manhattan real estate, where the first zoning laws were passed way back in 1916, the game is now so thoroughly crooked that there are no white hats and black hats, just an undistinguished line of grey from Battery Park to the Bronx. You can damn Trump for his corruption, or even sneakily admire him for his skill at manipulating an inherently corrupt system, yet he is more than most a product of his time and place.
We have been provided with an object lesson about modern American business. Whoever wins the Republican nomination should swear that he will begin the process of dismantling the system of American crony capitalism. There are thousands of mini-Donald Trumps all across America. Each and every one needs to be taken down a peg.