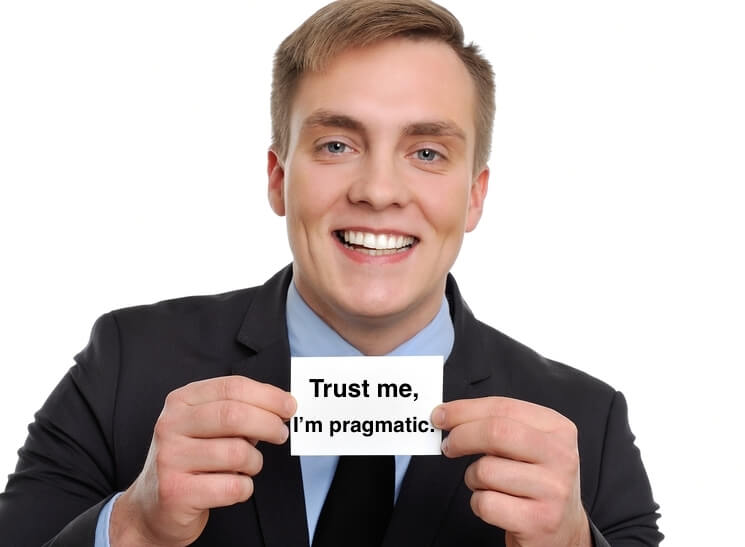 Although I may well come across as one of those barn-burning conservatives inclined to cut off our electoral nose to spite our establishment face, I'm not. Despite my awful experience working for the GOP, I learned that there are sets of skills and knowledge that vast swaths of the base know very little about. We need "experts," people who know voting and demographic trends, folks who can somehow deduce your stance on gun control from whether or not you own a boat, enjoy hockey, wear casual leather shoes, and drink domestic beer. There's a lot of analysis and strategizing that happens behind the scenes that can – and often does — help good candidates win.
Regarding governance, our political system is one of checks and balances, ugly realities, and innumerable hurdles in the way of getting our message out. Sometimes, it makes sense to throw caution to the wind and push forward, regardless of how many votes we have in the Senate; sometimes, however, it does not. Although it can be beyond annoying to hear "You can't do that" over and over, there are times when it's exactly what we need to hear.
Firebrands like us are quick to identify — often correctly — those in the GOP establishment who are actual enemies of conservatism, the kind of politicians or consultants who wouldn't push for defunding Planned Parenthood or overturning ObamaCare even if we did have the votes. But there is another kind within the establishment who genuinely want what's best for America, who disagree with the base on tactics, but who ultimately want what we want. This posts is addressed to, and about, them: those pragmatists who are on our side, despite their obliviousness to what many of us would regard as obvious. It's hard to tell these principled pragmatists apart from the cynical kind of pragmatist, but there is a difference.
Pragmatists are realists, those who fully understand "how Washington works," the realities of what the American electorate will accept, the potential setbacks that might follow whatever steps we take, and the eternal principle which I previously described as A. Pragmatists are naturally inclined to emphasize what can actually be accomplished (and when), the ways the opposition will fight back, and what more we need — additional Congressional seats, favorable poll numbers, etc — to move our agenda forward in a tangible sense without getting whacked back down to earth by the realities of bad press or the filibuster.
These principled pragmatists — again, not the cynical, elitist, moderates who disguise themselves as such — support Tea Party candidates when they think they can win, they just tend to assume they can't. As uninspiring as we may find them, they're cognizant of realities that idealists often overlook. The perspective of the pragmatist may well be what keeps us from doing or saying something incredibly stupid that could cost us opportunities to effect real change.
However, as much as the pragmatists value reality, there are aspects of it they have an exceptionally difficult time grasping. As much as politics is a game of numbers, negotiation, compromise, interest groups, and back room deals, it's also one of inspiration, idealism, belief, and a sense of belonging and purpose. All too often, the pragmatist dismisses the concerns — the feelings – of the base out of hand. The pragmatist doesn't need a stirring speech to keep voting Republican, and consequently tends to view those who do as immature.
But just as idealism bereft of pragmatism leads to pure-believing firebrands nodding in agreement at each other at local Tea Party meetings, pragmatism bereft of idealism stifles every spark that could inspire someone to work on a campaign or convince his friend to vote this election. The pragmatist is utterly flummoxed by the conservative who supports the candidate he agrees with 60 percent of the time over the one he agrees with 85 percent of the time, failing to understand that Reagan and Truman both won largely because people liked and believed in them, even if they didn't necessarily agree with them point-by-point on an issue checklist. "They're not being rational!" complains the pragmatist. Correct. They're not. People aren't rational, not even most conservatives.
In doing so, the pragmatist leads his ideological allies to confuse him with the genuine enemies of conservatism, labeling them "stupid," "spoiled brats,", and "clowns." The pragmatist leaps directly to rational argument when he's addressing somebody who's mad as hell, failing to recognize that such an approach tends to make people even more emotionally defensive, immediately switching to derision when "reason" doesn't work. "I know this sucks, really, but this is the best we can do right now" works far better than demanding infinite gratitude for Harry Reid no longer being Majority Leader. "Let me listen to and explore your ideas (however harebrained they might seem to me at the moment)" gives people a sense you actually give a damn what they think. "You idiot, don't you know Obama will just veto it!?" does not. Pragmatists — even the good ones — too often respond with variations of "Shut up and listen to us" when they should be offering (and asking for) constructive feedback about what can be done given current circumstances.
Some in the base have no clue "how Washington works," others understand all too well and despise it. But the principled pragmatist conflates them, equating the ignorance of the former with the latter's informed understanding of the risks. Moreover, the hyper-rational pragmatist typically can't grasp that many of us could accept losing if we felt that our leaders understood the urgency of our cause, that they worked with our belief that things need to change now instead of hoping to stifle it, and that they're really trying.
The pragmatist is naturally risk-averse and so bogged-down in the details that he often gives the impression that he's given up on his conservative hopes and dreams, even if he hasn't. Thus, he fails to acknowledge the reality that giving the impression you're actually doing something matters almost as much as actually doing something, especially during those times when doing something proves exceptionally difficult. People need inspiration: the sense they're being led by somebody who wants what they want, who is disappointed by what disappoints them, and who dreams what they dream. McBoehnell is the opposite of that.
The principled pragmatist might argue that — for now – stopping Obama from furthering his agenda and keeping Hillary from winning the presidency might temporarily suffice as political victories. In the actual sense it won't. Conservative leaders need to give reminders — evidence, you might say — that we're fighters even if we lose and assurance we're on the right track in a way that doesn't come across as condescending. Conservatives need to know that the pollsters, consultants, and Congressional leadership want what we want, that we'll get a respectful and sympathetic explanation for why the bill didn't make it to the president's desk like we were promised. Constant cries that "We can't do anything to forward our agenda until we have the Presidency and sixty votes in the Senate" or "I know I said we could pass a bill overturning Obamacare using reconciliation but didn't really mean it" are counterproductive.
Whatever the polling data might tell you, ignoring this is far from pragmatic. Yes, we need to be realistic, but we also need to push the bounds of reality a bit. A principled GOP pragmatist should respond to "Public opinion isn't with us on this one" with "let's start changing public opinion." Boldness is among the most essential traits we need to change Washington; today, it might seem fruitless, but being bold under such circumstances breeds confidence that we will continue to be so when things improve. No matter how many seats we have in Congress or what party controls the presidency, the media, academia, bureaucracy, pop culture, and Self magazine will be just as against us then are they are now. It's going to require courage to change things no matter what happens at the ballot box. Pragmatists need to show us they've actually got some of it; without it, no rational argument or cry of "President Hillary will be your fault" will convince many of us there's any reason to vote for them.
Moreover, the Pragmatist needs to distinguish himself from the Washington elites who don't want to effect actual change, the Chamber of Commerce types who plan to run primary opponents against perfectly electable Tea Party favorites, and who would voraciously oppose Ted Cruz especially if even if the polling data indicated he'd win in a landslide. At present, the principled pragmatist who believes in waiting for a more opportune moment to push a conservative agenda advocates the same short-term strategy as the elitist who wants to stifle anything that hints of breaking the "Washington Cartel." Not being cognizant of how downright condescending he can sound, the principled pragmatist gives the impression that there's nothing to differentiate him from Trent Lott.
Finally, the good pragmatist needs to admit that he's sometimes wrong. I've yet to encounter a single one who's admitted he was wrong about how Ted Cruz's "government shutdown" attempt would keep us from taking the Senate in 2014, nor consider for an instant that it might be part of the reason we did so well. Under pragmatic leadership, the base feels ignored, uninspired, and that the GOP is as much opposed to doing anything about our mess in Washington as the Democrats. The pragmatists believes such beliefs are nonsense, failing to see how he — unwittingly and undeservedly – gave such an impression.
The base may be "unsophisticated," but its passion has the potential to affect change far more reaching that anything "sufficient voter contacts" or focus group-derived talking points ever could. The base may be overly-inclined to believe that "telling it like it is" is a sure way to win every election, but the pragmatist is too quick to conclude that the same truth-telling surely leads to defeat. If it's irrational to assume that every conservative firebrand will lead to Reagan-sized landslides, might it not also be irrational to assume that anyone to the right of Bob Dole will result in Goldwater-sized defeats?
Indeed, the charts and data and polling trends provide us with information we need to win elections, and the pragmatist understands this like the base never will. However, the base would be far more likely to heed the cautious advice of the pragmatist were he a bit less inclined to call them "clowns," a bit more inclined to acknowledge that there's political reality that can't be neatly encapsulated in charts and graphs, and were his advice not quite so cautious all the time.
According to a poll I keep hearing about — but am unable to locate — that merely 20% of Republicans are happy with their leadership, whereas 60% of Democrats approve of theirs. The pragmatist likely assumes that this is because Democratic leaders have enough power to effect actual policy changes in their favor. What if it's the other way around, that Democrats have power because they inspire their base? What if the Republican base is correct in its "unsophisticated" and "irrational" notion that it's impossible to grow a "big tent" without risking driving its current occupants out? Has the pragmatist noticed that as he continually encourages his base to be patient, Democrats encourage their base to remain perpetually riled-up?
The principled pragmatist encourages caution, and sometimes caution is appropriate. Unfortunately, these are perilous times, times during which caution simply will not suffice. Everything that could possibly engender change requires risk, so it's time for the pragmatist to use his expertise to maximize the effectiveness of bold strokes instead of discouraging anybody who might consider them, and to step aside and allow some creativity.
The only reason I can tell the difference between the principled pragmatists and the cynical elites who genuinely oppose conservative principle is that I've personally interacted with enough of each to tell the difference. I've had long conversations late into the night with realists who've shown me that they want what I want, but staunchly disagree with me strategically. Most of the base has had no such opportunity. They've no reason to believe the pragmatists actually support them when the only thing they've ever heard from them is "not yet."
So Mr. Pragmatist, you may know from the depths of your heart that you'd do everything in your power to effect actual conservative change if given the actual chance. We don't, and we won't until you prove it.