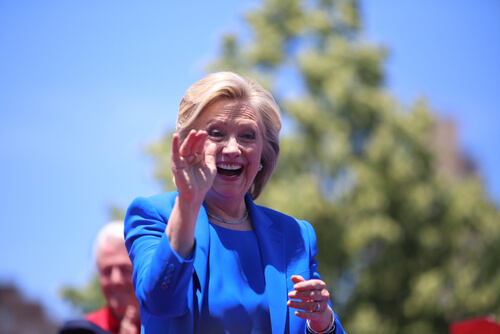 The only thing that seems to be multiplying faster than the national debt, Donald Trump's audacious comments, or the left-wing punditry's gasps of horror over the death of what was apparently the globe's favorite mammal, is Hillary Clinton's accumulation of prevarications about … well, nearly everything she's ever said for the past generation or so.
Hillary's claims about never having been served a subpoena and maintaining only one device for her emails were lies. Her claim that Colin Powell did the same thing she did — and that she wasn't required to turn over anything to the proper channels — was another whopper. Finally — and this is the kicker — her insistence that people "should and do trust me" should have generated tears of laughter from pollsters. It was for good reason that the late William Safire once claimed that Hillary Clinton was a "congenital liar." And that was almost 20 years ago. Matters have not changed at all since that time — and arguably have gotten worse.
The question is whether or not her pathological lying makes any difference to her chances to become the next president. The most likely answer is, tragically: no, not a bit. Why not? Because we live in an era saturated by habitual lying, brazen lawlessness, and spectacular hoaxes.
Consider lying. President Obama once famously declared that "if you like your health care plan, you can keep your health care plan" — which we all know now was a deliberate lie, among the multitudes he has committed over the course of his presidency. But this lie aided in the passage and implementation of Obamacare, so what did it matter?
Richard Blumenthal talked about the time he served in Vietnam, which was a simple lie—veterans know that you don't "misspeak" about something like that. Now he's a United States Senator from Connecticut. Elizabeth Warren famously assumed a Native American ancestry (which was about as believable as a claim that she was abducted by extraterrestrials — actually, upon reflection, perhaps less so). No matter: she's also a United States Senator.
Rachel Dolezal said she was an African-American because apparently that's the way she felt about herself — still, however, another lie. Ditto for Bruce Jenner, who evidently was never comfortable in his masculine skin and now pretends to be a woman, with some various accouterments here and there to make his case stick. And his imposture was not only accepted by the smart crowd, but rewarded as well.
Indeed, supporters have brayed about how Jenner was being "courageous" for his gender flip-flop. Quick thought here: if the word 'courageous' is applied to someone who obviously needs therapy instead of approbation for his delusion, then there are no words left in our vocabulary to describe our real heroes, such as the courageous men and women in uniform. Moreover, pretending that a person can simply change genders on a whim is a pernicious lie.
The sad and sick part of this is that such examples only scratch the surface of our lying, dishonest political culture and the media that supports it — call it the Sharptonification of America. Words mean whatever you want them to mean, or not mean, depending on the outcome you desire.
Certainly this was the case with the Supreme Court's decision in King v. Burwell, where a majority of the Court handed the Obama Administration a victory by dismissing the unambiguous meaning of a very simple word. How hard is it, after all, to grasp the meaning of the word, "state," when the law declares that federal subsidies can only be provided if said entity establishes an insurance exchange? Arguably, the Supreme Court didn't just "interpret" the law; it broke the law through ludicrous reasoning. It's like speeding: if you've ignored the law, you've broken it.
The judicial branch is not alone, of course. The Obama Administration constantly broke the law by delaying or extending deadlines to enroll in the Affordable Care Act; it has ignored laws for securing our southern border that it deems inconvenient, and has turned a blind eye to the blatant lawlessness of so-called "sanctuary cities."
Indeed, Mr. Obama's contempt for the lawmaking branch perhaps has no parallel among American presidents, especially with his executive orders on amnesty, the NLRB, and net neutrality, to cite but a few. His cavalier disregard of Congress's constitutional duties with regard to the nuclear deal with Iran will probably go down in history as the most contemptuous action his administration ever undertook, especially in light of Secretary Kerry's hint that the administration just might ignore Congress if that institution fails to approve of the President's actions.
All of which follows a pattern, of course, especially when lying and lawlessness merge into that moral sinkhole known as a hoax. Thus, claiming "Black Lives Matter" while yelling "Hands Up, Don't Shoot" to justify riots, destruction, and the murder of white police officers is a hoax based on a lie. If black lives really mattered to those who uttered those words, then nearly all of their attention would be consumed by the tragedy that the overwhelming percentage of black homicides are committed by other blacks, not by white police officers. And of course the "Hands Up, Don't Shoot" mantra is simply a lie, invoking an event that never actually took place.
Still, these examples of lies and lawlessness pale in significance to two spectacular hoaxes that dominate our political culture: multiculturalism and climate change.
Multiculturalism is the doctrine that all cultures should be considered more or less equal to each other in terms of their intrinsic value. Thus, for instance, one must believe that a constitutional republic is neither better nor worse than a regime or a culture that perpetrates beheadings and mass murders, obliterates free speech with death sentences, and consigns half the human race to a status of virtual slavery.
To take another example, multiculturalism makes it impossible to condemn the dismemberment of infants for the purpose of selling their body parts to purchase a Lamborghini. Now, one might respond with abhorrence to such evil behavior, but this would be a psychological reaction, because rendering a value judgment is not possible if you've been morally castrated by multiculturalism. In short, multiculturalism commands a person to deny the evidence of one's own senses and to embrace a fictitious world where moral judgments are not permitted, because, as Nietzsche once put it, we are all truly beyond good and evil.
About the dogma of man-made climate change, what more needs to be said? It is the prevailing religion of the elites. The main lesson of the environmentalist cult is that imposing a policy with tens of billions of dollars buys academic support, with the connivance of the media, and produces a political climate of supine acquiescence among the masses, tinged with fear for one's livelihood in the case of dissent.
All of which brings us back to Hillary's lies, because if there's anything that the Clintons have it's money, academic support, and media collusion (along with no small ability to strike fear in the hearts of those who get in their way). What is all this fuss about, anyway? A few missing emails here and there? You've got to be kidding me! Selling State Department favors for some substantial contributions to the Clinton Foundation? Just a coincidence, nothing to see here.
What about all those polls showing high unfavorable ratings for Hillary and demonstrating that she isn't forthright and trustworthy. Fuhgetaboutit, doesn't matter; her supporters don't believe her critics, and those on the fence about whether or not to vote for her don't care. Why not? Because we live in a culture where lying is normal, lawlessness is accepted, and hoaxes are just too immense and pervasive to be challenged—too big to fail, we might say. Indeed, compared to barbarism (which we're not morally equipped to condemn), what's the big deal about a few lies here and there? Mere peccadillos, nothing to be concerned about.
God help us all.