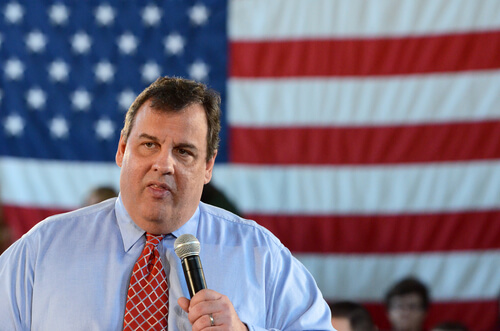 As Ricochet member ShellGamer wrote late last year, Colorado and Washington's (and now Alaska's) legalization of marijuana has both created and exposed a constitutional mess. In brief, neighboring states are suing the Obama Administration for its policy of turning a blind eye to federal drug laws. Meanwhile, Congress shrugs its shoulders and acts uninterested in either forcing the president to enforce the law, or in repealing or amending it. If elected president Governor Chris Christie says he'll have none of it:
"If you're getting high in Colorado today, enjoy it," Christie, a Republican campaigning for the 2016 presidential nomination, said Tuesday during a town-hall meeting at the Salt Hill Pub in Newport, New Hampshire. "As of January 2017, I will enforce the federal laws." […] "That's lawlessness," he said. "If you want to change the marijuana laws, go ahead and change the national marijuana laws."
Christie certainly has an argument, especially on that last point: when confronted with genuinely bad laws, the proper response should always be to repeal or reform. Keeping laws you don't plan to enforce on the books encourages lawbreaking in general, and invites caprice on the part of enforcement. If one thing unites the entire spectrum of the right, from anarcho-capitalists to NeoCons, it's the belief that the rule of law matters.
This isn't the first time Christie has promised to do this. As he told Hugh Hewitt back in April:
Hewitt: If you're the president of the United States, are you going to enforce the federal drug laws in those states?

Christie: Absolutely. I will crack down and not permit it.

Hewitt: Alright, next, the–

Christie: [interrupting] Marijuana is a gateway drug. We have enormous addiction problem in this country and we need to send very clear leadership from the White House on down to Federal law enforcement: Marijuana is an illegal drug under federal law and the states should not be allowed to profit from it.
In his eagerness to enforce federal law, Christie seems to be ignoring a related question: was Congress acting within its constitutional authority when it passed the Controlled Substances Act? It's certainly difficult to find an explicit granting of such power in Article 1, Section 8 and impossible to do so if you want the document to restrict Congress in any meaningful way. Moreover, it at least seems notable that the prohibitionists sought and won a constitutional amendment in order to ban alcohol, an amendment that has (blessedly) since been overturned. Shouldn't someone concerned with the strict enforcement of the rule of law at least consider that matter?
In the meantime, however Christie is right: the federal government should enforce the laws on the books. And — while it doesn't sound like this would fly past a President Christie — perhaps the best way to get rid of the law is the spectacle of having federales arrest peaceable citizens whose actions don't concern the federal government and are in accord with their state's laws.
Image Credit: L.E.MORMILE / Shutterstock.com