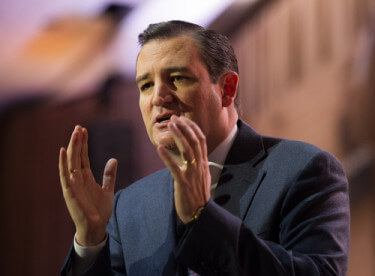 During his excellent speech before Congress, Sen. Ted Cruz repeated a common complaint of Republican voters:
The American people were told, "If only we have a Republican majority in the House, things will be different." Well, in 2010, the American people showed up in enormous numbers and we got a Republican majority in the House. And very little changed. […] Then the American people were told, "You know, the problem is the Senate. If only we get a Republican majority in the Senate and retire Harry Reid as majority leader, then things will be different." Well, in 2014, the American people rose up in enormous numbers, voted to do exactly that. We have had a Republican majority in both houses of Congress now for about 6 months. What has that majority done?
While debating the possibility of de-funding Planned Parenthood the other day, a fellow Republican insisted we needed total control — a Republican president and a Republican majority in both houses of Congress — for that to happen. Appropriations are not a significant authority, apparently. Since Roe v Wade, he told me, Republicans have enjoyed such total control for only two years, under President George W. Bush. That's two out of 40 years. In order to prevent about a million children from being slaughtered every year, I'm being asked to wait for an electoral scenario which has only happened once in my lifetime.
And what happened in those two years that Republicans had total control? Did the Republican-controlled Congress and the most pro-life President in living memory defund Planned Parenthood? Of course not. That would be too much to ask. Presumably, Congress determined that diminished support for the war could not even be risked to stop a genocide at home. Rather than employ that total authorized power with impunity, Republicans once again "played it safe."
I am not proposing a discussion specifically of abortion. That's merely one of many interests of Republican voters that has not been sufficiently implemented. But must Republicans have total control to accomplish anything significant? Would they even make use of that power if they had it?
Republicans have not earned the privilege of delays. They have not earned the trust required for four-year strategies, let alone 10-year, or 20-year strategies.
In addition, Republicans are fools to rely on plans that require consistent power through multiple terms. First, America's pendulum-like electoral history does not support such hopes. Second, Democrats have proven able to demonize Republicans and misrepresent Republican positions, even without convenient gaffes, facts, or policies (e.g., the "War on Women"); evidently, laying low cannot preserve Republican electoral victories. Third, Democrats can accomplish more in an equal amount of time due to their willingness to disregard normal procedures, laws, and even the most basic moral concerns for their opponents.
Furthermore, it is easier to get into debt than to get out of it, easier to harm international alliances than to establish them, easier to create laws and programs than to eliminate or even reduce them, and so on. The deck is stacked against the side of freedom and honor, now and forever.
Republicans must strike when they can, as often as they can, as hard as they can. Playing the long game clearly doesn't work; nor do soft steps. History does not support the timidity of reigning Republican strategies.
Act today, or your authority will be revoked.
Image Credit: Christopher Halloran / Shutterstock.com