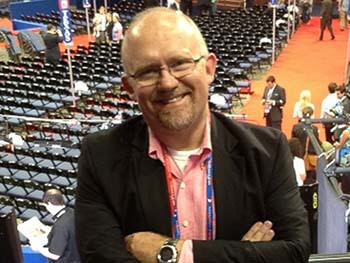 In his excellent post, my friend and Ricochet member The King Prawn, directed my attention toward a handy article authored by Ricochet Contributor and Political Consultant Rick Wilson. I've had a few brief exchanges with Rick and I like him. He's always impressed me as a straight shooter, earnest, affable, experienced, and capable of communicating without the sneering derision we've come to expect from others in his profession.
His latest, Trump Voters Are Hillary's New Best Friends, is a well-written piece that features an itemized list of reasons Trump will crater and why his supporters are unwittingly aiding the opposition. In the interest of opening a dialogue between two factions that seem diametrically opposed at times, I'd like to pose a few questions to Rick that his article raises, to wit:
Donald Trump is not running a real campaign. He is working the phones, stirring the pot and using the media ecosystem to its fullest. Soon, the bolder members of the field will follow Rick Perry, Marco Rubio and Jeb Bush in making harder and more decisive strokes against him. Unlike Trump, they'll use real oppo, tested and targeted messages—ads built not just to cut, but to kill. They'll break his operational tempo, get inside his OODA loop and turn his circus into a crispy ruin. It's what real campaigns do.
I really liked this part, Rick. It made you sound like Conan the Consultant. "…ads built not just to cut, but to kill. They'll break his operational tempo…" Yes yes, and we will crush our enemies and hear de laminations of de women! And trust me, sir, I believe you. We've seen this done with devastating effect on other Republican challengers in the past. But tell me, Conan, where were those "harder and more decisive strokes," against Barack Obama? When did the "targeted messages … built not just to cut but to kill," take effect, because I don't remember seeing them. When was Barack Obama's circus, complete with faux Greek columns, brought to a "crispy ruin?"
From launching his career in the home of a domestic terrorist to spending 20 years listening to anti-American rants from the pulpit, here was a guy whose heroes were Marxists and who presented more quotes lambasting American constitutional government than I have liver pills. Indeed, the only thing missing was a revelation that he had been taught civics by Alger Hiss, and yet both John McCain and Mitt Romney, whose campaigns I expect you would call "serious," lost their voice when it came time to launch the heavy artillery against a dangerously radical man, artillery they so readily employ against people in their own party. Is it unreasonable to expect the Republican nominee to be as tough on the real enemy as he is on his colleagues?
Can you understand the frustration this sort of political bipolar disorder engenders on the part of those who grow weary at seeing their advocates savaged by the "establishment" nominee, who then gets trounced in the general election? And if you in fact can understand this, do you think the sort of condescension that is being heaped on those who are relieved to hear Donald Trump (or anyone, for that matter) speak to their concerns will actually persuade them to support the eventual nominee? John McCain refers to those who are taking Donald Trump's points seriously as "crazies." A dear friend of mine, who tenaciously defends Republican timidity, wrote in another forum that Trump is, "not a serious candidate for a sentient human."
Perhaps you've heard of Lauran Wilkerson, the lady who spoke yesterday before a Senate hearing on sanctuary cities. Her son was tortured, murdered, and his body was set on fire by an illegal alien who is here by virtue of parents who came here illegally, qualifying him as a "dreamer." Ms. Wilkerson said:
Sanctuary city policies scream to the criminal element of illegals in this country: 'Come to our town USA, we'll protect you from our terrible policemen. We'll protect you from these tough American laws, that you — because you had a hard life — are not able to go through the same motions that an American is. It is going to take another life lost by a Senator, a Congressman, the President, even another of today's heroes, someone from Hollywood before someone in a position moves on this. I urge you: you are in a position to do something about this for Americans.

I thank you to Mr. Trump for getting a message out about the nation in two minutes… that countless families like my own have been trying to say for five to six years. It feels good to be heard whether you love him, or whether you don't, I felt heard.
Is Ms. Wilkerson sentient? Is she a "crazy?" Is she someone that fits into your own characterization of those who suffer from, "a combination I call 'herpes and a hangover.' They may have had fun the night before, but they'll regret the hangover for a day." Fun? Her son is no longer sentient, of course, his life having been sacrificed on the altar of political expediency by both parties. Did you catch Ms. Wilkerson saying, "It feels good to be heard whether you love him, or whether you don't, I felt heard?" Rick, why, in your opinion, did Ms. Wilkerson feel that her message had fallen on deaf ears since her son's murder? You're a professional, after all, so I'm curious as to why you think she felt as if she had no advocate in a party that ought to embody the justice she seeks? Is it a combination of Republican political and moral sclerosis that left this mother feeling alone in her struggle, or simple bureaucratic idiocy?
One last thing that really came across in your article was a rather high sense of confidence in the abilities of consultants as a group. But I wonder, respectfully, if two resounding defeats at the hands of a very beatable radical ought instead to provoke a bit of humility, introspection and, dare I say it, respect toward those whose vote you will solicit in November?