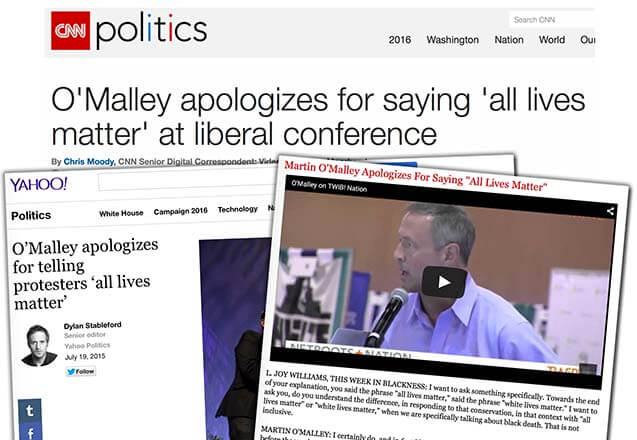 As Ricochet member Doug Kimball mentioned earlier, Bernie Sanders brought his moldy message of 19th-century economics to Phoenix this weekend. The Vermonter joined fellow presidential candidate Martin O'Malley on stage for Netroots Nation's raucous townhall event. When I typed the previous sentence, autocorrect changed "townhall" to "downhill" which is a decent summary of the progressive confab.
While former Maryland Governor and Baltimore Mayor O'Malley was answering questions from moderator (and illegal immigrant) Jose Antonio Vargas, African American activists jumped on stage, grabbed the mic, and "shut [expletive] down" to use their elegant phrase. Fellow activists cheered, others booed, and while O'Malley grimaced, the chants of "black lives matter" drowned out any message the candidate had planned to share.
Trying to regain control, O'Malley responded to the protest by saying, "black lives matter, white lives matter, all lives matter." The protestors were shocked. Gasps filled the audience. You almost could hear a scratching record echo through the hall.
Excepting Planned Parenthood representatives, who could possibly object to someone saying that all lives matter? Welcome to the bizarro world of Democrat identity politics.
The "black lives matter" movement began in 2013 in protests following the acquittal of George Zimmerman in the shooting death of Trayvon Martin, an unarmed black teenager, in Sanford, Fla., and became a rallying cry for demonstrators in Ferguson, Mo., and Staten Island, N.Y., in 2014 and Baltimore earlier this year. "All lives matter" has been used by some in response, angering those who say such a reply misses the point.

"When some people rejoin with 'all lives matter,' they misunderstand the problem, but not because their message is untrue," Judith Butler, a comparative literature professor at the University of California, Berkeley, told the New York Times earlier this year. "It is true that all lives matter, but it is equally true that not all lives are understood to matter, which is precisely why it is most important to name the lives that have not mattered and are struggling to matter in the way they deserve."

Butler added, "Claiming that 'all lives matter' does not immediately mark or enable black lives, only because they have not been fully recognized as having lives that matter."
In today's Democratic Party, it is actually controversial to say that every person's life matters. Consider that.
After O'Malley fled the stage Bernie Sanders shuffled out, but he too was soon exasperated by the mob. "Black lives, of course, matter," he said. "I spent 50 years of my life fighting for civil rights and for dignity, but if you don't want me to be here, that's okay. I don't want to outscream people."
He then rolled into his tired stump speech, citing Obamacare as one of the ways he helped people of color. "We can't afford that!" a protestor screamed. Do tell.
By stoking the division of identity politics, the Balkanized tribes which comprise the progressive movement are tearing into each other. Lily-white Bernie fans are lecturing black activists about MLK. Hispanics are upset that trans persons are getting too much stage time. Union members are trying to stop Uber as wired millennials look on with incredulity. Liberalism is eating itself.
Despite the media's insistence that leftism is ascendant, Democrats continue to climb further out on a crooked limb of the crazy tree. And when average American voters see a seemingly mainstream candidate apologize for saying the obvious truth that "all lives matter," they're going to give the GOP another look.
Update: Heh. It appears Ricochet member Quinn the Eskimo beat me to the headline. Well done!