Getting old can be a pain (both literally and figuratively). But there are some good things: Hair care takes no more than a few seconds daily, no more raging hormones, dramatically reduced need to impress others, being able to yell at the neighbor kids when they get on my lawn (I've not exercised this privilege, but it's coming), and – best of all – grandchildren.
One of the greatest blessings of age is that there comes a time when you can completely ignore things and people who would otherwise irritate you. Sadly, I cannot yet ignore Hillary Clinton or John Kerry. I am able to completely ignore Al Gore. (Although I heard he may jump in the race if Hillary crashes. Then I'd have to think about him again: I could do it for the good of the country).
Here are three things I now ignore with impunity, and I'm better off for it:
1. Jimmy Carter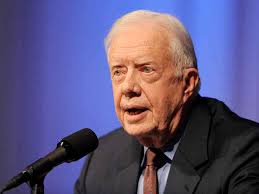 I'm informed by credible sources that Jimmy has just written yet another book, this one treating his reflections on turning 90. Sorry, Jimmy. I'll ignore that book just like I ignored the several hundred other forgettable books you've foisted on the gullible. Okay, sometimes Jimmy has managed to irritate me with one of his "Yasser Arafat was a man of peace" comments, but not anymore. After this post, I will never think of Jimmy Carter again.
2. All Math Higher Than Calculating a Percentage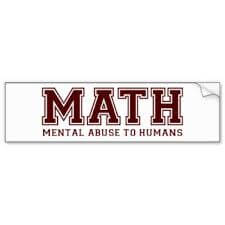 I have reached that wonderful point in life where I will never, ever again need to know the quadratic equation, let alone what it does. I will never have to prove another geometry theorem. Trigonometry: I don't need you. Algebra: Who cares what x is? As far as I'm concerned, the time has come to decide what x is once and for all and put the kids out of their misery. Calculus: Sorry, I don't have to forget you – I never knew you in the first place.
Don't get me wrong. I know that mathematics is incredibly important to our lives. The world we know would not exist without people who perform amazing mathematical feats. But not me. I now live in a purely arithmetical world. I'll pay for the products I buy, and in that way will pay to have my math done for me.
3. Lousy Modern and Post-Modern Novels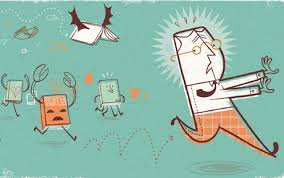 I finally read Ulysses last year. I'm glad I did it, but I'm not going there again (so much brilliance expended for so little value). I've read some stuff by Virginia Woolf, but I wish I had the brain cells back. I refuse to read any book that requires more effort to read than it took to write and produces even less enjoyment.
Sorry John Updike, Philip Roth, Virginia Woolf, Norman Mailer, Toni Morrison, Don Delillo, Thomas Pynchon, and a host of European writers whose names I never actually knew, I've decided I don't need you – I don't even need to think about you. Ever. I like books with beginnings, middles, and ends (in that order). That's why I like the great ones: Homer (yes, I know it's really poetry), Austen, Dickens, Trollope, Conrad, and Cather.
I no longer feel that I must deny that I really like good fantasy and sci-fi. And children's books. I love the good ones. I've received more pure enjoyment from The Wind in the Willows and The Chronicles of Narnia than from any contemporary novelist (Marilynne Robinson excepted). Not only do I no longer have to read lousy novels, I no longer have to pretend to have read them, or that I even know their names or who wrote them. I realize that this might make me a barbarian. Who cares? I now ignore people who call people like me a barbarian.
Surely there are some things you now ignore with impunity. Let's hear them.
Update: I also ignore Mike Murphy now that he's working for Jeb. Mr. "We Must Support Electable Candidates" is now working for Jeb, who I believe is unelectable.