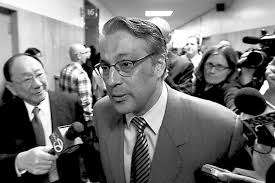 We remember the Jim Crow South, where sheriffs' departments routinely colluded with prosecutors, judges, and defense attorneys to slow-walk investigations involving white officers harming blacks. They routinely "softly" prosecuted whites who injured blacks. All-white juries handed out perfunctory acquittals based on "reasonable doubt." It was the good 'ol boy network at its finest.
We are in danger of witnessing this trend (Jim Crow, West Coast style) right here in San Francisco. Local politicians are circling the wagons to take the focus off Kate Steinle's tragic murder, and protect their sanctuary city policies—and one another. Only this isn't about race. It isn't about people of color turning the tables on the white power structure. It's about people in power not wanting to own up to their responsibilities, and closing ranks to protect their own.
This week, Public Defender Jeff Adachi appointed San Francisco Sheriff Ross Mirkarimi's former client, Matt Gonzalez, to defend Kate's killer.
In 2003, Gonzalez ran for mayor. His campaign manager? None other than the sheriff who is at the vortex of this horrible tragedy, Mirkarimi. Is this not a conflict of interest? Or does it not at least reek of the appearance of impropriety?
While San Francisco Mayor Ed Lee has been vocal in his criticisms of Mirkarimi (his longtime enemy), the Sheriff's department, the Public Defender's office, and D.A's office are all now suspect.
The D.A., George Gascon (a supporter of Prop 47, which released thousands of drug offenders), has been silent. According to former San Francisco Mayor Willie Brown, Gascon "opposes turning anyone over to immigration enforcement unless the feds come across with a court order."
This prosecution shouldn't be about sanctuary cities, ICE, the Sheriff's department, or comprehensive immigration reform.
The despicable act of one man does not taint an entire ethnic group, and Mr. Trump should zip it.
Right now this is a murder case and should be treated like one — based on facts and facts alone.
But this is an election year — or, as was said to Jack Nicholson in the classic movie of the same name, "Forget it, Jake; It's Chinatown." Accepted rules of propriety don't apply here.
As a result, Mirkarimi, instead of trying to get to the bottom of this murder, is blaming ICE, though the San Francisco Chronicle reported that, on March 9th, "two weeks before Sanchez was sent to San Francisco — the sheriff issued an order to his staff banning "all holds of inmates for federal immigration authorities."
ICE is blaming Mirkarimi.
Public Defender Adachi is clearly using this as a referendum on sanctuary cities. His choice of Gonzales, a staunch immigration advocate, speaks for itself.
Under our system, the defendant is entitled to a vigorous defense. But appointing a public defender who is best buddies with the sheriff who released the defendant onto the streets?
The power structure is now promoting the "tragic accident" meme. Currently, just as there is no evidence that the gun went off accidentally, (remember, the killer, Juan Francisco Lopez-Sanchez, at first said he fired three shots at sea lions), there is likewise no evidence of gang involvement. Yet, a heroin dealer with seven felony convictions, over 30 known aliases, and substantial time on the inside has had a lot of exposure to Mexican gangs and drug cartels. The absence of any mention anywhere of Surenos or Nortenos has been jarring.
Someone helped him along the way. Where did he get the gun? Where did he get the heroin he peddled? Who helped him secure the I.D. cards? Who helped him get back in the country six times? Who did he hang with in federal prison? Or could he have been a police informant, let loose by Mirkarimi to report on drug activity in the city? If Mr. Gonzalez learns any of this from the defendant, he is likely to keep it under wraps to protect his crony.
This is speculation, of course — and all the speculation in the world will not bring Kate back. The family has been steadfast and gracious in avoiding turning this political. "We are in the middle," said Kate's tearful brother Brad on TV last night.
But they don't want others to undergo the horror of what they are going through now and will endure the rest of their lives. They are convinced some things can be fixed to decrease the likelihood of this happening again.
Sheriff Mirkarimi has blood on his hands. Public Defender Adachi has just dirtied his. The fact that D. A. Gascon has not made a strong statement in defense of the family and condemned the senseless killing speaks volumes and may portend a less-than-vigorous prosecution.
Here's the $64,000 question: If the homicide investigation is inadequate; if the prosecution is not vigorous; if the sanctuary city concept or immigration is put on trial instead of the defendant; if the Sheriff's Department is not held accountable–will the Department of Justice come in as it did in Ferguson and Baltimore? Or will the West Coast version of Jim Crow prevail in San Francisco?