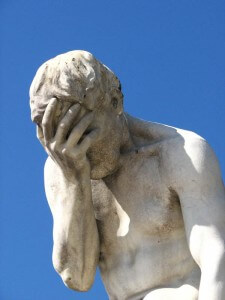 It appears Greece has ended up paying two costs. It chose first to spurn the EU through a referendum and has suffered a banking system shuttered and a major contraction in its economy. It then spins around and takes a deal that is to most observers worse than the one it turned down the previous week. So it pays for a financial crisis and for more austerity.
Heckuva job, Alexis.
So while the European and US stock markets were having fun and the euro was trading down — never mind what happened in the Athens stock exchange — here is some of the mishegas happening in Greece as they approach nighttime.
One of the preconditions imposed on Greece for a deal is that it signs into law European rules that would put euro zone authorities at the ECB and in Brussels, rather than Athens, in charge of identifying and closing or breaking up sick banks.

This in turn could lead to a shake-up of the sector that could see some banks close, with losses pushed onto bondholders and possibly even large depositors. In such circumstances, there would be little that Athens could do to prevent this.

One European official had told Reuters that the number of big banks in the country could be reduced from four – National Bank, Piraeus, Eurobank and Alpha – to as little as two.
You could be the proud owner of a Greek island. Want to buy a Greek asset pledged to help pay off its loans? Call the Germans. They're in charge of privatizing Greek assets. I'm sure they'll hold out for top dollar, er, I mean, euro.
There are provisions in the agreement to get Greek stores to stay open on Sunday, something not necessarily allowed in Germany.
It is hard to imagine the Tsipras government survives this; it will be impossible without a shakeup that creates a unity government that passes the weekend's deal… and then may as well go on vacation. Angela's got this, Alex, don't you worry about a thing.
And for all his trouble, there is not a promise of a single euro of debt forgiveness, just vague promises of letting Greece pay back over a longer time. The Germans may as well buy some property. It looks like they plan to be there a while.
In the end though, the mistake was Greece's: If you were going to hold a referendum and campaign for "no" and vote resoundingly for it, you had to have a plan for when the Germans called your bluff. Instead, they showed weakness and were steamrolled. Syriza is unfit to govern the country, and the sooner the Greeks figure this out, the sooner they can find a better way out of this mess. And that might include saying "no" once more, finally and for all.