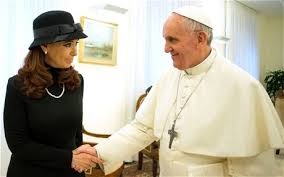 As Pope Francis continues making waves across Latin America, hailed as a socialist by the likes of Evo Morales (who recently presented to the Pope a crucifix in the form of a hammer and sickle), it is of the highest importance to understand how Pope Francis gained his world view of capitalism and socialism in his native land of Argentina.
An incident that can help us understand took place at the time of the famous event in Argentina called the Cordobazo in 1969, the same year Bergoglio (Pope Francis) became a priest. The Cordobazo was a watershed event where the free-market based ideas of Krieger Vasena, Finance Minister under the Dictator General Onganía, emerged but ultimately collapsed under immense social pressure. Argentina was slowly undergoing a shift from a protectionist economic state ruled by unions to a more free economy with a smaller public sector workforce. His reforms were various and effective.
Despite the return to economic stability, foreign investment, and lower unemployment, many students, workers, and clergy had a different view from Vasena's grand free-market vision. They held steadfast to the idea that America was trying to destroy all remnants of their way of life by beating their Argentine competitors and essentially taking over their country. This view stems from the ideology created by one of Argentina's most famous President, Juan Domingo Perón.
Perón was president of Argentina for almost 10 years, starting at the end of the Second World War; and through immense economic surpluses generated from grain exports, he was able to implement economic, social, and political reforms that made FDR look like an amateur (read Amity Shlaes). Empowering workers by giving them higher wages, protecting native industries, and forming a strong sense of national pride for the country, Perón dominated Argentine politics. What abruptly ended his renaissance was the Marshall Act, which kicked Argentina out of the plan for providing postwar relief to war-torn Europe. The economic unrest that followed led to his exile from the country. His imprint of social, economic, and political change, however, stayed and morphed over the following decades into an array of socialist and marxist interpretations.
This leads us back to Generals Onganía and Vasena, who were attempting to rid the country of Perónist ideology. As mentioned previously, Bergoglio was ordained a priest in 1969, a date that forever stamped into Argentina's psyche the idea that anything that wasn't Argentine was essentially against the interests of the Argentine republic. Through a massive coordination among students, workers, priests, and revolutionary individuals who saw America's expansion into the auto market in the industrial city of Córdoba as an imperial incursion, American factories were vandalized and torched. The military moved in and tried to quell the protests, but only furthered emboldened the rioters, leading to the ouster of Vasena and the return of Perónist influences in economics. A victory culminated in the return of Perón years after, and he presided as President and Dictator for a few years until his unexpected death in 1974.
I believe Pope Francis, having seen all of this, was left with a very strong impression. That impression consists of the view that workers had been suppressed by foreign corporations in the name of capitalism, and that the state had a duty to protect the interests of its people no matter the cost. This thinking, whether you called it socialism, corporatism, or the lingo you prefer to describe his philosophy, eventually influenced his recent encyclical on the environment.
Personally, I think there are several aspects of his teaching that should be taken positively in his recent encyclical, from his favorable views of the ecology of the family and its importance for society to his criticism of the rampant hyper-individualism that has predominated most economic powerhouses. His views on the environment and the economy, however you stand on those issues, should be discussed and understood, among conservatives, Catholics, and libertarians alike, in the context of the immense turmoil that a single ideology created and the way it has mutated into dozens of interpretations, from marxism to light socialism, making the differences between libertarians and core conservatives seem trifling in nature.
Behind the Vatican walls resides a man who has seen poverty at its worst, due to a mistaken notion that captured the imagination of the Argentine Republic. Even though no conservative or classical liberal introduction will change his mind, from the Spanish Scholastics of the 16th and 17th Centuries to Richard Epstein, it is immensely important to understand the Pontiff within the context of the Argentine tragedy.