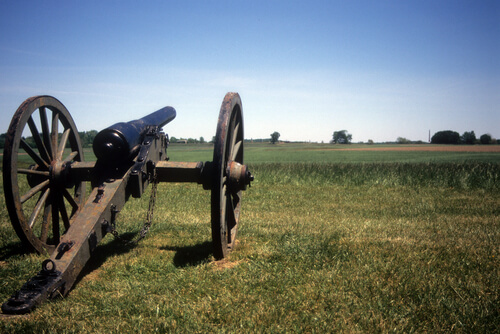 In the Washington Post, James L. Loewen makes an interesting point about Civil War monuments:
Take Kentucky, where the legislature voted not to secede. Early in the war, Confederate Gen. Albert Sidney Johnston ventured through the western part of the state and found "no enthusiasm, as we imagined and hoped, but hostility." Eventually, 90,000 Kentuckians would fight for the United States, while 35,000 fought for the Confederate States. Nevertheless, according to historian Thomas Clark, the state now has 72 Confederate monuments and only two Union ones…

Neo-Confederates also won parts of Maryland. In 1913, the United Daughters of the Confederacy (UDC) put a soldier on a pedestal at the Rockville courthouse. Maryland, which did not secede, sent 24,000 men to the Confederate armed forces, but it also sent 63,000 to the U.S. Army and Navy. Still, the UDC's monument tells visitors to take the other side: "To our heroes of Montgomery Co. Maryland: That we through life may not forget to love the thin gray line."
Why did this happen? The answer, he posits, is that the Confederacy and its 20th century apologists had a better, more active, and more persistent propaganda machine than did the Union. The effects of those efforts persist to this day, he argues, pointing out not only the glowing monuments and namesakes, but how many textbooks continue to present the Confederate cause as being more about states' rights than slavery.
Honoring the Confederacy today is probably largely harmless: the case of Dylann Roof is interesting primarily because of how much of an aberration he represented. Ironically, however, it's probably that way in no small part because of the ahistorical whitewashing its apologists accomplished. David French likely speaks for many when he writes that, during his childhood, he saw the Confederate flag as an essential part of honoring his family's long (and continuing) martial history.
Figuring out how to navigate all of this is hard in a country as fundamentally decent and liberal as the United States. We know how crippling dealing with the truth of its past turned out to be for Germany (which, on the whole, may not be such a bad thing). In our case, however, we're dealing with a controversy that is both more historically distant and less likely to have serious implications in the present day. That's worth remembering every time the media gets a little too breathless about Confederate nostalgia.