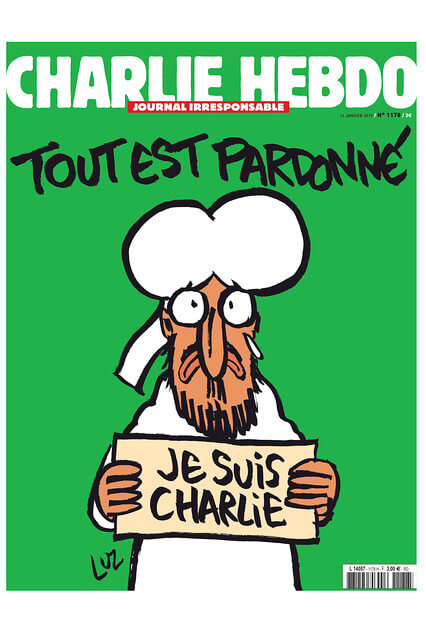 Sometimes I wake up thinking, "I could write something serious and original about the state of the world, or I could have a look at The New York Times and spend my morning shooting trout in a barrel."
In my defense, the weather is quite hot and The Times made it too easy. Margaret Sullivan, public editor of The Times, yesterday tried to explain why the paper chose not to print Charlie Hebdo's cartoons depicting Muhammad in the wake of the massacre of Charlie Hebdo staffers in Paris.
You may recall that afterward, their surviving colleagues went on television, begging the world media to show the cover of the first edition they published after the murders. They asked this, first, to show that the image was not, in fact, calculated to offend — unless one accepted the precept that any depiction of Mohammed was inherently offensive. Second, and far more important, they noted that if every publication printed the cover, they wouldn't be singled out as targets. Beyond that argument, there is the further point that, obviously, the cover was newsworthy.
But no, The Times didn't think so.
To ask why they didn't publish it, writes Sullivan, is a "perfectly reasonable question." It is one to which she offers the paper's perfectly cowardly answer. "Explaining his position," she writes, "Dean Baquet, the executive editor, said The Times did not wish to gratuitously offend religious sensibilities."
Right.
But how then to explain why its ArtsBeat section, covering protests by Roman Catholics in Milwaukee of a portrait of Pope Benedict XVI made from condoms, published an image of the work in question?
Here's how The Times Standards Editor replies:
I don't think these situations — the Milwaukee artwork and the various Muhammad caricatures — are really equivalent. For one thing, many people might disagree, but museum officials clearly consider this Johnson piece to be a significant artwork. Also, there's no indication that the primary intent of the portrait is to offend or blaspheme (the artist and the museum both say that it is not intended to offend people but to raise a social question about the fight against AIDS). And finally, the very different reactions bear this out. Hundreds of thousands of people protested worldwide, for instance, after the Danish cartoons were published some years ago. While some people might genuinely dislike this Milwaukee work, there doesn't seem to be any comparable level of outrage.
Please pause with me for a moment to admire this undisguised and contemptible cowardice. It approaches a perfection of some kind. There's no indication that the prim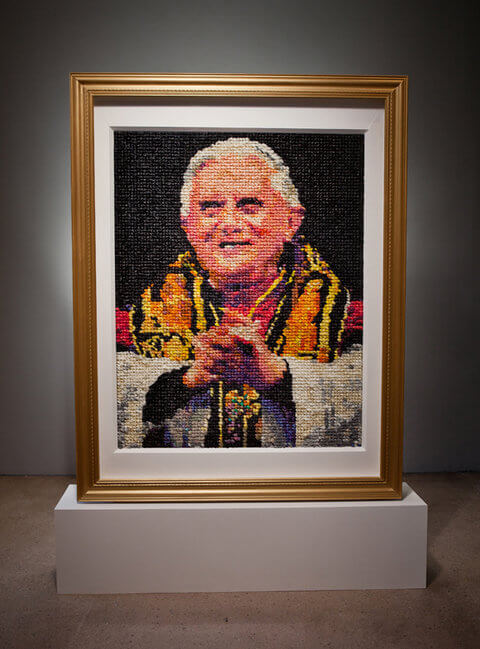 ary intent of a portrait of Pope Benedict XVI made from condoms is to offend or blaspheme? Written with the literary equivalent of a straight face?
From the original article, which features the condom-Pope prominently:
"Our hope is that the piece will bring not only [my emphasis] controversy, but room for conversation about the underlying discussion the artist intended as well as regarding the role of art in public discussion," Dan Keegan, the museum's director, said in a statement.
Clearly, no primary intent to offend or blaspheme. I mean, who in his right mind could imagine a portrait of the Pope titled "Eggs Benedict" and made out of condoms could offend?
Oddly, the article itself not only notes the that Roman Catholics were "upset," but links to a blog post by Jerome E. Listecki, the Archbishop of Milwaukee, in which he hints that he finds the work in question offensive. If you read very carefully between the lines, you may be able to sense it:
An artist who claims his or her work is some great social commentary and a museum that accepts it, insults a religious leader of a church, whose charitable outreach through its missionaries and ministers has eased the pain of those who suffer throughout the world, must understand the rejection of this local action by the believers who themselves have been insulted.
To spot that the Archbishop and local believers may have been offended of course requires an exceptional sensitivity to literary nuance and subtlety, because he merely says so in plain and unambiguous English — as opposed to charging into the museum with an AK-47 and slaughtering everyone in it, as normal people would. This is perhaps why the editor was confused.
That said, one assumes that the editors of the ArtsBeat section of The Times have some familiarity with the idea that art and language often require of us a careful study to see deeper and subtler layers of meaning. So it's a bit surprising that it didn't occur to a single one of them to wonder whether depicting a Pope built out of condoms might have an offensive subtext. Also odd that they didn't notice that the museum director said that he hoped it would be controversial. Odd, too, that the words, "believers … have been insulted" escaped their notice. Not really the exquisite level of sensitivity to nuance you'd expect of professional art critics. But I get it: No one killed anyone to make it clear they were offended, so by today's standards, no one was offended. If you look at it that way (and only if you look at it that way), it makes perfect sense.
By the way, you may have seen this already, but Paul Berman wrote quite a good piece about the cruelty and perversity of the PEN authors who saw fit to boycott the PEN gala honoring the survivors:
… The major English-language news organizations compounded the hysteria by deciding to regard it as other than hysterical. Everyone knows that, in the cases of the Jyllands-Posten and Charlie Hebdo alike, and perhaps in a few other cases, too, the journalistic logic for reprinting or broadcasting the cartoons was and is overwhelming. The cartoon crisis has been a significant event in world affairs for 10 years now, and it is impossible to understand the crisis without seeing the cartoons. The news organizations, in justifying their decision not to reproduce the images, have not seriously argued otherwise. The news organizations have taken the position, instead, that, if they were to publish or broadcast the images, they would inflict a tremendous emotional wound on their Muslim readers and viewers — a wound so grievous as to counterbalance the public's need to examine the cartoons, including everyone among the public who might be Muslim.

And yet, the cartoons are offensive or injurious only if you assume the fundamentalist injunction and the demonic conspiracy theory. Otherwise, nothing in them is illegitimate or especially offensive.
Worth reading in full, if you haven't already.
If you wish to dive deeper into a funk, consider this comment left by one of The Times' readers. He's chosen (without irony?) the handle "An Iconoclast." He lives, apparently, in Oregon:
Maybe I'm becoming more conservative in my old age but I think the safety of people working at the Times comes first. I have seen the Charlie Hebdo images via internet search and they are not very interesting or powerful in their content. Really just juvenile in my view. Do we really find risking lives over rude drawings to be an important expression of our first amendment?

The Times can use what courage it has in more important fields of controversy. I did not see the Pope in condom pave [sic] but that is an important discussion with a Christian institution. While the Hebdo cartoons were making social commentary were very in your face kind of stuff aimed at an already angry murderous target.
("Conservative" in his old age? I suppose the confusion is understandable; the words "conservative," "craven," and "cowardly" all start with the same letter. They all contain two or more syllables. Anyone could get the words mixed up.)
Or perhaps, in a way, that comment is encouraging. At least our (unlikely) Iconoclast is perfectly straightforward. Nothing disingenuous or inconsistent there. He surrenders. He makes it all very clear, at least. Let us at least give him credit for saying plainly what he means.