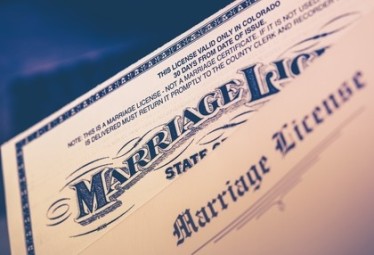 As you may know, nearly all clergy act as marriage agents for their local or state governments. In Connecticut, for example, ordained or licensed clergy may perform marriages as long as they continue in the work of the ministry. The marriage license must be completed by the minister and returned to the city or town clerk. Right next door, Massachusetts clergy themselves must obtain a license to marry before they can fill out valid licenses.
With Obergefell, I know of confessional pastors who are looking hard at whether they should continue this practice. Fr. Jonathan Morris — best known for his appearances on Fox News Channel — had two tweets that sum up the case for this approach.
First, formally splitting their roles in civil and sacred marriage is a witness to the traditional definition of marriage:
It's a good time for churches in USA to separate civil ceremonies and church ceremonies to clearly show the difference.

— Jonathan Morris (@JonMorris2019) June 27, 2015
Second, it's a move that removes an excuse for the State to demand that clergy perform non-traditional marriages:
Currently, religious marriage officiants are representatives of the city / state. Government coercion is next step.

— Jonathan Morris (@JonMorris2019) June 27, 2015
Any intel on what your clergy are thinking and doing?