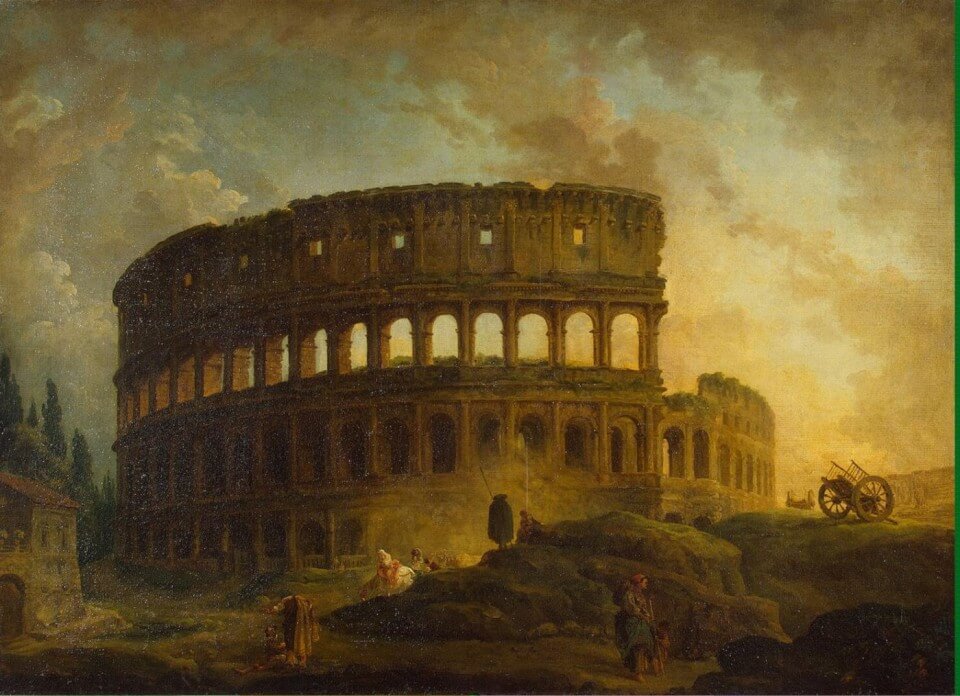 It's a Ricochet tradition — or mine, anyway – to reserve Sundays for the discussion of religion, the arts, letters, history, philosophy, and science. We need a break once a week; otherwise, we should go quite mad. Thus I offer as a topic for today's discussion the decline and fall of the Roman Empire. I have no idea why I was prompted to think of the subject. It came to me unbidden. I must take up the question with my unconscious mind.
In 1984, Alexander Demandt enumerated 210 theses variously advanced to account for the collapse in Der Falls Rom:
Abolition of gods, abolition of rights, absence of character, absolutism, agrarian question, agrarian slavery, anarchy, anti-Germanism, apathy, aristocracy, asceticism, attacks by Germans, attacks by Huns, attacks by nomads on horseback.

Backwardness in science, bankruptcy, barbarization, bastardization, blockage of land by large landholders, blood poisoning, bolshevization, bread and circuses, bureaucracy, Byzantinism.

Capitalism, change of capitals, caste system, celibacy, centralization, childlessness, Christianity, citizenship (granting of), civil war, climatic deterioration, communism, complacency, concatenation of misfortunes, conservatism, corruption, cosmopolitanism, crisis of legitimacy, culinary excess, cultural neurosis.

Decentralization, decline of Nordic character, decline of the cities, decline of the Italic population, deforestation, degeneration, degeneration of intellect, demoralization, depletion of mineral resources, despotism, destruction of environment, destruction of peasantry, destruction of political process, destruction of Roman influence, devastation, differences in wealth, disarmament, disillusion with state, division of empire, division of labour.

Earthquakes, egoism, egoism of the state, emancipation of slaves, enervation, epidemics, equal rights (granting of), eradication of the best, escapism, ethnic dissolution, excessive aging of population, excessive civilization, excessive culture, excessive foreign infiltration, excessive freedom, excessive urbanization, expansion, exploitation.

Fear of life, female emancipation, feudalization, fiscalism, gladiatorial system, gluttony, gout, hedonism, Hellenization, heresy, homosexuality, hothouse culture, hubris, hyperthermia.

Immoderate greatness, imperialism, impotence, impoverishment, imprudent policy toward buffer states, inadequate educational system, indifference, individualism, indoctrination, inertia, inflation, intellectualism, integration (weakness of), irrationality, Jewish influence.

Lack of leadership, lack of male dignity, lack of military recruits, lack of orderly imperial succession, lack of qualified workers, lack of rainfall, lack of religiousness, lack of seriousness, large landed properties, lead-poisoning, lethargy, levelling (cultural), levelling (social), loss of army discipline, loss of authority, loss of energy, loss of instincts, loss of population, luxury.

Malaria, marriages of convenience, mercenary system, mercury damage, militarism, monetary economy, monetary greed, money (shortage of), moral decline, moral idealism, moral materialism, mystery religions, nationalism of Rome's subjects, negative selection.

Orientalization, outflow of gold, over-refinement, pacifism, paralysis of will, paralysation, parasitism, particularism, pauperism, plagues, pleasure-seeking, plutocracy, polytheism, population pressure, precociousness, professional army, proletarization, prosperity, prostitution, psychoses, public baths.

Racial degeneration, racial discrimination, racial suicide, rationalism, refusal of military service, religious struggles and schisms, rentier mentality, resignation, restriction to profession, restriction to the land, rhetoric, rise of uneducated masses, romantic attitudes to peace, ruin of middle class, rule of the world.

Semi-education, sensuality, servility, sexuality, shamelessness, shifting of trade routes, slavery, Slavic attacks, socialism (of the state), social tensions, soil erosion, soil exhaustion, spiritual barbarism, stagnation, stoicism, stress, structural weakness, superstition.

Taxation, pressure of terrorism, tiredness of life, totalitarianism, treason, tristesse, two-front war, underdevelopment, useless diet, usurpation of all powers by the state, vaingloriousness, villa economy, vulgarization.
I couldn't say why I find myself so fascinated by that list today. I must take it up with my unconscious mind. For those of you inclined to take up that question with your own unconscious minds, I commend to your attention this passage from Civilization and Its Discontents, in which Sigmund Freud compares the mind to a city with an ancient history:
Now let us make the fantastic supposition that Rome were not a human dwelling-place, but a mental entity with just as long and varied a past history: that is, in which nothing once constructed had perished, and all the earlier stages of development had survived alongside the latest. This would mean that . . . where the Palazzo Caffarelli stands there would also be, without this being removed, the Temple of Jupiter Capitolinus. … Where the Coliseum stands now, we could at the same time admire Nero's Golden House. … And the observer would need merely to shift the focus of his eyes, perhaps, or change his position, in order to call up a view of either the one or the other.
Adam Kirsch begins with that allusion in an interesting review of new works about the Roman Empire and the long tradition of seeing America both in and as Rome:
The comparison is necessarily a loose one, but it preserves the customary understanding of the Roman Empire as a peak of human civilization, a fragile accomplishment that could all too easily be undermined by its own hubris. But this season brings a number of new works on Roman history that focus not on the glories of Roman culture but on its notorious brutalities. The perspective is, in its own way, just as unsettling as any apocalyptic fantasy of decline and fall. What if the true meaning of Rome is not justice but injustice, not civilization but institutionalized barbarism? What if, when you look back as Freud did at the Eternal City — a sobriquet that Rome had already earned two thousand years ago — you find at the bottom of all its archeological strata not a forum or a palace but a corpse?
What if, indeed.
Now, it's surely true that there's a Rorschach-test aspect to the question, "Why do you believe the Roman Empire collapsed?" It's possible to construct many plausible theories, and if any event seems (retrospectively) over-determined, it's the fall of Rome. Wikipedia's account of the historiography of the period looks to me a sound and comprehensive review for those of you who need a refresher (I did); and we have among us a number of classicists who will surely have more thoughts to add. Suffice to say, there's a vast reading list to master. A great deal of powerful human intellect has been applied to this question: There's a compellingly-argued thesis to please all tastes.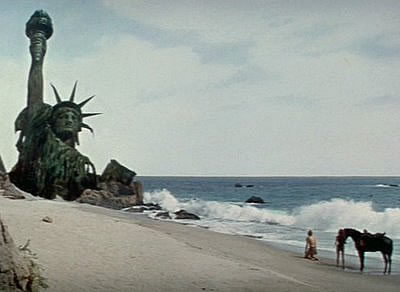 It's true that the theories about the fall of Rome that seem most persuasive to historians tend to be the ones that confirm their contemporary political beliefs. For example, Bruce Bartlett of the Cato Institute does a fine job of attributing Rome's demise to its failure to adopt the Cato Institute's policy recommendations. (That's not sarcasm, by the way: It's an outstanding piece, and really well worth reading.) Historians are human.
That said, none of us here, I assume, ascribe to the postmodern thesis that our interpretation of history is of necessity an entirely subjective matter. Some historical explanations are better and more plausible than others. Objectively.
So, Ricochet, what do you hold to be the top five — objective — causes of the collapse of the Roman Empire? Why do you think them more important than the others?
And don't you find it relaxing to take a day away from contemplating current affairs? I don't know why thinking about this subject hasn't relaxed me yet, but I'm sure it will as I meditate upon it more deeply.