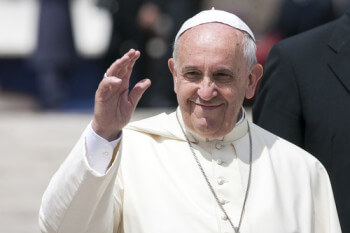 For Catholics who advocate for free markets, Pope Francis has just made life extremely complicated. The Holy Father's encyclical, Laudato Si' — which I have only begun to read — contains statements that clearly indicate that the Pope has fallen in with the progressives. Although the encyclical still prohibits birth control, abortion, and euthanasia, Francis seems tone deaf to the constant demands of the left, particularly the environmental left, that the Church abandon her teachings and encourage the use of these prohibited techniques. The Pope also seems to have largely adopted the platform of the American Democratic Party. As a Republican, my stomach is queasy.
So what to do? As a Catholic, I must submit my personal convictions to the authority of the Magisterium– which means to the Pope insofar as he speaks within Church tradition on theological matters. That gives me some weasel room on Francis's economic views. But not much room. A Catholic's first duty is obedience, or as my daughter wrote in her new article for Catholic Exchange:
…our lives are not our own. They belong to God and that means a total emptying of self. It is within this framework that we will examine our call to love and submit in obedience to the hierarchical Church. In learning this obedience, we will mature and grow in our faith. Since Christ left us the Church, it is He who calls us to loving submission to the Church.
To be sure, I need not fully endorse Francis's' economics. But I must still carefully study what the encyclical says, and look deeply at the factual and scientific themes therein. Most crucially, I must prayerfully consider the totality of the encyclical, especially in light of Church teaching on Human Ecology. George Weigel writes at National Review:
It is probably inevitable that Laudato Si' will get labeled "the global-warming encyclical" and that the label will stick. This will please some and displease others, and they will have at each other — which is no bad thing if it helps clarify that there is no simple path to meeting the twin goals of environmental protection and the empowerment (through economic development) of the poor. But the label will be misleading, I think, not because there isn't a lot about climate change in the encyclical, but because that's, to my mind, the least important part of Francis-the-pastor's call to a more integral, indeed more humanistic, ecology. Reading Laudato Si' as if it were a climate-change encyclical, period, is somewhat akin to reading Moby Dick as if it were a treatise on the 19th-century New England whaling industry. The ships and the harpoons are an important part of the story, to be sure; but if they become the whole story, you miss what Melville's sprawling novel is really about. Ditto with Laudato Si': If you read it as "the global-warming encyclical," you will miss the heart and soul of what this sprawling encyclical is about — which is us.
Which is to say that the encyclical is a moral teaching, not a work of science. Francis writes:
"…we must safeguard the moral conditions for an authentic human ecology."
Sadly, Laudato Si' will surely become captive to political ideology. That will pit economic conservatives against progressives, not just on the question of global warming, but also free markets versus government solutions. We're going to hear a lot about where Francis stands. We're going to hear a lot of interpretation too. Few people will actually read the encyclical, opting instead to cherry pick those portions that seem to support their views. Which reminds me of my high school debate days, when debaters would skim articles to find the juiciest bits to quote, only to be hammered by opponents who'd actual read the thing from beginning to end. However, in our charged political arena, many of us will miss the cherry picking because we have never actually checked the full text.
So what should Catholics do? To begin with, they ought to go to the trouble of reading all 192 pages, and then work to understand what Francis is really getting at. They might also consider researching the history of Catholic social teaching. And if that is too time consuming, there will be many theologians writing on the encyclical who should be consulted—theologians on all sides of the debate.
That, too, is a moral obligation.
Image Credit: giulio napolitano / Shutterstock.com