From David Catanese at U.S. News and World Report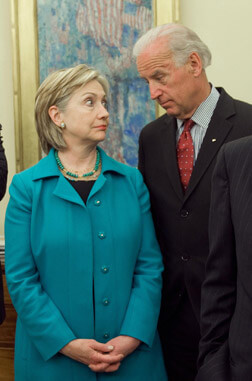 :
Vice President Joe Biden has still not ruled out a 2016 presidential run and will make his intentions known by Aug. 1, according to two Democratic sources who have been in contact with his family.
Put yourself in Joe Biden's shoes for a minute. You're 72 years old, meaning that, barring a successful White House bid, your political career is over — and, as such, you have nothing to lose from ending up on the wrong side of the Clinton machine. You're a guy who loves the give-and-take of retail politics at a time when the Democratic frontrunner is the Queen of Hearts. You've got a plausible appeal to blue-collar voters while Hillary Clinton is looking more like Leona Helmsley every day. And yeah, your foreign policy instincts may be less than stellar, but at least you never telegraphed to the public that the murder of an American ambassador abroad was tragic only insofar as it was an inconvenience for you.
My question: weighing all those factors — and recognizing the implicit discomfort with the Clinton candidacy that only seems to be growing within the Democratic Party — why on earth wouldn't you take a flyer on this?