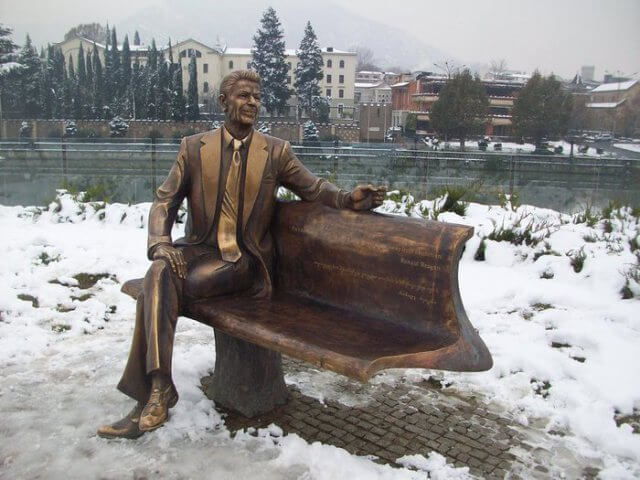 It was June 5th, 2004. I had been in the Republic of Georgia for less than a month when I heard that Reagan had died. Reagan had meant a lot to me over the years, and I'd followed his political career since I was eight years old. Growing up with the Reagan administration made the 40th president my childhood hero.
What I did not expect was how the Georgian people would react. As I was walking in the bazaar of a small provincial town, a man saw me, quickly crossed the dusty street, took my hand and said, "I am so sorry. Your great man died today. I am so sorry."
I asked him, "Do you mean President Reagan?"
The man nodded his head vigorously and smiled. "Reagan loved freedom. Great man."
Other Georgians then noticed me, and soon a small crowd of people formed to tell me how sorry they were that Reagan had died and thank me for what Reagan had done. At the time, I barely spoke any Georgian, so I don't know if they said more than that.
When I got home, I told this story to the pastor I was staying with. He spoke English, so I asked him, "Why do the Georgians even know about Reagan?"
The pastor told me that Reagan was a great man, and every one knew that. He told me to wait, and that he would tell me tonight why the Georgians thought Reagan was great.
That night, my pastor friend, Levan, gathered together three of his friends, all small business owners, and they put out some wine and dried fish, and we started talking about Reagan.
Gogita immediately brought up Reagan's speech and the Brandenburg Gate. "When Reagan said, "Tear down that Wall," it was the moment that I believed that we could be free of the Russians and that communism would not go on forever." Everyone else nodded around the table.
Tomas said, "I remember when the news carried that Reagan had given speech when he called the Soviet Union an 'evil empire.' Everyone reported it here like Reagan was crazy, but I knew finally there was an American president that understood the Soviet Union. Finally, I thought someone could see the obvious."
They continued that way for a while, sharing favorite quotes and speeches with great emphasis on Reagan's understanding of the Soviet Union. They also spoke with bitterness about how previous American presidents had always played nice with the Soviets and called them a "great people" and a "great nation." That got under their skin, because the Russians were conquerors and they held other nations hostage. The Soviet Union was never a "nation," it was an empire, and there was no great "people," just the oppressor and oppressed.
Then I asked the men a question. "Many in the United States think that Gorbachev really ended the Cold War, and that Reagan got in the way. What do you think of that? Was Gorbachev more responsible for the peaceful end of the Cold War?"
That got all the men around the table to laugh. They responded like this: Gorbachev loved communism and thought it was good. He never would have ended communism without outside pressure. Do you think the people would have risen against the dictatorship if we did not think American would be on our side? They thought it was utterly foolish to think that Reagan did not force Gorbachev to change and therefore accelerated the fall of the Soviet Union.
Putting aside the dried fish, it was one of the most exceptional nights of my life.
Later, I finally decided to head to the regional capital, where I could get on the Internet for a few minutes and download a few decent articles about Reagan. After I did that, I was in a restaurant that served something that, if you squinted right and had poor lighting, could be mistaken for pizza. The taste, alas, could at best remind one of what pizza tasted like, but in eastern Georgia it was the best to be found. In there were some peace corps volunteers. Back then, in the eastern part of Georgia, the only foreigners were me, the missionary, and about a dozen Peace Corps types. These three volunteers were all female and they were hardcore lefties. They had peace symbols on their computers, and "Bush Lied" and other leftist slogans plastered on whatever ever surfaces they could stick them on. They were walking slogan boards of the left.
Well, they were talking about the horror, the horror of being greeted on the street and thanked for the work of Ronald Reagan. They didn't know how to handle it, if they should just smile and nod to be polite, or if they should recoil, or if they should just offer a witty rejoinder. The rejoinders I remember were these, "He (Reagan) would have nuked you if he could!" "You know, he hated the poor." "He wanted communism to continue!" And finally, "You didn't know the real Reagan." The idea behind "He wanted communism to continue" was that as long as the communists were out there, Reagan could suppress dissent at home.
With two exceptions, Peace Corps types and I don't get along very well. We have major culture clashes about Georgia, my role as a missionary, and what they're working on here. So normally, I never would have said anything to the three women, but I decided I could not let this pass. I walked up and said, "I could not help but overhear you. I know you do not like Reagan, but perhaps you should listen to some Georgians about why they liked Reagan and listen to them. It is very possible they know more about it than you. Maybe you should listen to them first, and then condemn them."
The three women acted like I had tried a crude pickup line in a bar and showed me utter contempt. They got up to leave, and when I told them to have a nice day, one of them looked at me with real hate (at least to my perception). She said, "Reagan didn't deserved to be praised! No matter what the Georgians think." Then she left.
I thought the difference between the left and the right in America was very much on display there, and it was a perfect coda for Reagan. No matter how much good you do in the world, the left will always hate you.