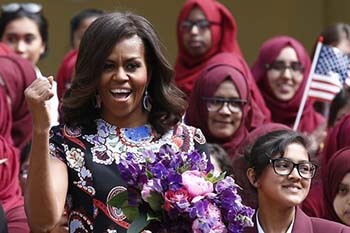 Over the past few months, First Lady Michelle Obama has criss-crossed America to toast artists, congratulate students, and complain about her terrible, terrible life. Even though she resides in the top .001% of wealth, power, and celebrity, Mrs. Obama will never let us forget the pain of growing up in a middle-class, two-parent household and receiving one of the finest educations the world can offer.
Having thoroughly depressed the U.S. with her tales of personal woe, FLOTUS took her act abroad, getting feted by the rich and powerful in London. While touring Old Blighty, she visited the Mulberry School for Girls, which is located in a low-income, primarily Muslim neighborhood called Tower Hamlets. She inspired the student body the only way she knew how — grievance:
Now, I imagine that some of you might be wondering, well, why would the First Lady of the United States come here to Tower Hamlets? Why would she choose this community and this school when she could be anywhere in this city or in this entire country? And the answer is simple: I'm here because of you. I'm here because girls like you inspire me and impress me every single day…

And I'm here because when I look out at all of these young women, I see myself. I may come from a country that's an ocean away, but — I'm a bit older than you all. (Laughter.) Yes, I am. I know I don't look it. (Laughter.) But I'm just a little older. But in so many ways, your story is my story.
Let's face it — all of our stories are her stories. The classic narcissist needs to lug around a mirror so he can gaze at his reflection. The Obamas are a superior breed who can look at any group of people and see only themselves.
Though she was talking to actual underprivileged students, Ms. Obama spent about half her speech complaining about her thoroughly normal upbringing:
For those of you who may not know much about my background, I grew up in a working-class neighborhood on the South Side of Chicago…
Her childhood home:
We lived in a really small apartment. And my brother and I shared a bedroom that was divided in half by a wooden partition, giving us each our own little, tiny rooms that fit just a twin bed and a small desk…

[B]ecause our apartment was so small, there wasn't much privacy. I can remember how hard it was to concentrate on my homework because someone was always talking or watching TV right next to you.
Her family:
I remember just dreaming of having a space of my own, away from all the family obligations that were always popping up… So we constantly felt the struggle to balance our family responsibilities and the schoolwork, the activities, and the goals that we had for ourselves.
Her haters:
But despite my efforts, there were still people in my life who told me that I was setting my sights too high; that a girl like me couldn't get into an elite university. (Editor's note: Princeton's student body was 37 percent female when Ms. Obama matriculated.)
Her identity:
And the fact that I was a girl and that I was black — well, that certainly didn't help things, either. When I was growing up, there were very few black women at high levels in business, or politics, or science, on TV, so I didn't have many professional role models to look up to.
Surely no one has suffered quite like Michelle Obama has suffered. But what she failed to mention is the rather different world she inhabits compared to the girls at the Mulberry School.
Before the speech, Poor Little Rich FLOTUS enjoyed tea with Prince Harry at Buckingham Palace and relaxed with the Prime Minister at 10 Downing Street. After leaving Tower Hamlets, she (and her girls and their grandmother) jetted to Milan — at taxpayer expense, of course.
After meeting the Italian Prime Minister they viewed Leonardo Da Vinci's Last Supper. Then Michelle Obama went to the James Beard American Restaurant with acclaimed chefs Mario Batali and John Besh as her daughters shopped their way through Milan's fashion district. Next, the First Entourage flies off to Venice for the Biennale contemporary art show.
I don't begrudge the Obamas taking a summer vacation, even if it's more lavish than almost any other American family can afford. But would it kill her not to complain so much about it?