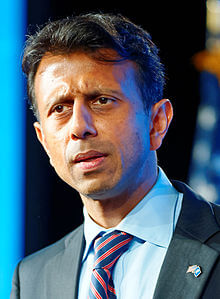 Those who follow my posting obsessively (i.e., weirdos) know that Gov. Bobby Jindal has been my favorite presidential hopeful since 2009. Sadly, my ardor is waning. The complete lack of people who agree with me makes inclined to give up and move on.
That's too bad. Bobby Jindal has a great story to tell and is a strong conservative with wide experience. His problem is timing: in 2016 he's running against the strongest GOP field ever. What if he had pulled an Obama and run in 2012 when he was "too young"? Would it have worked?
I suspect he would have won the nomination. Remember how desperate we were to find an alternative to Romney? I voted for Santorum in the Michigan primary — a man I didn't particularly like — just to protest the Romney juggernaut. The polls gave each challenger a bump in turn; heck, we even gave Herman Cain a look. Herman Cain! Bobby Jindal would have swept those jokers aside, swept up the anti-Romney vote, and brought in extra voters on his own. It would have been a cakewalk.
Beating President Obama wouldn't have been so easy, but I think Jindal could have done better than Romney. Still, Obama's historic presidency and Jindal's pencil-necked geekiness — which the progress of years is ameliorating, but would have been an intense negative in 2012 — would probably have combined to deny Jindal the win, just barely. I think.
But even in that event, we'd hardly be worse off than we are now, and Jindal would be among the top picks for 2016.