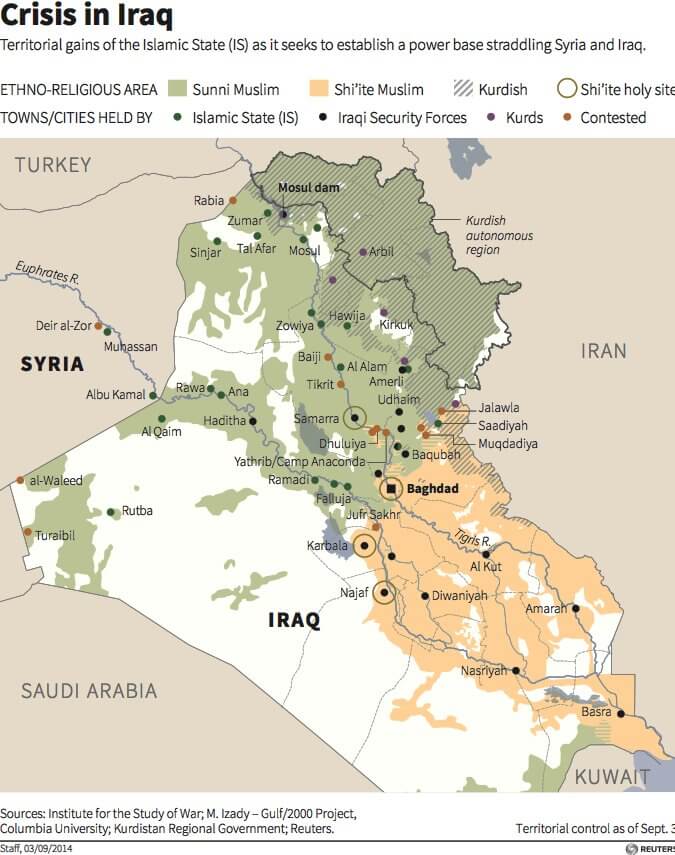 I was flabbergasted to read this morning that we are "embracing a new approach" in the battle against ISIS:
In a major shift of focus in the battle against the Islamic State, the Obama administration is planning to establish a new military base in Anbar Province and send 400 American military trainers to help Iraqi forces retake the city of Ramadi.
Point 1: With all respect to our highly accomplished and experienced men and women in uniform, at this point a force of 400 military trainers in Anbar Province should properly be described as "next month's hostages." How could anyone of even cursory familiarity with this region — or the history of warfare, for that matter — fail to think of that immediately?
Point 2: No one in his or her right mind would think air power alone a sufficient tool to defeat the Islamic State. But nor would one in his or her right mind think a near-complete failure to use air power the tool of choice, either. As retired Air Force general David A. Deptula notes, we're now averaging 12 strike sorties per day:
During Operation Desert Storm in Iraq and Kuwait in 1991, the average was 1,241; in Operation Allied Force in Kosovo in 1999, it was 298; in the first 30 days of Operation Iraqi Freedom in 2003, 691; during Operation Enduring Freedom in Afghanistan in 2001, 86.
These mishagas stories about sandstorms holding us back? We have sensors that can readily penetrate fog and sandstorms; and I can't be the only one who knows this. We've used not a single Reaper drone. Not one. I can't begin to imagine what we're thinking: We're planning to send 400 "advisers" into Anbar without so much as a hint that we'll even offer them air cover when ISIS decides they'll make a tasty afternoon snack?
Point 3: It would take me far too long to enumerate all of ISIS's latest advances and atrocities, but among the highlights: In Libya, they just ambushed a vehicle traveling to Tripoli, taking hostage 88 Eritrean refugees. These include women, children, and an unspecified number of Christians who will surely meet the fate of the 28 Ethiopian Christian they took hostage two months ago. Teenage girls abducted by fighters in Iraq and Syria are being sold in slave markets 'for as little as a pack of cigarettes,'" the UN envoy on sexual violence reported on Monday:
Bangura described the ordeal of several teenage girls, many of whom were part of the Yazidi minority targeted by the jihadists.

"Some were taken, locked up in a room — over 100 of them in a small house — stripped naked and washed."

They were then made to stand in front of a group of men who decided "what you are worth".

Bangura gave the account of a 15-year-old girl who was sold to an Isis leader, a sheikh aged in his 50s, who showed her a gun and a stick and asked her "tell me what you want".

"She said 'the gun' and he replied: 'I didn't buy you so that you could kill yourself'," before raping her, Bangura said.

Abducting girls has become a key part of the Isis strategy to recruit foreign fighters who have been travelling to Iraq and Syria in record numbers over the last 18 months.

"This is how they attract young men: we have women waiting for you, virgins that you can marry," Bangura said. "The foreign fighters are the backbone of the fighting."
Meanwhile, as we meditate thoughtfully on the entirely atypical and unexpected phenomenon of sandstorms in the desert and count the hapless prospective hostages we might usefully send to Anbar, ISIS staged attacks in Amariya al Falluja. That means they're now about 37 miles southwest of Baghdad. They also attacked Surt, capturing a critical power plant on the coastal road to Misurata. That means they can shut off the power in central and Western Libya. The Kurds — our great hope, remember them? — are reportedly beginning to panic:
The Kurds desperately need an influx of arms and supplies in order to be able to continue to hold their 600-mile long border against ISIS attacks.

The need for weapons has only increased over the past months as the militant group has effectively plundered Iraqi military bases after overrunning cities, Yaroslav Trofimov reports from Kurdish-controlled areas for The Wall Street Journal. 

"Peshmerga ammunition stocks are running low and whatever heavy weapons they have are mostly of Saddam Hussein-era vintage," Trofimov reports, citing Peshmerga commanders. Currently, Kurdish lines throughout Iraq consist of defenses manned by Peshmerga troops armed with outdated weapons with dwindling supplies of ammunition.

And although the Peshmerga have put up an effective defense since being driven back by an ISIS offensive last summer, their positions could be easily overrun should ISIS launch a concentrated assault.

"If ISIS combines its forces and pushes into one area with multiple vehicles, they will break through — and then the whole line breaks," Jamestown Foundation analyst Wladimir van Wilgenburg told The Journal.

This concern is especially true should ISIS launch a suicide blitz like it has done previously in Ramadi and Mosul. On those occasions, the militants overwhelmed well-defended static Iraqi defensive positions through waves of suicide car bombings that demoralized and ultimately drove back the Iraqi forces.
Point 4: In the Further Annals of the Fastest Imperial Decline in the Recorded History of Humanity, Obama boldly announced last Monday at the G7 Summit in Germany that the United States does not yet have a "complete strategy" for training Iraqi security forces to reconquer territory seized by Islamic State fighters. (Yes, we know — that much is clear to the whole world, I assure you. Why it was necessary to say the obvious, I have no idea.) However, the White House has come up with this ingenious alternative to a strategy: As NPR cheerfully reports, "the Obama administration has turned to a group of social media experts — millennials." No, I kid you not. Our millennials. The ones who still haven't left their parents' basements. They are, apparently,
… supposed to create an initiative or product or tool that will challenge violent extremism. Think of it as…

(SOUNDBITE OF MUSIC)

TEMPLE-RASTON: "Mad Men" meets millennials.

SGRO: "Mad Men" did not have the tech savviness that we have with Gen Z and Gen Y. So it's even uber "Mad Men."

TEMPLE-RASTON: And yesterday was pitch day at the State Department.

(SOUNDBITE OF ARCHIVED RECORDING)

STORROW: I'm now going to introduce the judges.

TEMPLE-RASTON: The judges weren't just State Department officials. They included television and broadcast executives, terrorism experts and academics. And they sat facing the teams on stage like judges from "American Idol." Mount Royal University from Calgary, Canada, was the first to make its pitch.

(SOUNDBITE OF ARCHIVED RECORDING)

KADE GRANT-JOHANSEN: Violent extremism is the most compelling issue of our generation.

TEMPLE-RASTON: That's Kade Grant-Johansen, a marketing and management major from Mount Royal. This group decided to start a prevention campaign called the WANT Movement. WANT stands for We Are Not Them. Patty Derbyshire was the faculty adviser.

(SOUNDBITE OF ARCHIVED RECORDING)

ANDERS: 52 JUMAA is an interactive app which enhances personal identity, social interaction and community spirit.

TEMPLE-RASTON: That's one of the international team members laying out the program.

(SOUNDBITE OF ARCHIVED RECORDING) …

ANDERS: This app mobilizes positive behavior among communities of young Muslims.

TEMPLE-RASTON: Show gratitude by making tea for your mother. Show generosity by feeding a homeless person. The idea is to provide positive reinforcement. And, finally, there was Missouri State University. It had an ambitious program that aimed to unite the world against violent extremism called ONE95.

(SOUNDBITE OF ARCHIVED RECORDING)

UNIDENTIFIED MAN: ONE95 is a digital platform for starting initiatives and receiving support.

TEMPLE-RASTON: It has a social media component, curriculum for teachers and created the hashtag #EndViolentExtremism.
Think I made that up? I wish. I couldn't, even. Go listen for yourself.
So clearly we can say that for reasons known only to God and this Administration, Obama has no serious interest at all in repelling ISIS's advances. Fine. We've got No-Drama Elagabalus in the White House.
But tell me: Why aren't the GOP presidential candidates screaming about this? I don't mean screaming about whose fault this is. I mean screaming the way reading the paragraphs above would make any sane person scream — no less one who proposes to become the Commander-in-Chief of the United States military and the leader of the Free World on his first day on the job.
Do you get this?
Update: The Independent is now reporting that according to Australian intelligence reports, ISIS has now seized enough radioactive material to build a devastating dirty bomb. The news just gets better by the minute.