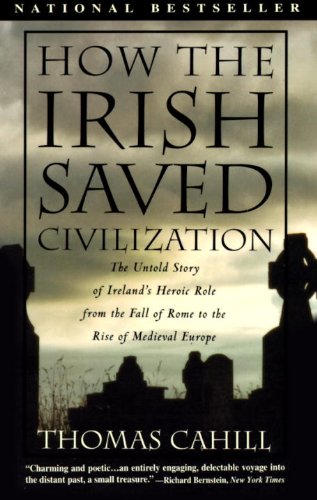 Whenever I hear of the death of Christianity in Europe, I think "this ain't the first time." I base my reaction on Thomas Cahill's How the Irish Saved Civilization, which belongs in that category of histories I am afraid to believe because they so perfectly confirm my prejudices.
If Cahill accurately depicts what happened at the onset of the Dark Ages — i.e., Christianity died on the Continent, but revived through the hard work of Irish missionaries — it offers encouragement to one side of the most interesting debate in sociology today: is the present decline of Christianity in Europe part of a trend or a cycle?
Call them the trendists vs. the cyclists. Pascal-Emmanuel Gobry offers support to the cyclists by suggesting a revival of Catholicism has begun in France. His evidence is anecdotal, as is this report of an American-style mega-church in the former East Germany, but it gets me wondering.
The trendist view is so taken for granted in elite circles that it's more accurate to say it's assumed rather than asserted. Religious belief is seen as a heuristic born of ignorance; it may have had utility in primitive societies, but it naturally withers under the blazing light of modern science.
Trendist thinking might also help explain elite indulgence of Islamist extremism. Sure, a few Muslims currently want jihad, but soon — so the thinking goes — their children will be good, harmless theological liberals and their grandchildren will be atheists.
A religious revival among Europeans would shake the faith of the trendists to the core. What if religion really were a fundamental fact of the human psyche? That would mean the vexations of Christianity, Judaism and… and… miscellaneous might be with us forever.
But maybe, just maybe, the trendists are right (ironically, in the long run, Christian eschatology agrees.) We'll have to watch and wait.