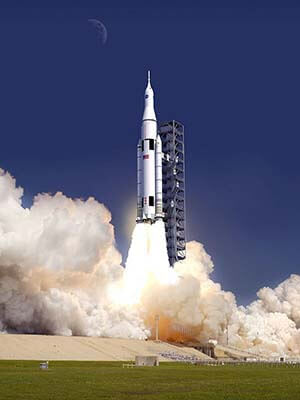 Over at PJMedia this past weekend, I have yet another piece on what a godawful mess the civil space program is, in its ongoing dependence on the Russians.
Just in the past six years, the Russians have now had sixteen space mission failures, one of which had NASA actually contemplating temporarily abandoning the ISS in 2011. Their industry is beset by strikes, underpaid workers, and the need to rapidly reproduce hardware that in the past would have been acquired from Ukraine, the flow of which has been interrupted by Russia's ongoing war on that nation. In addition, as reported in a story this past weekend, there is also massive corruption. With each failure, there is a management shakeup, but the underlying systemic quality problems never seem to get fixed.

These most recent failures should be the last straw in demonstrating the immediate need to free the nation's civil space policy from dependence on the dysfunctional Russian space industry. But Congress continues to misprioritize the budget and the direction to NASA necessary to do so.

…Congress has in fact consistently failed to fully fund NASA's budget request for Commercial Crew, instead perennially increasing funding for the Saturn-class Space Launch System (SLS) and the Orion capsule. Even with the budget increase, those vehicles are not expected to fly before late 2018 (most expect first flight to slip further), and are not cost-effective replacements for the Soyuz. Moreover, many independent analysts don't consider them necessary for human exploration beyond earth orbit – there are more cost-effective ways to do that. The programs are primarily driven by and survive on the desire of the members of the Congressional space committees to maintain jobs in their states and districts.

And despite the desperate need and warning from the administrator, just before the most recent Russian failures, in a vote on June 3rd, the House once again cut the NASA 2016 request for Commercial Crew by about 20%, from $1.243B to an even billion dollars, while once again increasing the SLS budget by almost half a billion, an increase of over a third from the request of $1.365B.
As with all else with SLS, this is programmatically insane. As I note in the video for my new Kickstarter project, adding that money to the budget will do nothing to accelerate the program, and no program manager knows what to do with a sudden half a billion dollars in the budget. Assuming this nonsense doesn't get fixed in a conference with the Senate appropriators, it will probably be spent in the states and districts of the committee members, as desired, but in a very wasteful way.
But this is the worst part:
The issue…wasn't the reliability of the Russian hardware per se, but whether Bolden had a contingency plan in place if the geopolitical situation resulted in the Russans refusing to support the transport of NASA astronauts to and from the ISS.

His answer, shocking to many, including Chairman John Culberson (R-Texas) was, essentially, no.

"Our backup plan…would be to mutually agree that the space station and space exploration is coming to an end. We would make an orderly evacuation…."
If only we had some sort of, say, national space agency with someone running it whose job it was to think about things like that and come up with a contingency plan.
As I note there, and point out in my book, here's the real issue:
The previous arguments against the safety of Commercial Crew rested on a comparison with the "reliable" Soyuz. Recent events suggest that argument no longer applies. We have no "safe" ways to head to the high frontier, and frontiers have never been safe. We have only two realistic options at this point. Abandon the ISS in which we have invested so much, for so many years, or recognize its importance and act accordingly.

The real question for General Bolden is not how we accelerate Commercial Crew, but what is the risk, in terms of probability of loss of crew, of flying sooner. That is a number that SpaceX and NASA could calculate and, with it, we can make rational decisions about just how important human spaceflight is to America. But in my opinion, a real space program would have American astronauts going to orbit in American spaceships, and they would be doing it not in 2017, but tomorrow.
Go read the whole thing (and kick in to the Kickstarter, which is more than halfway to the goal, with eight days left). Ricochetti John Walker has already been very generous.
And note also the massive ignorance in comments there, about how wonderful it would have been if the Constellation techno-fantasy had been funded, and about that awful (non-existent) "Muslim outreach" (for which there has never been a dime in NASA's budget). Let's try to keep it on topic here.