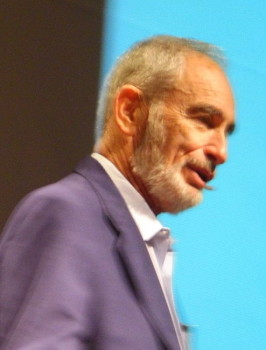 Paul Ehrlich, the author of The Population Bomb, is completely unrepentant:
After the passage of 47 years, Dr. Ehrlich offers little in the way of a mea culpa. Quite the contrary. Timetables for disaster like those he once offered have no significance, he told Retro Report, because to someone in his field they mean something "very, very different" from what they do to the average person. The end is still nigh, he asserted, and he stood unflinchingly by his 1960s insistence that population control was required, preferably through voluntary methods. But if need be, he said, he would endorse "various forms of coercion" like eliminating "tax benefits for having additional children." Allowing women to have as many babies as they wanted, he said, is akin to letting everyone "throw as much of their garbage into their neighbor's backyard as they want."
After nearly half a century, the arrogance and contempt for human life is palpable. The tone haughty to the point of absurd: No I wasn't wrong, it's you common folk who are too stupid to grasp how brilliant I am! Then there is the casual equating of children with garbage. Even in old age, Paul Ehrlich has the capacity to make people shudder in horror.
If you have a moment, I urge you to go over to the New York Times – never thought I'd write those words – and watch the video. For those seeking confirmation of the old saying that the past is another country, here it is in spades. The video notes that, at one point, Professor Ehrlich was advocating putting sterilizing drugs in the water supply. The speech by President Nixon is especially dramatic. For Nixon's legendary political antennae to have picked up on this issue, and seized it with such vigour, gives you a pretty good indication of how mainstream the issue had become in the late 1960s.
Yet the call for zero population growth (ZPG) is close to coming true. Most developed nations are now well below replacement, the United States is only marginally above it at the moment. Large families are now a rarity. While Professor Ehrlich's predictions are ridiculed, even by the Times, his anti-child message still resonates in the culture.
If you speak to parents of large families, anything more than three children these days, they'll often comment about the suspicious looks and hostile reactions they get. Once considered normal, the large family is today greeted with derision. This is particularly true in large urban centers and among the college educated. Perhaps this is the real legacy of the overpopulation scare: a lingering contempt for what was once considered ordinary family life.
At 83, Paul Ehrlich won't live to see consequences of his ideas. Unfortunately most of us will.
Image Credit: "Paul R. Ehrlich 2008" by Jay Cross – https://www.flickr.com/photos/jaycross/2621592915. Licensed under CC BY 2.0 via Wikimedia Commons.