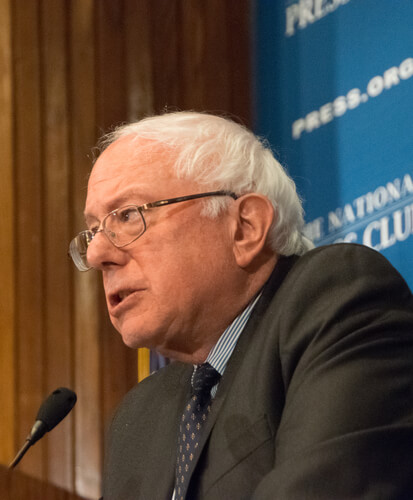 It is often said that conservatives suffer from entirely too much nostalgia for the past. To be perfectly honest, there is a degree of truth to that criticism. We would do well to remember that the good old days were never quite as good as we remember them. Liberals would do well to remember that this phenomenon is hardly exclusive to the right. Bernie Sanders is a self-identified socialist, Democratic candidate for president, and all around crackpot (but I repeat myself). He also longs for the days of a top marginal tax rate of 91%.
"Ninety-nine percent of all new income generated today goes to the top 1 percent. The top one-tenth of 1 percent owns as much wealth as the bottom 90 percent. Does anybody think this is the kind of economy we should have. Do we think it's moral?"
He continued.
"Sorry, you're all going to have to pay your fair share of taxes," he asserted. "If my memory is correct, when radical socialist Dwight D. Eisenhower was president, the highest marginal tax rate was something like 90 percent."
Bernie's memory is on point, but his critical thinking skills leave something to be desired. It is true that the top marginal tax rate was once 91%. It's also true that this rate lead to no greater revenue for the government.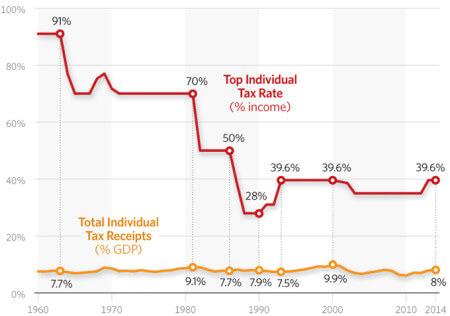 How can this be? The reason is simple: almost no one actually paid the 91% rate.
In 1958, the top rate applied to income over $400,000 (not inflation-adjusted) for couples. This number must be multiplied by eight in order to compare to current dollars. For Sander's claim that a 91% rate wouldn't harm the economy to hold up, he would have to set this rate only for income exceeding $3.4 million per year.
How many Americans make over 3.4 million a year? Not many. The exact number is difficult to nail down, but can be approximated. The Saez analysis of tax return data shows that the top .01% of income earners make an average of $3,238,386 per year. We therefore know that the number of families this rate would affect is best measured in the tens of thousands.
This is consistent with the data we have from the IRS from 1958. Approximately 10,000 taxpayers were affected by the two highest tax brackets (The IRS only kept data by income ranges at the time). So few Americans actually fell into the bracket that it barely had any negative impact on the economy, and correspondingly had no real effect on revenue to the government.
What Sanders doesn't make explicit, but we can all safely assume, is that he would lower the income threshold for his higher rates significantly beyond just a few thousand taxpayers who can successfully shelter the bulk of their income.
What Sanders would get is the situation France suffered through recently. The nation abandoned their 75% top tax rate after two years of utter failure. We shouldn't be surprised that Sanders is unfazed by the failures of his preferred policies. The man is a socialist in 2015. Blindness to failure is a prerequisite for a man in his position.