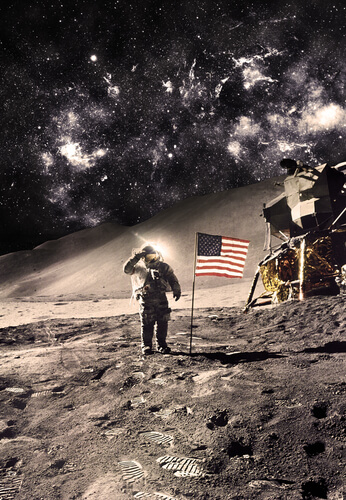 In my lifetime, I believe that the greatest symbol of American exceptionalism has been NASA, the United States space program, and the American flag that waves (in a manner of speaking) over the Sea of Tranquility on the Moon. In an age when anti-American, anti-imperialist sentiment was building steam, America may not have been universally loved, but it was universally respected. In a rickety vessel that now seems more primitive than the boats in which Columbus sailed the Atlantic, three Americans blasted off, crossed an empty void, landed on a new world and, just to show off, televised the whole thing. And the reaction of the whole world to this incredible spectacle was: "well, of course it is the Americans."
You had to think twice before you'd mess with someone who could do that.
It boggles the mind that that first voyage was nearly a half-century ago and it is more astonishing still that, after the Apollo program, the feat has yet to be repeated.
In another small step for man yesterday, the House of Representatives passed a bill, the "Spurring Private Aerospace Competitiveness and Entrepreneurship (SPACE) Act," that would prolong the "learning period" for the commercial space industry and protect it from lawsuits brought for passengers injured or killed in space tourism activities.
House Majority Leader Kevin McCarthy of California, the bill's chief sponsor, said before Thursday's vote:
Right now, there's a new generation of pioneers. They want to embark on the next stage of space exploration and we should not hold them back. Truth is, Washington never comes up with the next big idea. But we can support those innovators who do, and create the best environment for them to succeed.
It is telling that in the 21st century the biggest threat to courageous men piloting rockets through the atmosphere and into outer space is neither fire nor gravity, but something much more frightening: the American Association for Justice (AAJ), which has wisely changed its name from the Trial Lawyers Association of America.
Yesterday morning on NPR's Marketplace Morning Report, a spokeswoman for AAJ argued passionately on behalf of the "right" of Americans to sue for justice. I am recapping from memory, but the essence of her argument was that federal agencies should regulate the budding space industry, that the purchase of liability insurance was just one of the costs "of doing business," and that there was essentially no difference between flying into space and taking a commercial jet from Logan to LaGuardia. She did bristle somewhat when the host of the show suggested that part of her motivation might be, perhaps, protection of the paychecks and business opportunities of American trial lawyers.
The fact is that various activities in America permit the industries that cater to them to escape from liability that does not fall into the category of criminal negligence or fraud. When you go skydiving, for instance, (which, by the way, I highly recommend) you sign a release form that says, in essence, that you grasp that what you are about to do is highly dangerous. That doesn't mean that you (or your bereaved ones) cannot sue in case Dollar Store Jump School forgets to put an actual parachute (rather than a bunch of old t-shirts) into the bag on your back. It just puts the bar a little higher than it would be if you were engulfed in a lithium-ion barbecue when your Tesla S crashed into a telephone pole.
It is, at first blush, strange how partisan the vote on the SPACE Act was yesterday. It used to be the case that outer space was everybody's favorite American backyard. Even fairly recently, votes on similar bills attracted wide, bipartisan support.
But ultimately the evolution of space technology from the public to the private sector has moved the industry firmly into the Republican camp. Who, after all, is more of a one-percenter than someone paying a million bucks for a week's trip into orbit?
In our century, the relevant captains of industry are no longer named Carnegie and Rockefeller, but rather Musk and Branson. And while those visionaries have the swagger and philanthropic touch to appeal to the public at large, they are, in the end, tainted by that filthiest of all substances: money — because the left has a pathological ignorance and fear of anything that is done for profit.
This fear of profit-making enterprises arises from a contempt for those pathetic bourgeois slobs whose lives are dedicated to making money, as opposed to the higher callings (Community organizing? Saving the planet?) for which they themselves have forsaken monetary reward. Those higher callings are rooted in liberal grandiosity — which itself is rooted in an incapacity to deal with human mortality.
But I digress.
Suffice to say that when next humans step out of their capsules and onto the Lunar surface, I hope that the captain in charge has the insight to intone:
That's one small step for a man, one giant leap for free enterprise.
What say you Ricochetti? Got your ticket yet?