One of the worst copyright rulings in history, even by Ninth Circuit standards, has finally been reversed by an en banc decision written mercifully by Judge Margaret McKeown. This was a hot topic on my radio show when it first came down. You all know the story.
The White House's false narrative about the cause of the Benghazi raid on the American Embassy resulting in the death of Ambassador J. Christopher J. Stevens. Sean Smith, Tyrone Snowden Woods, and Glen Anthony Doherty. Hillary Clinton and the White House of course blamed the disrespect of the prophet Muhammad in the film "Innocence of Muslims" for the action, which of course was a scandal because that was not the cause, and she and the White House knew this.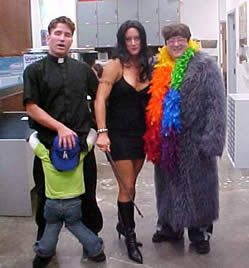 This lie set off a series of bad actions like lies often do. An actress named Cindy Lee Garcia, who was only in the film for a brief time (actually five seconds according to the few who have sat through the entire thing), panicked and filed a law suit against Google to take the film down from YouTube. She claimed she didn't know how controversial the final product would be. We have no way of knowing if that's true, by the way.
This was a terrible lawsuit because her goal was to change copyright law to hinder free speech, not enforce copyright which is aimed at protecting free speech. Films are collaborative efforts that qualify for "work for hire" status. The "author" is the producer or studio. No one in the film has a "copyright interest," only contractual interests. Her case demanded that she be able to determine the content and distribution of the film and merely because she "worked on it."
This is absurd. Films could not be made if investors had to worry about this kind of thing from each of the hundreds of people that "work on" a typical film. I don't know have to tell you that. But why didn't the original Ninth Circuit judge who wrote the over-ruled opinion know that?
When I read the garbage of an opinion my guess was that he was just a lefty looking to score points with his friends that are interested in protecting the world against anti-Muslim propaganda, but don't care about anti-Christian propaganda. Many of those people exist. It is not surprising that one of them might be on the Ninth Circuit. It took two seconds to Google him and figure this guy out.
He's the same Judge Alex Kozinski who was "embarrassed" when he "accidentally" uploaded a bunch of pictures like the one that appears above. That's him in the fur coat, near the man dressed like a priest who is wearing a costume graphically portraying the abuse of a child. (Don't worry, it's a fake child.) But nonetheless, this is religious bigotry literally "on parade." But I guess it's OK since it's a Christian religion being denigrated through offensive stereotypes.
In the dissent of the en banc decision he doubled down, writing "In its haste to take Internet service providers off the hook for infringement, the court today robs performers and other creative talent of rights Congress gave them. I won't be a party to it."
What a buffoon. Congress is exactly the body that elected not to give performers these types of rights. It's a political opinion, I get it; but what a waste of taxpayer money used to let Kozinski make a political statement while we wait for the correct decision to come down.
Judge Alex Kozinski should not be on the bench. He should be in my Barn of Shame that I built behind my real barn for just such people.