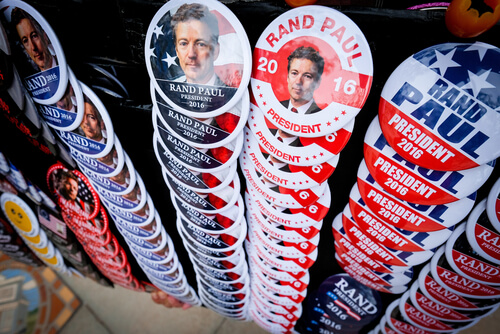 Like the Artist Formerly Known as Prince, American foreign policy isolationists have tinkered with a number of name changes over the years. Prince tried calling himself TAFKAP, The Artist, and "unpronounceable Love Symbol," before finally resettling on "Prince." Foreign policy isolationists – that is to say, those who favor dismantling U.S. strategic commitments worldwide – have tried calling themselves non-interventionist, anti-interventionist, and now, most improbably, "realist." But none of it seems to be working.
It wasn't supposed to be like this. Following years of U.S. warfare in Iraq and Afghanistan, some leading venues on the right — including the Cato Institute, The American Conservative, and Reason magazine — made the case for a new U.S. policy of strict military disengagement overseas. As popular opposition to those wars grew, the argument seemed superficially plausible. Most Americans came to view the war in Iraq as a mistake. But this was never the sum of the New Isolationist position.
What many of the New Isolationists argued, quite explicitly, was not only that George W. Bush had erred in Iraq, but that the whole edifice of international U.S. alliance commitments built up since the 1940s needed to be brought down. (See for example the 2008/09 Cato Handbook for Policymakers, pages 201, 507, and 561.)
This might be described as the Ultimate Foreign Policy Non-Sequitur: "So you didn't like the war in Iraq? Then let's tear down America's global role since World War Two!"
This was never how most Republicans, most conservatives, or even most Tea Party supporters felt about America's place in the world. Indeed, one of the central weaknesses of the New Isolationist position was a serious misreading of grassroots conservative sentiment regarding the exercise of U.S. military power overseas. Tea Party supporters are actually more supportive than the average American of U.S. military commitments abroad. They just don't like Obama's handling of it – and understandably so.
As I record in my new book, The Obama Doctrine, for the past six or more years President Obama has run a kind of international experiment to see whether spasmodic American disengagement, autobiographical references, and attempted accommodation of U.S. adversaries might make the world a safer place.
The results are in. It hasn't worked.
Russia has expanded its influence in ways deeply unfriendly to the United States. So has China. Jihadist terrorists have increased, not contracted in scope. ISIS — a truly diabolical force — has taken over large parts of Syria and Iraq. And the Islamic Republic of Iran seems about to secure U.S. approval and economic relief for a nascent nuclear weapons program.
But notice what the response of the New Isolationists is to these developments: that Obama has not disengaged far enough.
Traditionally, foreign policy realism has meant an understanding that force must support diplomacy, a skepticism toward legalistic solutions, and a determination to pursue the national interest within an internationally competitive environment. Certainly, realists have always urged an avoidance of ideological overkill. But that also includes avoiding the typical liberal assumption that international challenges can be met primarily through words. For this very reason, classical foreign policy realists — from Reinhold Niebuhr and Nicholas Spykman to Henry Kissinger — argued for a baseline of material U.S. commitments overseas to support international balances of power. Today's New Isolationists argue for the abolition of those commitments. This is not "realism." It is endless retreat.
In making their case for this worldwide retreat, the New Isolationists were once optimistic that the wind was at their back. But something has shifted over the last year or so. Even many voters skeptical of greater U.S. involvement in cases like Syria and Ukraine have been deeply disturbed by Obama's indecisive handling of these crises. There is now a powerful majority impression in this country that the President is a rather weak foreign policy leader, incapable of handling numerous international security threats.
Last fall, many congressional Republicans ran and won on a platform calling for more robust action — not less — against ISIS. Exit polls from those elections confirmed that terrorism and national security are now prominent issues, and that they disadvantage the Democrats. All of this is a sharp reversal from only two years earlier, when Obama ran for reelection with an incumbent edge on international issues. So, the American public is increasingly disturbed by Obama's weak foreign policy leadership, and open to Republican arguments.
Yet what is the New Isolationist response? That Republicans should try to outflank the Democrats by becoming much more dovish on national security than Obama has been. If adopted by the 2016 GOP nominee, this advice would have the practical effect of making Hillary Clinton look as tough as Charles Bronson by comparison. Good luck with that.
There are, of course, some serious scholars who advocate a kind of paradigm shift toward U.S. strategic disengagement. Even when they fail to persuade, they write with intellectual integrity. A short list would include Andrew Bacevich, Chris Layne, John Mearsheimer, and Barry Posen. They may or may not be conservative and Republican, and it doesn't matter either way. But what's most depressing about the dumbed-down version of the New Isolationism — in contrast to the work of the authors just mentioned — is that it's so often made by pundits who sound as dogmatic, tedious, and impervious to contrary evidence as an Old Bolshevik.
Take the case of Daniel Larison, who blogs as senior editor for The American Conservative. That magazine, you will recall, was the one that couldn't make up its mind in 2012 whether to endorse, oppose, or ignore Barack Obama's reelection as undoubtedly the most liberal president in American history. On which point, guys, the correct answer that year for an "American conservative" was: vote Republican. Do not vote for Obama.
In any case, The American Conservative claims that one of its purposes is to raise the level of political debate. Larison in particular complains about the low quality of Beltway foreign policy discourse, then proceeds to lower it by offering Beltway-style hit pieces several times a day that run exactly counter to his own magazine's stated purpose.
In this B-movie version of the New Isolationism, there seems to be no such thing as an honest or principled disagreement with those on the right who happen to believe in a strong foreign policy (which is to say, most Republicans). All such people are dismissed as either wicked or stupid. There is rarely any appreciation of the fact that the United States faces actual authoritarian adversaries abroad who look to frustrate and undermine it. Nor is there any true appreciation for the overwhelmingly benign, pacifying, and stabilizing role the United States has played in the world over the past 70 years. Instead, within the parallel universe of the worst New Isolationists, when something goes wrong overseas it is always the U.S. that is somehow to blame. And they call this "conservative." Altogether, in both tone and substance, it actually resembles nothing so much as the 1960s New Left on issues of national security.
Of course, the New Isolationists have their preferred presidential candidate in Kentucky Senator Rand Paul. He seems sincere. On first running for and entering the Senate, Paul made his foreign policy convictions very clear: he looked for deep American retrenchment overseas, whether in terms of U.S. base presence, military spending, intelligence capabilities, foreign aid, or international commitments of various kinds. A series of friendly profiles during those years, based upon interviews with family and friends, all made the same point: that while Senator Paul is more politically pragmatic than his father, the two men share the same basic policy beliefs.
Over the last year, however, observing the hawkish turn in GOP foreign policy feeling, Paul has backtracked on some of this — for example, over Israel, defense spending, and ISIS. This may demoralize some purists, but for the most part the New Isolationists understand that Paul shares their core convictions, and consequently they will support him regardless. His problem is that the rest of us understand this as well.
So, the New Isolationist game-plan for 2016 can be reduced to the following propositions:
1. Continue to make old isolationist arguments.
2. Get terribly upset when described as isolationist.
3. Hope like hell that Rand Paul wins the Republican nomination.
The most likely outcome of all this is that Paul will be one of the last candidates standing next year — but will fail to win the nomination. The reason for both halves of that sentence is the same. Paul's relative dovishness is an exciting fit for the minority of GOP primary voters who share New Isolationist views, but not for the greater majority who reject them. It isn't that there's no leading American political party open to arguments these days for reduced defense spending, scaled-back counterterrorism, and diplomatic accommodation of Iran. There certainly is. It's just that that party is the Democrats.
The Artist Formerly Known as Prince finally changed his name back to the original version, and found some clarity in doing so. He seems happy enough.
The New Isolationists might consider doing the same thing.