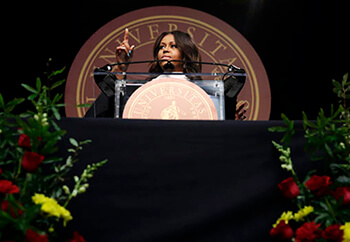 Last week, first lady Michelle Obama lectured the leaders of The Whitney Museum at their grand opening, insisting that American museums are unwelcoming to "people who look like (her)." Her stable, middle-class childhood and her Ivy League education — topped with wealth, power, and privilege — can 't mitigate her fury at perceived ill-treatment at the hands of a racist America.
This week, FLOTUS registered a new complaint about the bad hand America has dealt her. In a commencement address, she inspired graduates of Alabama's Tuskegee University by lamenting the pain and emotional distress she has endured as the first African-American First Lady.
"You might remember the on-stage celebratory fist bump between me and my husband after a primary win that was referred to as a 'terrorist fist jab,' " she said.

"And over the years, folks have used plenty of interesting words to describe me. One said I exhibited 'a little bit of uppity-ism.' Another noted that I was one of my husband's 'cronies of color.' Cable news once charmingly referred to me as 'Obama's Baby Mama.' "

Obama said she was subjected to a different set of expectations on the campaign trail in 2008 compared with other candidates' wives.

"'What kind of First Lady would I be? What kinds of issues would I take on?' … The truth is, those same questions would have been posed to any candidate's spouse," she said.

"But, as potentially the first African-American First Lady, I was also the focus of another set of questions and speculations; conversations sometimes rooted in the fears and misperceptions of others. Was I too loud, or too angry, or too emasculating? Or was I too soft, too much of a mom, not enough of a career woman?"

In the end, she said, she realized all the negativity was just "noise."
Though she calls it "noise," it's obvious she carries a chip on her shoulder about every single comment. Though she pins the blame on racism, other first ladies have received far more criticism than Michelle.
Laura Bush was ridiculed about a fatal car accident from her youth, Barbara Bush was mocked over her appearance, Nancy Reagan was demonized as a horoscope-consulting Marie Antoinette, and Hillary Clinton was attacked for being, well, Hillary Clinton. And the more politically active a first lady, the more flak they take. Had she lived in the era of social media, I expect Eleanor Roosevelt would have shouldered far more criticism than Michelle could imagine. Moving to other women in politics, would our first lady swap her media treatment with Sarah Palin's?
Despite all the evidence, Ms. Obama insists that America's intractable racism means that she has suffered worse than all of them. The citizens who twice sent her to the White House and place her on the cover of all the grocery store glam magazines are obviously white supremacists.
Now it's one thing for the First Lady to wallow in a bit of self-pity as she lounges in her taxpayper-funded mansion, taxpayper-funded private jet, or taxpayper-funded presidential suite on the Costa del Sol. But the truly toxic part of her speech is what she told the successful graduates of the historically black school famed for the heroic pilots it sent to fight World War II:
So there will be times, just like for those Airmen, when you feel like folks look right past you, or they see just a fraction of who you really are.

The world won't always see you in those caps and gowns. They won't know how hard you worked and how much you sacrificed to make it to this day — the countless hours you spent studying to get this diploma, the multiple jobs you worked to pay for school, the times you had to drive home and take care of your grandma, the evenings you gave up to volunteer at a food bank or organize a campus fundraiser. They don't know that part of you.
Doesn't that last paragraph apply to everyone? She continues:
Instead they will make assumptions about who they think you are based on their limited notion of the world. And my husband and I know how frustrating that experience can be. We've both felt the sting of those daily slights throughout our entire lives — the folks who crossed the street in fear of their safety; the clerks who kept a close eye on us in all those department stores; the people at formal events who assumed we were the "help" — and those who have questioned our intelligence, our honesty, even our love of this country.

And I know that these little indignities are obviously nothing compared to what folks across the country are dealing with every single day — those nagging worries that you're going to get stopped or pulled over for absolutely no reason; the fear that your job application will be overlooked because of the way your name sounds; the agony of sending your kids to schools that may no longer be separate, but are far from equal; the realization that no matter how far you rise in life, how hard you work to be a good person, a good parent, a good citizen — for some folks, it will never be enough.

And all of that is going to be a heavy burden to carry. It can feel isolating. It can make you feel like your life somehow doesn't matter — that you're like the invisible man that Tuskegee grad Ralph Ellison wrote about all those years ago. And as we've seen over the past few years, those feelings are real. They're rooted in decades of structural challenges that have made too many folks feel frustrated and invisible. And those feelings are playing out in communities like Baltimore and Ferguson and so many others across this country.
Each Tuskegee graduate studied hard to be accepted into college, invested tens of thousands of dollars to remain there, and worked their posteriors off to get a bachelor's, master's, or doctorate from that school. Each diploma is proof that a person can achieve great things with a little initiative and hard work.
But the First Lady of the United States insists none of that matters. The graduates must never forget that first and foremost they are victims. They are but pawns destined to live under the boot of a cruel nation that will always hate them. Sure, anyone can grow up to be President, but even then you will suffer slights and distrust from America's real power structure.
What a contemptible message to send to these successful young men and women. What a tremendous disservice to the families who sent them there and the employers who will hire them. What cruelty.