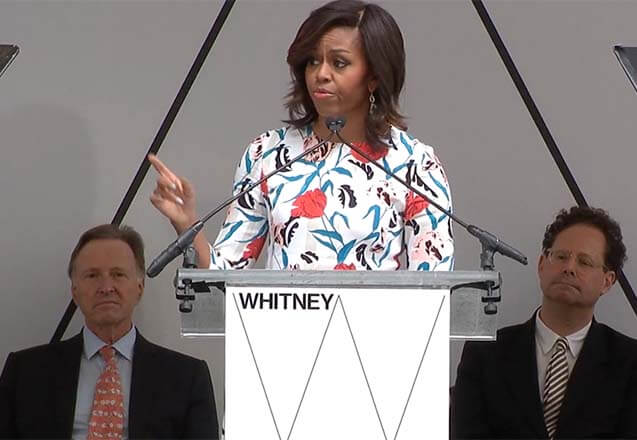 New York's elite dedicated a $420 million building for the Whitney Museum on Monday. The event featured various luminaries and politicians, including Mayor Bill de Blasio, celebritect Renzo Piano, and Michelle Obama. [Editor's note: Welcome, Rush listeners! if you're reading this article, you ought to be a Ricochet member. Join up here today].
Instead of merely congratulating the museum staff and praising their mission, the First Lady decided to lecture them about diversity. One of her claims struck me as quite odd:
"You see, there are so many kids in this country who look at places like museums and concert halls and other cultural centers and they think to themselves, well, that's not a place for me, for someone who looks like me, for someone who comes from my neighborhood. In fact, I guarantee you that right now, there are kids living less than a mile from here who would never in a million years dream that they would be welcome in this museum. And growing up on the South Side of Chicago, I was one of those kids myself."
In a story on her speech, public radio station WNYC identified the vast majority of American museums as "white spaces" that are inherently unwelcoming to minorities.
I have been to several Chicago museums on many occasions. Whether I was at the Art Institute of Chicago, the Field Museum, Adler Planetarium, or the Museum of Science and Industry, the bustling crowds were made up of every ethnicity and socioeconomic status. Buses brought in schoolkids from each neighborhood in Chicago and every 'burb surrounding it. I'm sure a young Michelle Obama participated in similar field trips many times.
And it's not as if she grew up in poverty, relegated to the South Side's infamous housing projects like some of my friends. The First Lady had a thoroughly middle-class upbringing in a stable, nuclear family. Her excellent grades got her into Chicago's superb Whitney Young Magnet High School where she was given one of the finest secondary educations in the state.
Did this smart, successful student actually think Chicago's many popular museums were closed to "someone who looks like me, for someone who comes from my neighborhood?" Did she "never in a million years dream" she would be welcome in these cultural centers, even though her school must have had field trips to most of them? I find this very hard to believe.
Michelle Obama has had a remarkably successful life. From all accounts, she was a happy, high-achieving child, earned degrees at Princeton and Harvard, was the wife of a U.S. Senator and now lives in the world's most famous mansion. She graces magazine covers, is lauded on television shows, and even gets invited to speak at the dedication of high-end art museums.
So why does she continue to identify herself and "people like her" as oppressed, aggrieved victims rather than strong, capable winners? I know it's de rigueur to make every issue a "teachable moment," but is there any indication that America's many museums are "off-limits to people of color?"