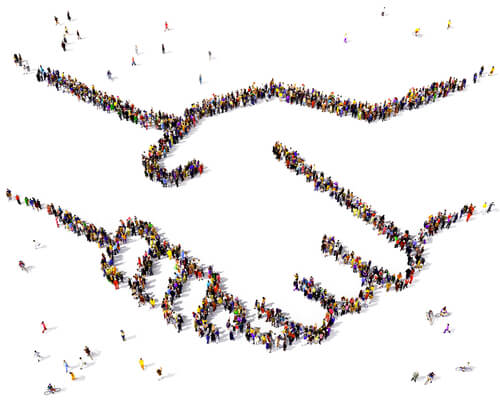 On Monday, I ordered lunch from the Japanese take-out I frequent. At the register, I realized that I'd forgotten my wallet back at my desk. Sheepishly, I offered to run back and get it, but the owner handed me my food, smiled, and told me not to worry, just pay next time I come in. This was smart on a number of levels: it was good customer service, and — given how often I come in — he was all-but-guaranteed payment within 24 hours (unwilling to to jeopardize my future access to chicken katsu or udon soup over a measly eight bucks, I was back within the hour). But he was only able to do this because he knew me well enough to trust me.
Trust, however, often takes some work to build and can be difficult between strangers (though our ability to so at all is among the things that distinguish humans from the rest of nature). Remember when eBay started, and the idea of sending some random schmuck your money in exchange for a promise that they'd send you an item — as-described and in a timely manner! — seemed crazy? Turns out that worked rather well, with those who attempted to game the system getting punished for it.
But it's one thing to fork over money for a product and quite another to (potentially) put yourself at risk of physical harm. Only a few years ago, very few people were willing to let perfect strangers into their car, let alone their spare bedroom: too darn risky. But thanks to services like Uber and AirBNB, putting that kind of trust in someone from out of town whom neither you nor anyone else you know have ever met, and who you're unlikely to ever see again, is now a perfectly rational, relatively safe thing to do.
For anyone familiar with them, these are both web-based services that operate under very similar models. AirBNB connects travelers with those willing to rent out their spare bedrooms (or entire houses) for a fee; Uber and Lyft do much the same for drivers and those looking for a taxi-like ride. Both services charge their users — i.e., the hosts and drivers — a service fee, handle all the financial transactions, and provide some insurance options. I've used both multiple times during the past month, and it's been a great experience every time.
One of the least-discussed aspects to both services are the trust-building layers built into their systems. To begin with, there's the simple fact that every transaction is logged, time-stamped, and mapped in the cloud. If my AirBNB hosts or Uber drivers were planning to murder me — or I them — the police would have a treasure trove of information to follow-up on that would include our names, locations, credit card information, etc. Additionally, both services require their clients to submit to an identity verification and/or background check, and most AirBNB hosts require the same of their guests (I had to upload a photograph of my drivers' license; I assume this is deeply racist, but didn't have the heart to press the matter with my MSNBC-watching hosts).
Moreover, the systems' reliance on electronic, photo ID-backed payment in itself deters crime. As one of my Uber drivers explained during a half-hour drive, one of the reasons he switched from driving a cab to Ubering is that the latter was free of prostitutes and drug dealers, who — for obvious reasons — use cash and eschew real credit cards. Forcing people to disclose their identity (to the service, if not each other) keeps the unsavory characters at bay.
Finally, the services' rating systems go both ways: guests and passengers rate their hosts and hosts and drivers rate their clients. On AirBNB, this is very transparent and the system (cleverly) only lets guests read the comments their hosts leave if they write one of their own. On Uber, it's much less transparent but — according to the Uber driver I chatted with in Florida — passengers with low ratings are automatically kicked-off the system, and most drivers will refuse to pick up anyone with a rating lower than four out of five stars.
Are their still risks and ways to game these systems? Of course there are, though the costs of misbehavior — in terms of being caught and punished, either by the system or law enforcement — are pretty steep. Likewise, I could have abused the trust of the restaurateur on Monday by claiming that I came back in after he left and paid cash, and likely have gotten away with it. But by expanding the means by which people can make intelligent, rational decisions about who to place their confidence in, they're making the world a slightly better place.