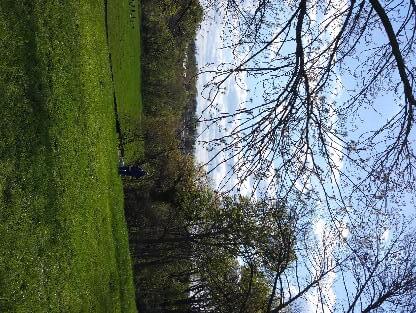 This photo shows the park at the bottom of my street. To the left of this image, you'd find a road. Drive on it for about 10 minutes, and you'll be at the now-famous CVS.
I have lived my entire life in Baltimore City. Went to public schools, and most of my professional life has been spent within the city limits. For the most part, it's a pretty good life as a city resident. But there are major frustrations. I pay high taxes — much higher than surrounding counties. I've had my car stolen twice and bikes stolen. Police just shrug; not a big deal in Baltimore. I never even considered sending my children to the public schools that I attended because, well, for the most part, they are awful. I've watched businesses and people flee Baltimore — fleeing the taxes, crime, and public schools. I've stayed.
The problems in Baltimore do not start with the police department. I've been reading up on the brutality issues, and they are pretty awful. But who protects the "bad apple" officers? Police unions. Who give campaign money to the politicians. Who then turn a blind eye. The politicians who are all claiming to sympathize with the community's frustration — well, what the hell have you done? It's not like you haven't had the power — some of you have been in power for decades. And now you're emoting at the funeral of an unfortunate young man who was the product of the policies you liberal politicians fight so hard to defend.
It was a Democrat politician — presidential wannabe Martin O'Malley — who instituted policies that involved arresting people for piddling crimes. This caused a lot of mistrust in the community. If Baltimore police officers didn't agree with the policy, it didn't matter; they had to follow orders. They become the face of the "enemy." Meanwhile, Mayor Martin could hide behind his security detail and escape the hostility. The officers can't.
There is no excuse for police brutality. None. Bad police officers need to be disciplined, fired, and/or prosecuted — union rules be damned.
People need to understand, though, that police officers see stuff that none of us could imagine. They face dangers that none of us could contemplate. They deal with people who behave in horrible ways. They deal with people who are evil. They are not social workers. This means that sometimes, people who cross their paths get treated in ways that aren't supportive, nurturing, or understanding. They are the line between civilization and anarchy, and should be supported for the great work that most of them do, most of the time.
Yes, the "community" was frustrated. But so is this taxpayer. I see my tax dollars going to people who make terrible decisions, which are funded by said tax dollars.
But if I criticize those bad decisions — having children outside of marriage, drug use, etc. — I am labeled as a racist. The proven importance of intact families knows no color — children deserve a married mother and father, no matter what color any of them are.
And if I advocate policies, such as school choice, that would liberate people and give them choices, as well as break the stranglehold of teachers' unions which serve the interests of — ahem, teachers, and not their students — then I'm called an evil Republican. If I want lower taxes to attract businesses and more homeowners to build a tax base, I'm an evil Republican. If I want welfare reform to encourage people to share fully in society, and reach for their full potential, then I'm an evil Republican.
If I had engaged in "peaceful protests" to support the policies I believe in and blocked the streets to make my point, I don't think that the Mayor would be so understanding of my "frustration." And she would know in her heart that there wasn't much danger of my busting up the windows of the Inner Harbor and looting Burberry to show my "frustration." Even if I showed complete respect for the law during my peaceful protest, she'd probably call me one of those "teabaggers" [the vulgar term that the left likes to use]. Guilty. I believe in smaller, accountable government and stronger, free citizens.