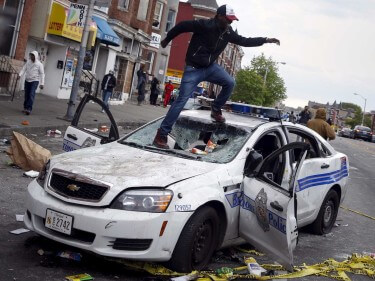 While watching the news coverage of the rioting in Baltimore last night, I recalled a conversation I had with a gang member I arrested during the Los Angeles riots of 1992. He was a member of one of the many Crip "sets" to be found across South L.A., and I asked whether he and his fellow gangsters had any sympathy for Rodney King, whose videotaped beating by LAPD officers engendered the whole mess.
"[Expletive] Rodney King," he said. "Rodney King ain't no Crip. This ain't about no Rodney King. It's about getting free [expletive].
And so it is in Baltimore. The people you see looting and burning businesses and throwing bricks at police officers are not avenging Freddie Gray, whose death in police custody has yet to be explained. For the rioters, it's all just a good time. The Los Angeles Times today described the "angry crowds" on the streets of Baltimore, but anyone watching can plainly see they are not angry; they are gleeful at the chance they have been given to run amok and steal, break, and burn things.
For the victims of these crimes it's a riot; for the participants, however, it's a party.
Image Credit: imagazine.com.