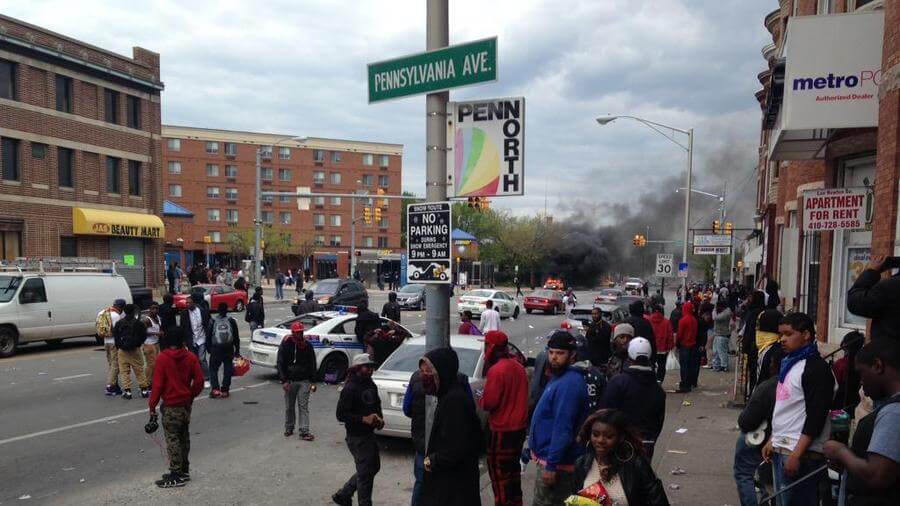 In a scene that's all too common in the Obama era, an American city is in flames. This time it's Baltimore, where a funeral for a man killed by cops was quickly followed by mob violence carried live on cable news and social media. Every few months another Democrat stronghold is convulsed by turmoil. Hope and change involves a lot more riots and looting than I expected.
Meanwhile, our President is touring the Beltway with Japanese Prime Minister Shinzō Abe. They visited the Lincoln Memorial (must have special significance to a man named Abe) and tomorrow features a state dinner replete with Wagyu beef and exceedingly rare wines. I'm curious if the PM's security detail is alarmed by the race war occurring just down the road or if his staff is simply aghast at how the world's leading superpower has fallen so far and so fast. The shocking footage out of Baltimore isn't a helpful backdrop for hosting one of our closest allies, especially when his nation is facing down an increasingly belligerent China and North Korea.
Details from the riots are changing quickly. Here's the latest update from the Baltimore Sun:
Violence and looting overtook much of West Baltimore on Monday, seriously injuring several police officers and leaving a store and several vehicles in flames.

At least seven police officers were injured in a clash that began near Mondawmin Mall and spread toward downtown. One officer was unresponsive and others suffered broken bones, police spokesman Capt. Eric Kowalczyk said.

Smoke filled the air as police responded with shields and a tactical vehicle. Demonstrators pelted officers with rocks, bricks and bottles and assaulted a photojournalist, and officers fired back with tear gas and pepper balls.

Demonstrators set a police vehicle ablaze at North and Pennsylvania avenues. Nearby, they looted a CVS drug store, which store officials said had already closed, before firefighters battled a blaze there.

The unrest spread toward downtown, with looting along Howard and Centre streets as afternoon turned to evening.
Mayor Stephanie Rawlings-Blake waited until 6 p.m. local time to activate the city's emergency operation center to coordinate the response. Gov. Larry Hogan has placed the Maryland National Guard on alert. Since these, ahem, "mostly peaceful protests" usually heat up after dark, residents of the inaptly named Charm City will need your prayers tonight.
With liberal voters tearing apart another liberal city, I'm curious to hear how all this is all conservatives' fault. The newly elected governor is a white Republican male, so I assume he'll be the media's bogeyman instead of Baltimore's African-American Democrat female mayor or decades of far-left policies. Seeing young people looting pharmacies, liquor stores and check cashing centers, it's hard not to see the folly of liberal social policy. This is what happens when you replace fathers with a government check.