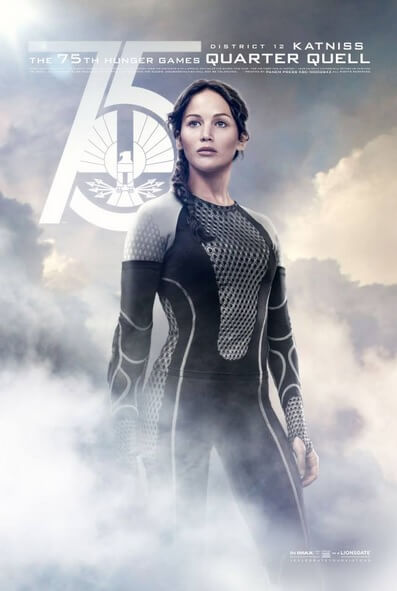 Wikipedia tells me that "Generation K" refers to "the collective nickname given to a trio of young starting pitchers in the New York Mets organization in 1995." Of course, "K" is baseball shorthand for a strikeout. But the next time you hear about "Generation K," it will almost assuredly be pop-culture shorthand for "Generation Katniss," the catchy demographic title given to girls ages 13 to 20 — devised by British economist Noreena Hertz — assumed to be fans of Hunger Games heroine Katniss Everdeen.
And what are political and policy impulses of Generation K? Hertz, who discussed her research at the Women in the World event last week, outlined some her findings in a recent Financial Times note:
They are concerned about existential threats. Sadly, their anxieties stretch way beyond the typical teenage anxieties. Seventy-five per cent of teenage girls I surveyed are worried about terrorism; 66 per cent worry about climate change; 50 per cent worry about Iran. They also worry inordinately about their own futures. Eighty-six per cent are worried about getting a job; 77 per cent about getting into debt. … Only 4 per cent of Generation K girls trust big corporations to do the right thing (as opposed to 60 per cent of adults). Only one in 10 trusts the government to do the right thing — half the percentage of older millennials. …

Their distrust of traditional institutions bleeds into a more generalised distrust of traditional social mores. As many as 30 percent of teenage girls are either unsure about marriage or don't want to get married. Even more strikingly, 35 percent are unsure if they want to have children or definitely don't. This is a seismic difference compared with older millennials. … And this generation is definitely career-minded — 90 percent consider it important to be successful in a high-paying profession. … Time and time again the girls told me how disturbed they were by gender pay gaps, sexist comments, the attitude that "women cannot be engineers". They shared their frustration that "men are able to do anything but women still can't", along with concerns about economic, racial and social inequality. … Eighty percent of them support equal rights for transgender people. Indeed, I was fascinated by the extent to which Generation K celebrates difference. When I asked the girls to describe themselves in one word, "unique" was the one they most commonly chose. Unique — and proud to be so.
So a group born post 9-11 that came of age during the Great Recession and Not-So-Great Recovery has anxiety about economic and national security and distrust of Big Business and Big Government? Hardly seems like a stretch. And how might center-right politicians appeal to Generation K? Here are some wise words from my boss, Arthur Brooks:
If Republicans and conservatives double down on the promotion of economic growth, job creation and traditional values, Americans might turn away from softheaded concerns about "caring." Right? Wrong. As New York University social psychologist Jonathan Haidt has shown in his research on 132,000 Americans, care for the vulnerable is a universal moral concern in the U.S. In his best-selling 2012 book "The Righteous Mind: Why Good People Are Divided by Politics and Religion," Mr. Haidt demonstrated that citizens across the political spectrum place a great importance on taking care of those in need and avoiding harm to the weak. By contrast, moral values such as sexual purity and respect for authority—to which conservative politicians often give greater emphasis—resonate deeply with only a minority of the population. Raw money arguments, e.g., about the dire effects of the country's growing entitlement spending, don't register morally at all.

Conservatives are fighting a losing battle of moral arithmetic. They hand an argument with virtually 100% public support—care for the vulnerable—to progressives, and focus instead on materialistic concerns and minority moral viewpoints.

Some say the solution for conservatives is either to redouble the attacks on big government per se, or give up and try to build a better welfare state. Neither path is correct. Raging against government debt and tax rates that most Americans don't pay gets conservatives nowhere, and it will always be an exercise in futility to compete with liberals on government spending and transfers.

Instead, the answer is to make improving the lives of vulnerable people the primary focus of authentically conservative policies. For example, the core problem with out-of-control entitlements is not that they are costly—it is that the impending insolvency of Social Security and Medicare imperils the social safety net for the neediest citizens. Education innovation and school choice are not needed to fight rapacious unions and bureaucrats—too often the most prominent focus of conservative education concerns—but because poor children and their parents deserve better schools.

Defending a healthy culture of family, community and work does not mean imposing an alien "bourgeois" morality on others. It is to recognize what people need to be happy and successful—and what is most missing today in the lives of too many poor people.

By making the vulnerable a primary focus, conservatives will be better able to confront some common blind spots. Corporate cronyism should be decried as every bit as noxious as statism, because it unfairly rewards the powerful and well-connected at the expense of ordinary citizens. Entrepreneurship should not to be extolled as a path to accumulating wealth but as a celebration of everyday men and women who want to build their own lives, whether they start a business and make a lot of money or not. And conservatives should instinctively welcome the immigrants who want to earn their success in America.