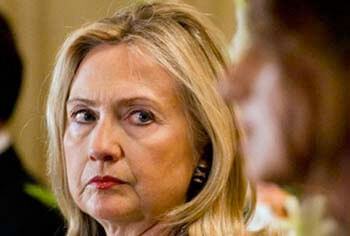 Today was a very bad day for Hillary Clinton. This time it wasn't about logos or burritos, but rather uranium, foreign affairs, and serious corruption. The New York Times published an exposé on ties between the Clintons and a sketchy deal that left Vladimir Putin in control of a significant portion of America's uranium; uranium it can now sell to Iran and other bad actors in the world.
You can read the 4,500-word Times article or watch the nine-minute-long summary produced by Fox News, but here's a simplified tick-tock of the deal:
In September 2005, Bill Clinton traveled to Kazakhstan and met his friend Frank Giustra (pronounced joo-strah), who wanted to buy uranium mines there.
Clinton gave a press conference with Kazakhstan President Nursultan Nazarbayev, in which he endorsed the leader's human rights record and democratic progress, even though he had just received 91% of the vote in an allegedly rigged election. The event was a public relations coup for Nazarbayev.
A couple of days later, Kazakhstan gave Giustra the uranium concessions he requested.
Giustra then donated $31 million to the Clinton Foundation with a promise of $100 million more to follow.
The Westinghouse Deal
Later, Kazakhstan wanted to purchase an equity stake in Westinghouse, an American company that serves the civilian nuclear industry. This would require approval by the Hillary Clinton-run State Department.
Giustra set up a meeting between Kazakhstan energy representatives and Bill Clinton in his Chappaqua home. Giustra and Bill Clinton both denied this meeting ever took place until a New York Times reporter produced photographic evidence.
The State Department approved the deal and KazAtomProm (Kazakhstan's state-owned nuclear company) purchased 10% of the company.
Putin and Uranium One
Giustra's company was merged into Uranium One, which controls about half of U.S. uranium.
The Russians wanted to purchase Uranium One, another deal which would require State Department approval.
Uranium One's major shareholders gave tens of millions of dollars to the Clinton Foundation, which the foundation didn't disclose.
Hillary's State Department approved the deal and Russia bought Uranium One. Putin can now sell this nuclear fuel to Iran.
This shocking uranium news wasn't the only hit taken by Hillary's 2016 campaign. Reuters discovered that the Clinton Foundation fraudulently filed form 990s to the IRS for several years. And they didn't just miss a dollar here and there, but failed to report tens of millions:
Hillary Clinton's family's charities are refiling at least five annual tax returns after a Reuters review found errors in how they reported donations from governments, and said they may audit other Clinton Foundation returns in case of other errors…

For three years in a row beginning in 2010, the Clinton Foundation reported to the IRS that it received zero in funds from foreign and U.S. governments, a dramatic fall-off from the tens of millions of dollars in foreign government contributions reported in preceding years.

Those entries were errors, according to the foundation: several foreign governments continued to give tens of millions of dollars toward the foundation's work on climate change and economic development through this three-year period. Those governments were identified on the foundation's annually updated donor list, along with broad indications of how much each had cumulatively given since they began donating.
As these scandals emerged, Bloomberg News discovered that Team Clinton was sending fresh talking points to their allies. Wait, did I say "fresh?" Sorry, "The Vast Right-wing Conspiracy" is back:
In a memo sent overnight to friends and allies, Clinton campaign press secretary Brian Fallon dismisses Clinton Cash as a "smear project" from author Peter Schweizer, who has "longstanding conservative ties, from working for George W. Bush to writing for Breitbart.com." The message, obtained by Bloomberg, follows a similar note from Fallon to supporters of the former secretary of state earlier in the week, as claims from the book began to emerge…

Focusing on Schweizer's book, which is set to be published May 5, Fallon wrote: "As the truth comes to light, it's bad news for both the author and the Republicans taking part in his coordinated attack on Hillary Clinton. Simply put: his accusations are proving to be completely devoid of evidence even by the author's own admission."
Like clockwork, former Governor Howard Dean appeared on MSNBC's Morning Joe today and dutifully parroted the approved spin. Unfortunately for Clinton, Inc., his transparent response was ridiculed by the host and a fellow guest.