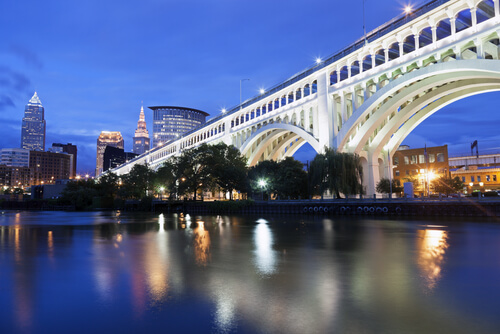 Unless you were hiding under a rock this Earth Day, you probably heard the familiar tale of how America (ca. 1970) was on the brink of turning into one vast toxic waste dump until the federal government swooped in to save us all with the Clean Water Act, the Clean Air Act, the Endangered Species Act, and so on.
According to the conventional history, the Clean Water Act rescued America from the brink of environmental apocalypse. Before the federal government acted, according the New York Times, "the nation's waters were in terrible shape … Lake Erie on its deathbed, Ohio's Cuyahoga River bursting into flames." In reality, the states were actively working to protect the environment well before the federal government got involved. By 1966 — six years before the federal Clean Water Act — every state had enacted water pollution legislation and had empowered one or more state agencies to enforce environmental standards.
In Cleveland, the citizens knew about pollution on the Cuyahoga long before Washington took notice. In 1968, the city's voters had approved a $100 million bond issue to finance river cleanup, whereas Congress allocated nothing to Cleveland. As for Lake Erie, if it was on its "deathbed," as the New York Times says, it was partly due to the fact that the federal government (the Army Corps of Engineers) was busy dumping over a million cubic yards of contaminated material into the lake each year in the late 1960s.
A similar mythology surrounds the Clean Air Act, a law that was actually modeled on legislation already passed at the state level. Studies have shown that, nationwide, air pollution declined at the same rate in the years before the Clean Air Act (when states were still regulating air pollution) as afterward. Or consider wetlands. The states began adopting legislation to protect wetlands in 1963—long before the federal government began taking action in 1975. By the time Uncle Sam stepped in, all but one of the 15 states with 10 percent or more of land area in wetlands had passed wetlands protection statutes. Strange as it may seem to those who equate environmental protection with federal power, the people who actually lived near wetlands understood their importance and took action to protect them without being told to do so by Washington.
The fact is that most environmental issues are local, not national. As the law professor Jonathan Adler observes, "Drinking water systems serve the local communities in which they are based. Hazardous waste sites only threaten local communities. Phoenix's failure to meet the National Ambient Air Quality Standard for ozone does not affect Baton Rouge."
The federal environmental agenda is not forward-looking. To the contrary, it is a relic of the age when centrally-planned, one-size-fits-all solutions were all the rage. We know better now – or at least we should.