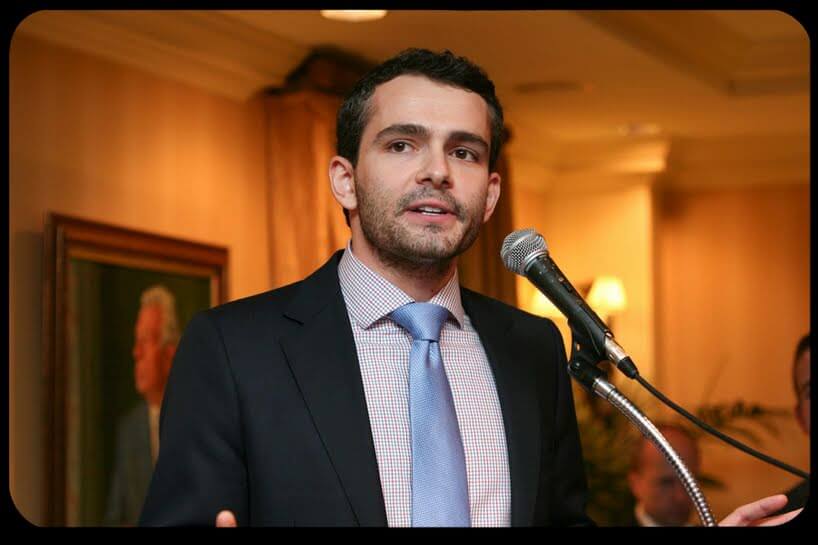 I've met Ryan Anderson, infamous opponent of marriage equality. It was a terrifying experience. The eyes. Those crazy eyes.
I'm joking, obviously. Ryan is a perfect gentleman and clearly entirely sane. He also has a fancy education and no grey hair. (He's around my age, I believe, so not easily dismissed as a nostalgic old codger who can't quite get with the times.) Those combined factors make him deeply offensive to the left. In his way, I'm sure he's far more offensive than your garden-variety Westboro Baptist, because he tricks people into supposing that young, intelligent and reasonable people can still regard marriage as an intrinsically procreative institution involving a man and a woman. Even in 2015.
Ryan is a graduate of the Friends School of Baltimore, an academically rigorous school affiliated with the Quakers. Last week, a Washington Post profile of Ryan was linked on the school's Facebook page. Naturally, people went crazy.
I'll post the absurd message from the school principal below. Apparently it is not possible to have a "safe" and "nurturing" school environment while admitting that a graduate is public supporter of traditional marriage.
We've seen a fair amount of this craziness in recent weeks and months, but this is particularly personal. Ryan is an alum of the school, and apparently his four brothers were also students; his family invested quite largely in this private school. But it's still verboten to acknowledge his national reputation with a Facebook link. Not even a personal appearance or book signing. He is banished to the realm of the Cannot-Be-Named simply because he supports traditional marriage.
I hate to be a pessimist, but I suspect the impending Supreme Court decision will make this all worse. For progressives, that victory-by-judicial-fiat will only serve as one more infuriating reminder that you can't disappear millennia-old cultural and philosophical views with the stroke of a pen. It wouldn't be so bad if we'd just be the crude, wild-eyed reactionaries they want us to be. Instead we have jerk-wads like Ryan Anderson pretending to be intelligent, reasonable people with good manners. Nothing worse than a well-behaved bigot, right?
Matt Micciche Head of School

Members of the Friends School Community,

As many of you know, this morning, we posted on the Friends School Facebook page a Washington Post article that profiled a Friends School alumnus who is a prominent national opponent of same-sex marriage. Earlier this evening, I removed that post from our page, and I'm writing to provide some background on this decision.

I want to begin by expressing my sincere regret to those for whom the posting of this article called into question our school's commitment to honoring their identity and their rights. Though I should have anticipated the anguish and confusion this posting would cause, I did not. For that lack of sensitivity, and the pain that it has brought about, I apologize to all the members of our community.

By far, the most important factor in my decision to remove this post were the voices of students and alumni who felt that by posting this article, we were, as a school, validating (if not tacitly endorsing) the views that Mr. Anderson put forth in the article as he described his work opposing same-sex marriage. While that was not our intent, as we often point out to students, it is the reception, rather than the intent, that matters. I can understand why the belief that Mr. Anderson's views were being endorsed by the school would be deeply troubling to some members of our community. The nature of these views goes beyond the realm of abstract political ideology and calls into question the fitness of same-sex families to raise children and the right of gay and lesbian citizens to marry the person they love. While Mr. Anderson undoubtedly has the right to express such views, by posting this article we created legitimate confusion as to whether or not they were being validated by the school.

And yet, the decision to remove the post, once I had heard the deep concerns it was causing, was not without conflict for me. I found myself torn between two seemingly opposed aspects of our School Philosophy. We believe, as we say in that document, that "Quaker education is a pilgrimage–a continual seeking after Truth. The search for truth requires a willingness to listen openly to the ideas of others, even in fields of controversy." I take very seriously our responsibility as a school to encourage the free and open exchange of all ideas, from across the political spectrum. I firmly believe that we must support, foster, and celebrate divergent thinking to the greatest possible extent. There can be no "party line" in a truly great educational institution, no sense that there is only one acceptable view on any complex topic.

We also affirm in our Philosophy that "Friends School seeks to live the conviction that there is that of God in each person. At Friends, we work together to build and sustain a community that is inclusive, respectful, and supportive of all people; we value diversity and cherish differences." With this ideal in mind, the celebration of divergent viewpoints is not, and cannot be, without boundaries. When the views that a person espouses call into question the full humanity or the full access to human rights of others, based on their very identity, the active harm that the espousal of these views causes outweighs the opposing value of freedom of expression.

My decision, in other words, places a priority on the very real and human sentiments of the actual members of our community (as expressed to me in the wake of our posting of this article) over the more purely philosophical commitment to the free flow of ideas. Those of us in the majority – in this case, the heterosexual majority -have the luxury of treating the debate about same-sex marriage as an issue of abstract ideals. That luxury is simply not available to those whose humanity and civil rights have historically been degraded in this area and many others.

I believe that Mr. Anderson is entitled to hold the views he does, and I respect his educational and professional accomplishments. As the article remarks, he is seen as a "fresh face" for the anti-gay-marriage movement largely because of the civil and reasoned manner in which he presents his arguments. I hope that his ability to respectfully disagree with his opponents has at least some root in his experiences at Friends School. That said, as a Quaker school, we strive to create an environment where "that of God" in every person is acknowledged and respected. By choosing to highlight an article about an alumnus whose work is based on a set of beliefs that begin from an assumption of inequality and that argue for the denial of rights to an entire segment of the population based on their identity, I now realize that we erred. I promise that we will draw on this experience as a tool for learning about how we can help to create a sense of acceptance and well-being for all, while also providing for the open and respectful exchange of ideas. We can and must do better in the difficult work of balancing these competing ideals.