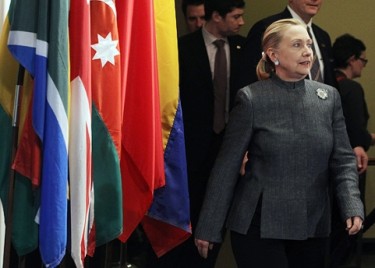 In a normal world, the very thought of the person who sat idly by while four Americans were besieged and murdered at one of our embassies now wanting to be our "champion" would cause every heart in the country to go into immediate arrest. Unhappily, the world is no longer normal, leaving a small and regrettable percentage of the American electorate who will now invite the Inspector Clouseau of American politics to minister to their whims and desires. But, to be sure, they won't be the same people who learned from experience the pitfalls of placing their hopes and trust in Hillary Clinton.
"Everyday Americans need a champion, and I want to be that champion," announced the person who looked upon the wreckage and misery that accompanied her husband's serial sexual abuse of "everyday Americans" and decided to attack his victims. According to the Daily Mail, Bill Clinton's infamous wagging finger and the "I did not have sexual relations with that woman" whopper was orchestrated at the direction of Hillary, who took the wrong side in the real War on Women. Remarking — when she returned to the White House following her "vast Right wing conspiracy" television interview — that "I guess that will teach them to [expletive] with us." Except that it wasn't "them [expletive-ing] with," the Clintons, but rather the Clintons [expletive-ing] with them!
But the War on Women can be fickle after all, as Kathleen Willey — another of Bill's Fondle U. alumna — observed when she said of Hillary "The point is what this woman is capable of doing to other women while she's running a campaign basically on women's issues." Then again, what difference at this point does it make?
Paula Jones — in whose presence Bill freed Willy before instructing her to "kiss it" — could have used a champion. Juanita Broaddrick, who convincingly claims to have been raped by Bill Clinton, would have benefitted greatly from Hillary's advocacy. Monica Lewinsky, who was barely out of her teens when then-President Clinton evidently confused an intern's privates with a cigar humidor, certainly needed a champion. Instead our Champion of Everyday Americans orchestrated a smear campaign against her.
For that matter, the women of Saudi Arabia — who are forbidden by their Islamic overlords from driving a car, going anywhere in public without a male chaperone, voting, or competing in sports — could use a champion. So, too, could a 19 year-old girl who was gang raped by seven men and subsequently sentenced by a Saudi court to six months in jail and 200 lashes. She would be well-advised to look elsewhere, as Hillary has rather uncharacteristically grown mute on the subject, and has no intention of returning the $10 – $25 million the Clinton Foundation received from the Saudi Arabian Kingdom. In Hillary's world, champions are bought, not created.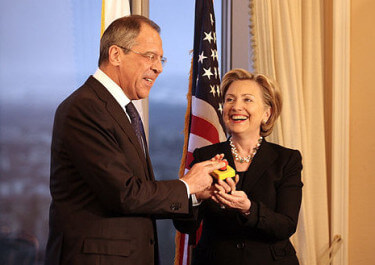 No need to worry, however, because she promises to bring the same sterling success she's enjoyed across the globe right to your doorstep. Remember the Russian "Reset Button"? You know, the little gizmo that actually read, "overcharge" in Russian? One wonders, in the wake of all this "smart diplomacy," whether Ukraine and Crimea would have benefitted from an American champion? Instead, they were invaded by Vladimir Putin, the beneficiary of Hillary's reset button. Did Poland and the Czech Republic go looking for help when Barack Obama decided to repeal US plans for providing them with missile defenses? Where was the champion then?
During the 2008 campaign, Hillary made a great fuss about whether Barack Obama would be able to answer the phone at 3AM and deal with a crisis. In September of 2012, her phone rang not at 3AM, but during normal business hours and the results were still catastrophic. Four Americans, including a United States Ambassador and two Navy SEALs were under attack in Libya. As their plea went unanswered, their Secretary of State remained unresponsive, and their Commander in Chief went AWOL to a Las Vegas fundraiser. Four Americans were murdered while this would-be champion propagated a lie that the attack was a spontaneous protest resulting from an American videographer, who was promptly jailed. As Secretary of State, she left behind a world in which our allies are in danger and our enemies are emboldened, a world in which a murderous regime in Iran is treated like a friend and ushered toward the nuclear threshold, while our closest friend in the region is treated like the enemy.
The regrettable fact is that, in the public policy arena, those who have looked to Hillary as their champion have wound up either defeated, conquered, or dead. In what way, precisely, is this supposed to inspire confidence as she descends to the level of us mere mortals — in all her resplendent glory — smiles beneficently in our direction, and announces that she is about to champion us? In a sane world, the people would rise with one voice and announce, "Like hell you will!" Then again, in a sane world, a Republican front-runner wouldn't have rewarded such a dismal record with the Liberty Medal.
It's as if we were at a Liberace concert when, finally, the bejeweled celebrity appears on stage, sits down at a diamond-encrusted grand piano, hands raised elegantly, poised in anticipation of a virtuoso performance, only to cudgel out a third-rate rendition of "Chopsticks," missing half the notes, yet demanding a standing ovation. The audience rises to leave, but liberalism is a compulsory concert where the doors are locked and the awful performance only worsens.
Clinton's failure is on two fronts primarily. First — if we were looking for a champion — it would not be one so chronically corrupt and morally compromised that she thinks it is perfectly acceptable to conduct official business via private email, print out those she deigns to submit for public review, and destroys the rest. In Federalist 10, James Madison warned that:
Men of factious tempers, of local prejudices, or of sinister designs, may, by intrigue, by corruption, or by other means, first obtain the suffrages, and then betray the interests, of the people.
We've endured enough of that from leaders in both parties but, to be candid, but Mrs. Clinton makes them all look like Mother Teresa's Sisters of Charity by comparison.
Second — and perhaps most importantly — Clinton fails to understand that free men and women really don't need a champion in a far-away capital, arranging their lives and leading them about by the nose. We don't need someone telling us what kind of food to eat, what kind of car to drive, what sort of plumbing to use in our homes, what kind of light bulb to use, which doctor to patronize, which insurance to purchase (or whether or not to purchase it in the first place), whether or not we may engage in political speech, whether or not we may protect our families and property, what school our children should attend, how much of our income we should donate to others, whether or not to recycle, ad infinitum.
In America, we see our champions every time we look at or families or welcome home our soldiers. We look at our parents and grandparents, we consider their struggles on our behalf, and we know what champions do. We honor throngs of veterans on Memorial Day or Veteran's Day, we listen to their stories and see the medals they've earned, and we realize there are champions all around us. We read of the struggle for American independence and know immediately that signatories of the Declaration of Independence were champions who did not pledge their lives, fortunes, and sacred honor in order to trade one tyranny for another.
"I sought for the greatness and genius of America in her commodious harbors," wrote Alexis de Tocqueville, "her ample rivers, and it was not there. I sought for it in the fertile fields, and boundless prairies, and it was not there. I sought it in her rich mines, and vast world commerce, and it was not there. Not until I went into the churches of America and heard her pulpits aflame with righteousness did I understand the secret of her genius and power."
Ultimately then, America's champion is its spirit, perhaps best characterized as that virtue which attaches to a healthy respect for life, liberty and property — which is to say, that virtue which Hillary Clinton has spent her entire public life repudiating.