Modern communication covers the globe so thoroughly these days that Tinder even works in the vast wastland of Antarctica and with the proper amount of internet bandwidth it's possible for just about anyone to produce a broadcast-acceptable audio feed from just about any place in the world.
Of course that wasn't always the case. Just 34 years ago when ABC's Sam Donaldson broke the news of John Hinckley Jr's attempt on the life of President Reagan, he did it by yanking someone off their call at a phone booth across the street from the Washington Hilton.
But that was technological heaven compared to trying to cover the world in the late 1930s and into the early '40s.
Then the only solution was shortwave radio. (Up until 1956 even transoceanic phone calls were conducted over shortwave.) And for CBS and NBC, that meant you had to have the cooperation of the state broadcasters in the country you were trying to report from. Easy from London, not so easy from Berlin.
Unless your name was Max Jordan.
Jordan was born in Germany, the son of a chemist. His father found employment with Eastman Kodak and he came to America in his youth and became a U.S. citizen.
His father would return to Europe and help Kodak establish overseas offices and the young Max traveled the world with him. Max became well versed in the politics of the Continent. He studied philosophy at university in his native land and had become fluent in German, English, French and Italian.
His journalism career began as correspondent for the Hearst newspaper chain. In 1931 he was hired by NBC to translate a speech by German President Paul von Hindenburg, a job he would perform for the network periodically as the Weimar Republic gave way to the Nazi regime of Adolf Hitler. By 1935 he would leave Hearst and become NBC's fulltime representative in Europe.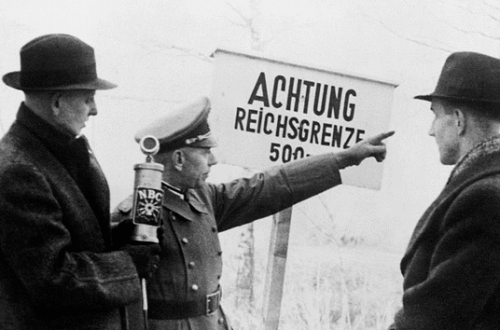 Jordan had, as they say, a face for radio. He was gangly, balding and thin. Time magazine described his looks as "cadaverous." With his deep-set eyes he looked like a cross between Col. Klink from Hogan's Heroes and Skeletor.
But what he lacked in style and looks he more than made up for in political skill. His ability to negotiate for the use of facilities and shortwave access in their native tongues and his sense of European protocol gave Jordan, and thus NBC, a distinct advantage over rival CBS.
This came to fruition in 1938 as Hitler began his campaign for Anschluss, the uniting of German speaking people into the Reich. When the German army rolled into Vienna in March, Jordan was given access to the city's Broadcasting House giving an almost immediate report to American audiences while Columbia's William L. Shirer had to fly to London and the studios of the BBC.
That fall, as France and Great Britain negotiated away Czechoslovakia's sovereignty, Jordan got another scoop. Obtaining a copy of the paper Chamberlain would use to declare "peace in our time," Jordan had access to the Munich studios of Deutsche Rundfunk and broadcast the details to the world while Ed Murrow waited in London for word from the Foreign Office.
He took to the air a full 46 minutes before CBS:
Back in New York, William Paley, the founder and CEO of CBS steamed. He was determined that his network would never be caught flatfooted again. He knew that war in Europe was inevitable and ordered Murrow to build a real team to cover the coming conflict. These hires – which would become known as "Murrow's Boys" – included Howard K. Smith, Eric Sevareid, Charles Collingwood and Richard C. Hottelet and they would cement CBS as America's news leader right through the early days of television and into the 1970′s.
Despite his Munich triumph, Jordan returned to the US at the end of 1938 and took a new position with the network as Director of Religious Programming. (Yes, Virginia, there was a time when American networks actually catered to the faithful in the audience.) The philosophy major had enough of European intrigue.
Only at the end of the war, with Allied troops driving into the heart of the Third Reich did Jordan return to Europe and to the microphone. Prior to the war he had set up NBC's shop in Switzerland and Jordan returned there because he knew the Swiss were acting as intermediaries between Washington and Tokyo. Through his Swiss contacts he was the first reporter to learn that Emperor Hirohito had accepted his country's fate and agreed to complete and unconditional surrender. Jordan announced that fact on NBC at 4:18 Eastern Wartime on August 14, 1945.
Jordan hung around for another two years reporting on the de-Nazification and reconstruction of postwar Germany. But then he walked away from it all and entered Erzabtei Beuron or the Beuron Archabbey, a major house of the Benedictine Order. When the world next heard from him he was Father Placid Jordan.
And the last time he was heard from was 1964. Gordon Zahn, a professor at Loyola University-Chicago wrote a book critical of the German clergy during the war, German Catholics and Hitler's Wars. Father Jordan took to the priesthood's defense in a letter to National Review.
He died in Illgau, Switzerland on November 28, 1977 at the age of 83. While Murrow would go on to become an almost deified figure in American journalism, Max Jordan faded into obscurity serving the only Deity that mattered.