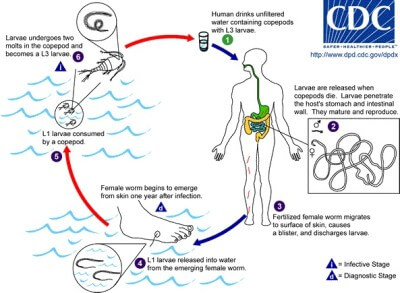 America's 39th president doesn't not come in for much praise here on Ricochet but the excellent — and nearly complete — work his foundation has been doing to eradicate the guinea worm in Africa deserves some attention. I dare say, the world owes Jimmy Carter a round of applause.
The guinea worm is a nasty piece of work. Like many other parasites, it infects different species at different stages of its lifecycle, culminating in humans in its adult stage. I'll spare you the details, suffice to say that it emerges from a blister in leg or foot and the only thing to do is to pull the cursed thing — all three feet (~90 cm) of it — out of the skin inch-by-inch, lest it break and become infected inside someone's leg or foot. Washing the wound in water apparently eases the pain, but is also exactly what the worm wants, as it allows it to release its back eggs into the water supply and start the process over.
Fortunately, the worm has two weaknesses: the copepods it infects immediately before getting into humans are big enough to be caught by inexpensive water filters, and keeping those who are infected away from standing water robs it of an opportunity to find copepods. The results of the Carter Center's education, filtration, and health programs: last year, there were 126 documented cases, down from 148 in 2013, and 542 in 2012. As recently as the mid 1980s, there were more than three million cases annually. CBC Radio's Quirks & Quarks covered the matter in detail on their most recent episode.
Though capable of beauty and kindness, Nature is more often ugly and remorseless. Fortunately — with some know-how, determination, and wealth — we've on the brink of sending this ugly little creature the way of smallpox. Human ingenuity can't solve all problems, but it's amazing what it can do. Congrats to the Carter Center for a job very well done.