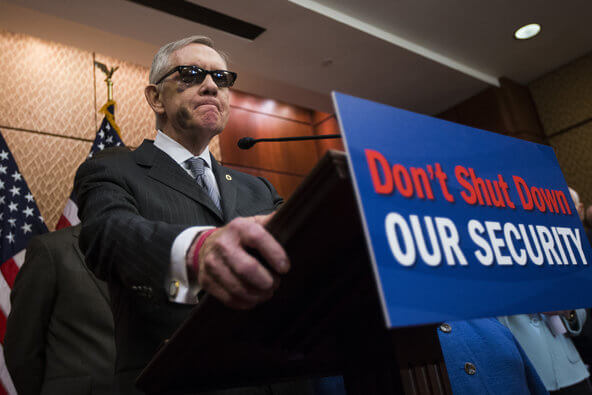 His decision not to seek another Senate term sent Washington into a tizzy last week, begging questions as to what prompted the surprise career choice and what it portends for control of the chamber beyond 2016. But enough about Indiana Senator Dan Coats . . .
Instead, it's Senate Minority Leader Harry Reid, who made the big splash in announcing that he won't seek a sixth term next year. And this being the nation's capital, where no one voluntarily relinquishes power unless (a) they're shoved out the door or (b) happen to be awaiting indictment, one wonders what all contributed to Reid's retirement.
Here are three things to ponder:
1) Maybe The Timing Was Right. Reid turned 75 last December, a month after the worst political beating in his career, and a month before an exercise-related accident that left him with broken ribs and facial bones (plus eye damage, which is why he's wearing those shades in the image above). Perhaps Reid's also tired and decided he couldn't stomach another six years in Washington (and maybe we should have seen this coming, after the senator sold his Ritz-Carlton residence last summer). Politico's Jon Ralston, who's covered Reid for the better part of three decades, wrote the following: "This was an intensely personal and intensely secretive decision. Not even his closest friends knew until Reid and top aides started making phone calls before dawn in Nevada. This was between Reid and his wife, Landra, who is by far the most influential person in his life. Even some of his kids were not aware. One person who knew put it succinctly: "The honest truth: He didn't want to be the old senile guy in the Senate. That people looked at and said he used to be sharp. And he wants to win the majority back and go out on top. Prospect of another eight years was too long. 2 or 4, yes; 8, no. And he would never allow his seat to be appointed by [a Republican] governor. So now he can pick who he wants to run in his seat."
2) 2016 Won't Be 2014 — It Also Won't Be 2012, 2010, Or 2008. The last time Reid sought reelection, in 2010, he caught a break. Dean Heller, back in 2010 representing Nevada's 2nd Congressional District (he's now Nevada's junior U.S. Senator), took a pass on challenging Reid. In that year's GOP primary, Sue Lowden, a former anchorwoman/state senator/state party chair and mainstream favorite, lost to the Tea Party-backed Sharon Angle. After a $20 million campaign portraying Angle as extreme and dangerous, Reid prevailed . . . well, survived is more like it, pretty much as the lesser of two evils. But 2016 offers two intangibles for a Nevada Democratic candidate that 2010 didn't: (1) can the party's nominee win a Senate race if the opposition is the popular GOP Governor Brian Sandoval?; and (2) in a presidential year, can Hillary Clinton turn out the same numbers in Nevada as did Barack Obama in 2008 and 2012?
3) The Effect on the Senate Map? The favorable terrain for Republicans in 2014 comes back to bite them in 2016 — 24 seats to defend, to only 10 for the Democrats. How does the chamber flip or stay red? By the outcomes in the following states currently with Republican senators: Florida (Marco Rubio's seat), Illinois, New Hampshire, Ohio, Pennsylvania, Wisconsin. But Reid's departure gives Republicans hopes in not one but two twice-Obama states (Nevada and Colorado). The importance of the GOP getting those two pick-ups: it would force the Democrats to take back at least six GOP seats (seven, if a Republican's elected president), to regain majority control. The GOP's Senate haul in 2014: nine seats. But that was possible due to the plethora of red-state Democratic senators either on the ballot on bailing lest they experience defeat. For Democrats to make a similar run in 2016, they'll have to branch out to non-blue turf — i.e., Alaska, Georgia, Indiana, Missouri and North Carolina. Of course, all of that could change in 2018, when Democrats have to defend 23 seats, to only 8 for the GOP.
So those are your choices. Reid's retiring because he (a) wants to avoid senility, (b) doesn't like the way 2016 is shaping up back home, or (c) doesn't see another four-year run in the Senate majority.
It's multiple choice.
And there could be multiple correct answers.